Matt Lauer's Troubling Relationship With Women Was Hidden In Plain Sight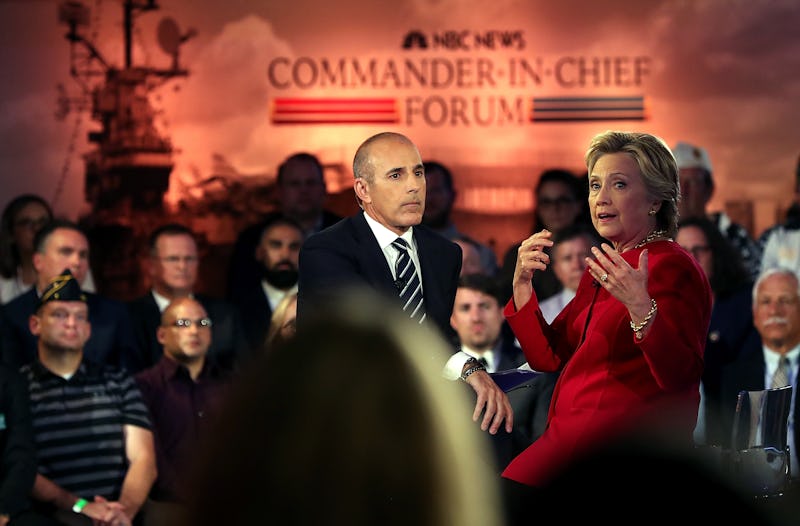 Justin Sullivan/Getty Images News/Getty Images
The news that Matt Lauer had been fired from the Today show due to allegations of sexual harassment reverberated through social media on Wednesday, though many thought the accusations weren't entirely surprising. Lauer has not yet spoken on the allegations; Bustle has reached out to his representative for comment. But some say the claims only served as a reminder of Lauer's history of troubling interactions with women.
Lauer is the latest in a slew of high-powered media personalities — from Mark Halperin to Charlie Rose — to lose his job in the wake of sexual assault allegations. On Tuesday, NBC News announced that he had been terminated after a colleague accused him of "inappropriate sexual behavior in the workplace."
But his tenure, and the fact that he kept his job for 20 years while female co-hosts were apparently pushed out, demonstrates that he was able to get a free pass for his behavior — as well as an intimidating interview style — for quite some time.
The details about the claims of sexual harassment against Lauer are troubling, and there are several past instances that, upon further inspection, seem off as well. The instances include incredibly awkward interviews with actresses and celebrities, as well as a forum in which he repeatedly interrupted a female presidential nominee.
Here's a brief history of some of Lauer's most troubling interactions with women — at least, in professional settings.
1. Anne Hathaway
In 2012, Lauer interviewed Anne Hathaway, who was promoting her film, Les Misérables at the time. The interview came just one day after Hathaway had been photographed inadvertently flashing photographers while exiting a vehicle.
Lauer made light of the incident, saying, "Seen a lot of you lately," before asking what lessons Hathaway had "learned" from what he called a "wardrobe malfunction."
Hathaway, instead, said she was "sorry that we live in a culture that commodifies sexuality of unwilling participants." The interview, as Time notes, kicked off an Oscar season that saw Hathaway mercilessly mocked online.
2. Monica Lewinsky
In 1999, Monica Lewinsky grew so distraught over the questions posed by Lauer that "she canceled a series of national radio interviews she had promised to do that afternoon," according to a Washington Post article published at the time.
Lewinsky, who was promoting her book, Monica's Story, at the time, reportedly grew uncomfortable after Lauer asked whether she understood that "foreign policy took a back seat to scandal" after her affair with President Bill Clinton emerged. At the time, Lewinsky's publicist said the line of questioning (and suggestion that her relationship with Clinton had brought the country to "a screeching halt") left her client "emotionally drained" and that "she was not prepared that they were going to ask those kinds of questions."
He also asked why she attended a Vanity Fair Oscar party when "the only reason you were invited to that party is because you are Monica Lewinsky, and that every camera in that room was going to turn to you when you walked in."
3. Hillary Clinton
Lauer served as moderator of a 2016 Commander-in-Chief Forum on NBC, during which time he repeatedly interrupted Hillary Clinton and, as others in the media reported, failed to fact-check several false statements made by then-candidate Donald Trump.
While he interrupted or spoke over the former Secretary of State on several occasions —even once asking that she "be brief" in her response to an audience member — he didn't ask Trump to keep his answers succinct, nor did he admonish him for attacking Clinton.
The hashtag #LaueringTheBar began trending on Twitter shortly after, with those critical of Lauer's performance claiming that it helped give rise to Trump's presidential win.
4. Katie Couric
Although Lauer's relationship with Katie Couric seemed healthier than with some of his other co-hosts, he apparently did annoy her at times. In a 2012 interview with Bravo's Andy Cohen, recently surfaced by TMZ, Couric was asked about Lauer's most annoying habits, responding, "He pinches me on the ass a lot."
At the time, the quip didn't raise many eyebrows, though in the wake of Wednesday's news, it's quickly gone viral.
5. Christie Brinkley
In 2012, Lauer interviewed Christie Brinkley about her divorce from Peter Cook, despite Brinkley saying she wanted to discuss her upcoming role in Chicago. "This is still going on," said Lauer. "You two have been divorced four years now and it just doesn't seem you — you guys — can get over this."
He added that "some might say, 'Just turn the other cheek,'" and continued discussing Brinkley's divorce. Lauer's persistent questioning — and the suggestion that she may have enjoyed the publicity that came with the very public divorce — ultimately brought Brinkley to tears.
6. Ann Curry
Lauer's relationship with former co-host Ann Curry was, according to reports, strained at best. A New York Magazine investigation found that not only did Lauer disapprove of Curry, but he didn't make an effort to improve the relationship and likely played a role in her firing. Lauer reportedly felt the two lacked chemistry.
Although the show's sagging ratings were blamed for Curry's exit from Today, internal research reportedly found that it was actually Lauer who viewers found unappealing. Upon announcing her departure from the show on-air, Curry cried and said she was "sorry she couldn't carry the ball over the finish line." Shortly after Lauer's firing was announced, fans of Curry took to Twitter with "Somewhere, Ann Curry" memes to imagine how she might be taking the news.
Despite the fact that he is said to have been at least partly responsible for her departure, Lauer told New York Magazine that he and his co-hosts felt "there was nothing we could do" about it and that they all "felt bad about it."
Lauer's awkward and troubling interactions with both his co-workers and those who he's interviewed have already led some to say that his firing isn't all that surprising. On Tuesday's episode of The View, co-host Meghan McCain said she "hasn't liked him since" Curry's departure from the show, adding, ""I just thought the way that they treated her on the way out — I love Ann Curry, I think she's one of the greatest journalists of our time — and I thought it was so disrespectful … I just felt like, would you treat a man that way on the way out?"