Surprise, Matthew Lewis Is Married & His Wife Has A Surprising Tie To 'Harry Potter'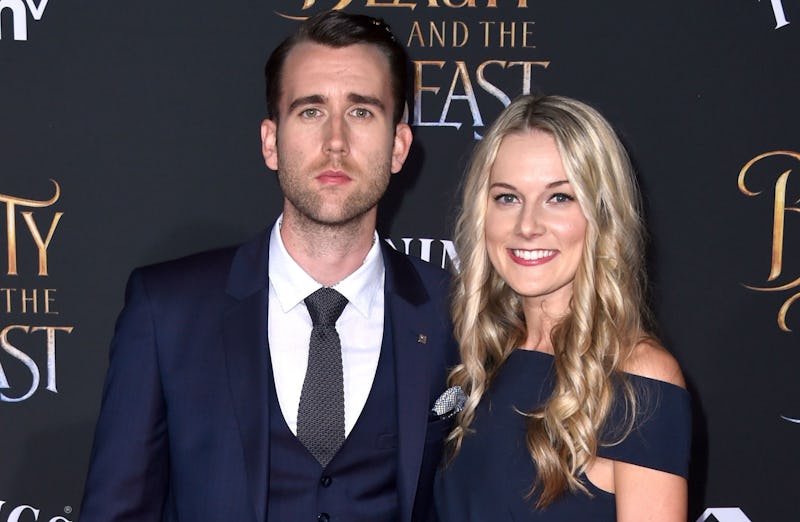 Frazer Harrison/Getty Images Entertainment/Getty Images
Gulping gargoyles! On May 28, Neville Longbottom — I mean, Matthew Lewis — announced that he'd gotten married, and Lewis' wife Angela Jones actually has the most random tie to her husband's beloved Harry Potter franchise, according to TMZ. In fact, Harry Potter was part of Jones' job at the time the two met, and she detailed their meet-cute on her lifestyle blog, Sunshine State of Me.
In describing her job before she became Mrs. Neville Longbottom, Jones said, "I handled VIPs and events at the greatest destination on Earth. I looked forward to going to work every single day… if you could even call having fun 'work.' It was my dream career. My life was set."
And where, exactly, is "the greatest destination on Earth," you ask? None other than Universal Studios in Orlando, Florida, AKA the home of "The Wizarding World of Harry Potter," TMZ reported. Apparently, Jones was working at a Wizarding World event back in January 2016, and Lewis was seemingly one of the VIPs in attendance. The two hit it off pretty quickly, and got engaged in November 2016.
"I never believed in soul mates until we met," Jones wrote of Lewis on her blog. "We came from two different countries, 4,334 miles apart, and yet we were one and the same. A few months after meeting, he proposed to me in Paris during my first trip abroad. Yes, it's been that kind of fairytale thing." Ugh. Cannot handle the cuteness.
Jones continued, "Not every day was sunshine and rainbows though. We spent most of our relationship FaceTiming. We went days, weeks and months without being able to see each other. It was hard. Really, really, really hard. We decided that it was time to finally be together. And that's how this story begins."
Based on her blog, it appears as if Jones and Lewis may have been living together in Florida up until recently, and then decided to relocate to California in November 2017. According to a May 28 post from Lewis' Twitter, however, the couples' nuptials took place somewhere else entirely: Italy.
"Not only did I miss @ArcticMonkeys in LA but they were performing in Italy at the same time we were there and my wife made me get married instead. Fuming," Lewis joked. He also included a picture from the couples' big day (which you can see here), and he and Lewis couldn't look happier.
Lewis posted the same photo to his Instagram, but decided to switch up the caption. This time, all Lewis chose to add were two flag emojis: one British, and one America. Diplomacy is so romantic.
Lewis is most known for playing Neville Longbottom in all eight Harry Potter films, but has gone on to find success in several London-based theater productions, according to Broadway World. Lewis has since left her job at Universal Studios, and appears to be working on her lifestyle blog full-time.
She did, however, give her old job a shout-out when she and Lewis hit up Universal Studios in Hollywood, California. "Thank you, @unistudios, for such a fun day!," Jones wrote in a Jan. 2018 Instagram post. "It was our first time to Universal Studios Hollywood & it felt so nice being back in the parks! I miss my Universal Orlando family so much, but yesterday brought back piece of home."
Seeing as how Universal Studios is what brought them together to begin with, it's probably safe to assume that the park will forever hold a special place in their hearts. Who knew a Muggle and a wizard could ever make it work?