Matthew Perry Recently Had Surgery & 'Friends' Fans Are Wishing Him A Speedy Recovery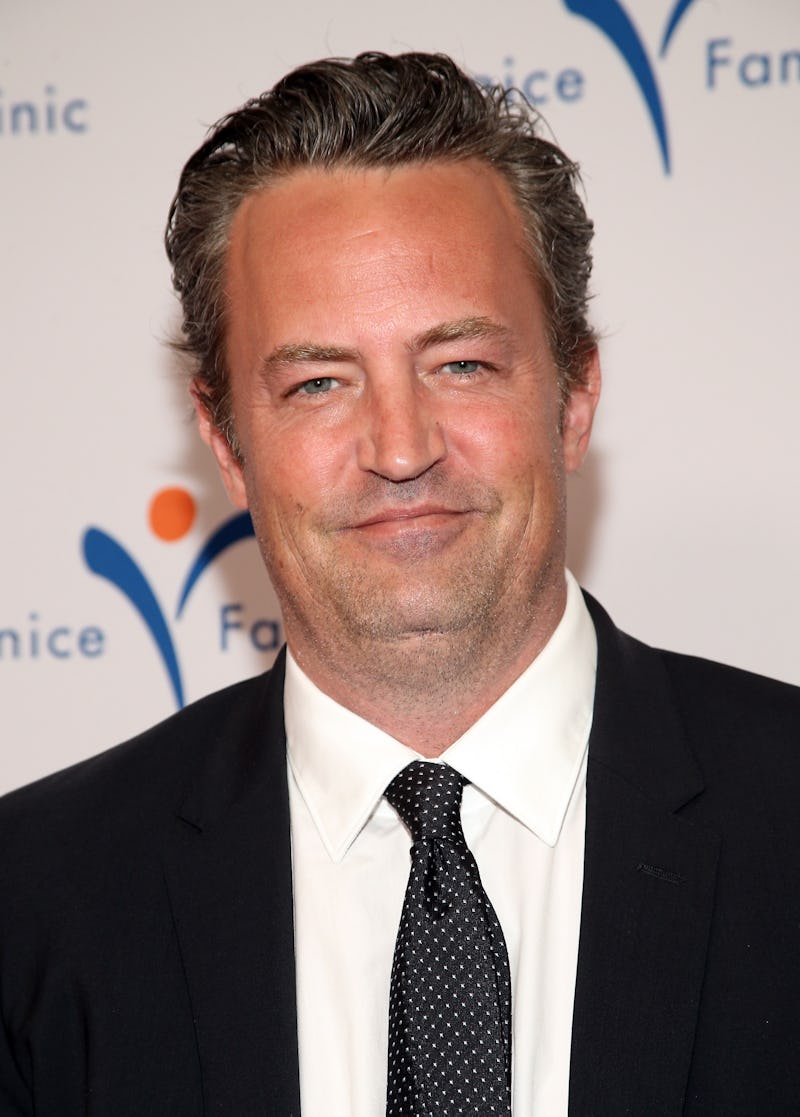 Mike Windle/Getty Images Entertainment/Getty Images
Less than 24 hours ago, Friends fans on social media were concerned after some reports began to circulate regarding the status of Matthew Perry's health. Thankfully, a statement from the actor's rep confirmed that Perry is recovering from surgery for a gastrointestinal issue. And while the details of the actor's current medical condition are a little unclear right now, it's still an enormous relief to know he's at least doing OK and in the process of healing.
In a statement to Bustle on Tuesday night, Aug. 7, Perry's rep said:
"Matthew Perry recently underwent surgery in a Los Angeles hospital to repair a gastrointestinal perforation. He is grateful for the concern and asks for continued privacy as he heals."
In layman's terms, a gastrointestinal perforation is basically a tiny hole that develops along the wall of a person's stomach, small intestine, or large bowel. According to a report from Medical News Today, it's a pretty rare —and particularly painful — condition "that can lead to further health complications, so emergency surgery is often necessary." Whether or not Perry underwent emergency surgery specifically remains unclear. But regardless of the why, where, and how, the most important thing to keep in mind is that Perry is safe and in good hands as his body recovers from what sounds like a really grueling surgical procedure.
The statement from Perry's rep didn't offer any insight into the specifics of his medical situation. (And hopefully it goes without saying that it certainly didn't need to.) While many of the reports floating around about Perry's recovery seem to suggest the surgery might have been somehow linked to the actor's history of substance abuse, which he's been open about in the past, a quick Google search reveals that there's a whole medley of potential causes associated with a gastrointestinal perforation.
And after a little bit of research, it's clear that those causes can be pretty varied. According to a report from Heathline, a gastrointestinal perforation can occur as a result of several different illnesses, ranging from Crohn's disease to gallstones. A handful of reports, including Heathline's, note that smoking and excessive alcohol consumption can increase a person's risk of developing GP, as can the use of over-the-counter anti-inflammatory drugs like aspirin or ibuprofen. But again, since the actor is asking for privacy, it's best not to jump to any conclusions.
After scrolling through the comments from Perry's fans on social media, it seems pretty safe to say the actor's supporters are, thankfully, considerably more concerned with the state of his health than those factors that might've caused the surgery in the first place. In the wake of this week's understandably scary Perry-related news, fans of the Friends star have taken to Twitter to wish Perry a quick and painless recovery. (Several made use of Chandler Bing's trademark phrase, "Could I be more...")
Because at the end of the day, the only thing that really matters here is Perry's health and safety. And while he might not be fully recovered just yet, the statement seems to suggest things are at least looking up. Sending the healthiest vibes in the world to you, Mr. Bing.