Maude Apatow Is Very Nervous About This Interview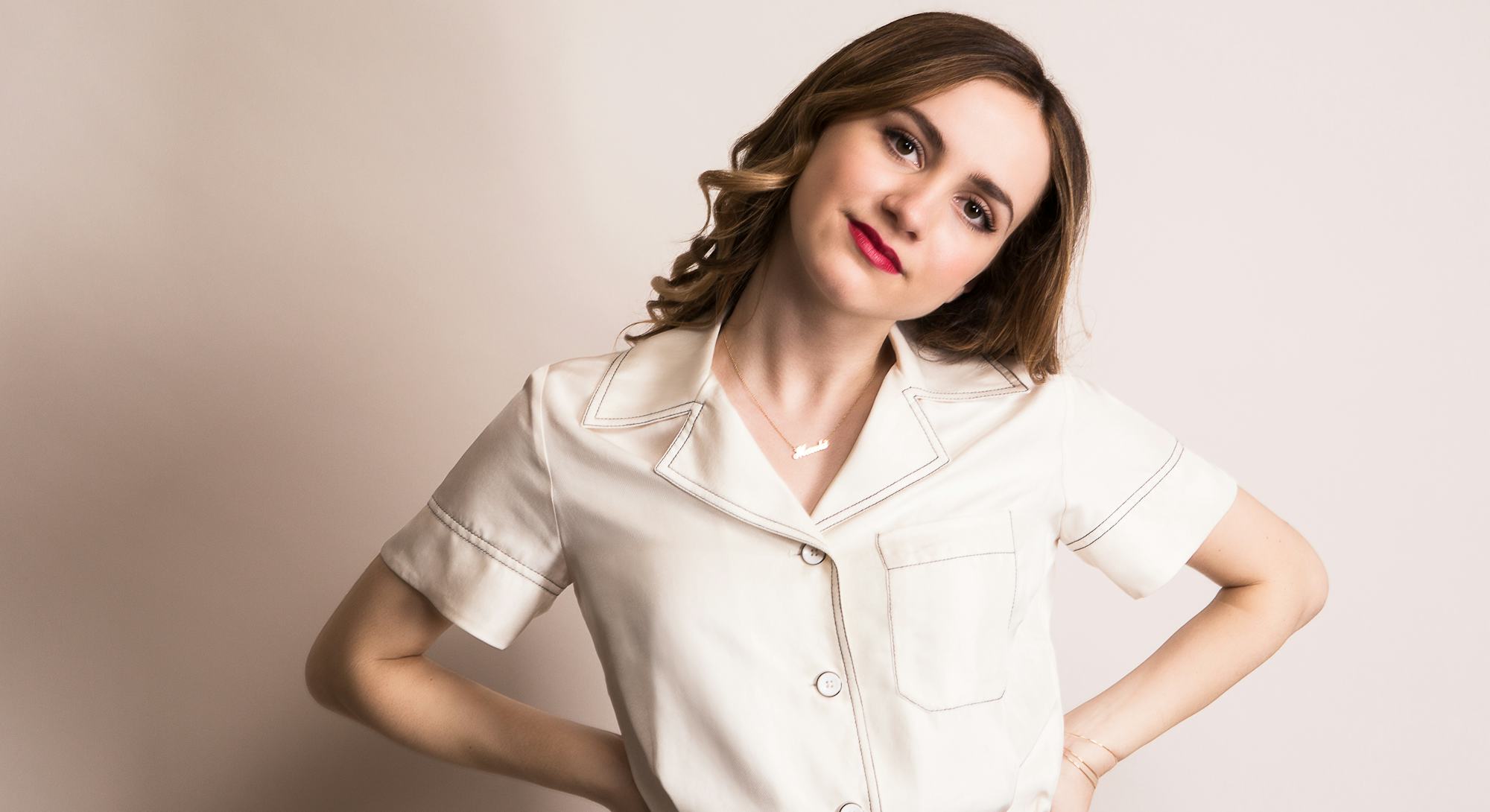 Emily Assiran/Bustle
Maude Apatow is nervous. Like really nervous. Like hands shaking, sentence interrupting, "oh my god I'm like, freaking out" nervous. This is surprising, since Apatow is, after all, a Famous Person — not only an actor in movies like the new The House of Tomorrow, but also the daughter of mega-producer Judd and actor Leslie Mann, both of whose movies she's appeared in; sister of Iris (who appears on their dad's show Love); friend of celebs like Lena Dunham, with whom she's gone to a Justin Bieber concert or two; and former Twitter prodigy, known for viral-before-viral-was-a-thing posts like "today I learned that no one is good at pretending they like your haircut." Yet here she is, nervous as hell. And she's very sorry about it, which, of course, just makes her feel even worse.
"I'm sorry — can you even use this?" she tells me at one point during our interview, looking crestfallen after a (perfectly fine) answer. At another, with her fingers tapping: "F*ck, I'm like, visibly nervous." And, more than once, with disappointment in her voice: "I'm just really bad at interviews." For the record, this isn't true. Yes, she's not exactly at her calmest when speaking to a reporter, but it's not because she doesn't have anything to say. Ironically, the reason Apatow is so nervous is because for years, people were so drawn to her voice and persona that places like HelloGiggles and Teen Vogue enlisted her to be the person doing the interviews, having her write up meetings with One Direction and Rebel Wilson. She's not used to being on the other side.
Except, well, now she has to be, because for the first time in her life, being a Famous Person has coincided with being an adult. Apatow is 20 now, a sophomore at Northwestern. She hasn't acted in one of her parents' movies in six years, but she is acting, most recently in The House of Tomorrow, an indie dramedy co-starring Nick Offerman. The film, out now, is the second one she's done without her parents and sister, and the first in which she has a prominent role. It's a major step for Apatow, proving herself as an actor separate from her family's fame, and presumably, it's a little bit scary. But when I ask her if that's the case, I accidentally make her even more nervous.
Emily Assiran/Bustle
Emily Assiran/Bustle
"Yeah, I guess that is scary," she says with worry in her voice, making me terrified that I just caused her to have an inner crisis. "I am thought of as my parents' kid, and I'm trying to make my own path without them... I want to work extra hard to prove myself and be a separate person."
Clearly, Apatow knows that's easier said than done. She's a talented actor — just watch her banter over high school and tongue piercings with Lena Dunham in Girls' Season 4 if you need proof — but she's also a wealthy, white woman who shares the last name of two of the comedy world's most well-known individuals. It'll take more than a movie or two to silence any claims of nepotism, even if Apatow is quick to acknowledge them. "I am lucky to have opportunities because of my parents," she says with a nod for emphasis.
But the thing is, Apatow has always wanted to act, even before she began appearing in her parents' movies, and so she's grateful they gave her the chance. She never took being in films like This is 40 and Knocked Up for granted; for her, it wasn't just a fun after-school activity, but serious training for her future career. "It was really nice to be able to get to do my first movies with [my parents], because they taught me so much and being around them, it was so comfortable," Apatow reflects. "Because I'd done those movies with my parents, I felt prepared and ready to do [my own]."
And, like any teenager with big dreams, the time Apatow spent with her mom and dad was both a comfort and a reason to go. "My parents didn't let me do any acting outside of with them until I was 18," she says, "and because they didn't let me, that only made me want to do it more."
Two years into adulthood, Apatow is certainly doing it. There was 2016's Other People, an emotional Sundance hit, and the upcoming caper Assassination Nation, out in September, earned rave reviews at the same festival earlier this year. And then there's The House of Tomorrow, in which Apatow plays a rebellious teen dealing with her brother's chronic illness. It's a charming, witty film that, in its star's words, "felt very much not written by an adult who doesn't understand teenagers but by someone who does."
As a teen, Apatow says with a laugh, she spent more than her fair share of time as "an emotional wreck." She was the girl who "stayed in all the time crying" while her friends were out partying, the one who got famous writing dramatic tweets about zits, boy bands, and one-sided crushes. As such, playing Meredith, her character in The House of Tomorrow, gave her a serious case of déjà vu. "I think I was like that," Apatow recalls. "I was just so emotional and hormonal, and you get angry because you just don't know what to do with your emotions."
That angst, though, made her something of an icon for so many girls in the early 2010s, and a few women just out of that age range, too. With her tweets ("High school is great — today I hit my head on a tampon dispenser and inhaled some sort of moth," was one perfect 2014 one), Apatow simultaneously felt like a friend, a little sister, and a mentor. As one Twitter user succinctly put it in 2013, "I don't know where I would be in life without Maude Apatow's tweets."
Emily Assiran/Bustle
Emily Assiran/Bustle
These days, Apatow doesn't post much online other than the occasional promotion for a project or selfie with a friend; the era of Maude Apatow, Twitter Guru To Tweens Everywhere, came to an end around 2014. "I think I got nervous about that many people reading what I was writing and then I started thinking too much about Twitter, and then I just kind of went tweet-dead," she explains, before adding, "I guess it's kind of sad that now I'm so insecure about everything that I put."
Feeling nostalgic for her younger self while also ashamed about her present actions? Apatow clearly is an adult. Yet while her number of social media posts may have diminished, she's still writing. In February, a short film she directed and wrote with friend Olivia Rosenbloom called Don't Mind Alice premiered at the Santa Barbara Film Festival. According to Apatow's Girls scene partner and pal Dunham, it's a "spectacularly odd and funny" movie. When Apatow talks about how much hard work she put into the film (she stars in it, too), she practically glows. "Writer-directors and actresses who make work for themselves — I think that's the goal," she says. "If I can do that or figure out a way to do that at some point, that'd be the dream."
She'll certainly have Dunham's support. "Maude is an exceptionally intelligent, sensitive and amusing person. She's deeply perceptive in the way she approaches her work as an actor, natural and intuitive, and that extends to her emerging work as a writer and director," the Girls creator says in an email. "Simply put, I adore her and am lucky to have been in her life since she was 11."
And then there's Apatow's family, of course. They may not be acting in movies together anymore, but they're just as tight-knit a bunch as they were back in the '00s. "My parents are definitely my mentors," she says, adding with a laugh that her dynamic with her dad is that he "gives great advice even when I pretend it isn't good advice." Meanwhile, mom Mann is "like my best friend," she says, while sister Iris is now a 5'8" 15-year-old she can finally talk to "as a friend."
Apatow is as excited about her family's various projects as she is her own, at one point squealing over her mom's scene-stealing turn in April's Blockers ("that movie destroyed me"). It's telling that the only time she doesn't seem nervous is when she's talking about the people she loves; she may get the jitters when chatting about her acting or her Twitter feed, but when it comes to the people who helped get her to that place in the first place? All those nerves just melt away, replaced by a joy and confidence of a person lucky enough to both share the spotlight and make it on her own.
Hair: Sheridan Ward at Cloutier Remix using Oribe
Makeup: Sarah Glick at Starworks Artists using CHANEL