Bravo's New Show's Cast Includes The Perfect On-Again-Off-Again Couple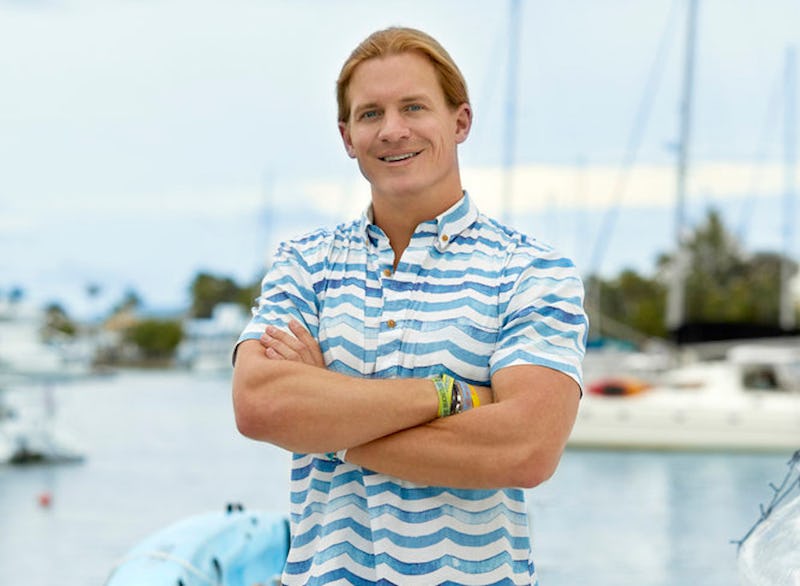 Greg Endries/Bravo
Oh, hello, Bravo drama — meet Max Craddock from Unanchored. Every show's gotta have a complicated couple, and Max makes up one half of the one for Bravo's new sea show. The series follows a group of friends sailing the high seas and partying, while also being in charge of taking care of the ship, cooking, and cleaning. It's like Below Deck if the crew did all the work and all the fun.
And Max is no stranger to fun. He's a law school grad who, according to his Instagram, goes to Burning Man, has been bitten by a shark (or "nibbled" as he said), and is a huge travel and outdoor activity enthusiast. And he once met his match for all his passions — Vanessa Cavanaugh, who will also star on the show.
In a clip from the series, Max spoke about how much he admires Vanessa. "I definitely like girls that are bold, out there, confident," Max said. "When I first met Vanessa, she was the boldest, most confident person I've ever met in my life." Max explained that the two of them quickly fell into a relationship within a week, but it definitely wasn't all smooth sailing for the duo.
For example, Vanessa's Bravo bio says the two have "a famously tumultuous relationship" which is great when it's good, but "apocalyptic" when it's bad. Yikes.
Max's Bravo bio says the two were frequently on and then off, and they agreed during their last encounter to be friends and nothing more. Of course, put two exes on a Bravo boat and that's a recipe for some makeout drama. The trailer already hints that they may be back "on" again soon.
But even if they do get together on the show, that doesn't mean it's for real back on land. In that same clip for the show, Max says he can't decide whether Vanessa could be a real girlfriend or just a vacation girlfriend. Although he does glowingly describe her as someone who "just gets me," so maybe Max should grow up and realize that they're perfect for one another. Seriously, he said he can't often get close to people but that Vanessa was able to break though that barrier. That's someone to hold onto, man.
But he's not calling all the shots anyway, because another clip shows Vanessa bringing a guy named Travis back to the boat. Everyone seems to think it's a ploy to make Max jealous, but Vanessa (unconvincingly) tries to tell everyone that she's, like, totally over Max. "Ultimately Vanessa just wants to be in a loving relationship," fellow cast mate Barrett said in the clip.
In any case, it takes two to tango, and these two better get on the same page fast or they could be "off again" forever.
But that's not the only drama that Max is facing. According to his bio, he's bringing his "competitive" big brother Quenton along on the trip — so there will be some good, old fashioned sibling rivalry to tune into when the show airs Dec. 3 at 10 p.m. ET on Bravo.