You Need To Hear Mazie Hirono's Blistering Thoughts About The Kavanaugh Allegation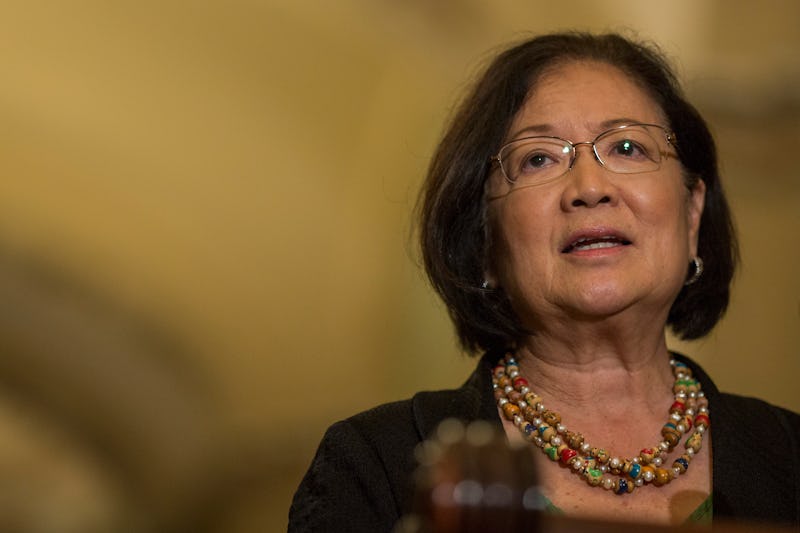 Zach Gibson/Getty Images News/Getty Images
A Hawaii senator known for prioritizing the fight against sexual assault has spoken up about about allegations against Supreme Court nominee Brett Kavanaugh, which he has flatly denied. During a press conference on Tuesday, a visibly frustrated Sen. Mazie Hirono addressed the accusations against Kavanaugh, demanding that men in the United States "shut up and step up."
"Guess who is perpetuating all of these kinds of actions?" Hirono said to reporters. "It's the men in this country, and I just want to say to the men of this country: just shut up and step up. Do the right thing for a change."
Hirono was discussing the treatment of Christine Ford, who says she was 15 years old when then-17-year-old Kavanaugh sexually assaulted her. Kavanaugh has repeatedly denied sexually assaulting Ford, who went public with her allegation on Sunday, via The Washington Post. "This is a completely false allegation. I have never done anything like what the accuser describes — to her or to anyone," Kavanaugh said in a statement, per NBC News.
Speaking to reporters, Hirono underscored that she believes Ford's story needed to be taken seriously, and that she didn't agree with any attempts to move forward with Kavanaugh's nomination as though nothing about the nomination process had changed. She also took issue with the way critics have attacked Ford's credibility.
"This is so blatantly unfair to her," Hirono said of Ford. She continued:
And what really bothers me and gets me so angry is that the White House is victimizing this person. Why don't we get that out there? That — why should we participate in a victimization of someone who has the courage to come forward? And she is under absolutely no obligation to come forward and participate in a smearing of her and her family.
During an interview on Politico's Off Message podcast that went live earlier on Tuesday, Hirono said that she believes the allegations against Kavanaugh.
"She has a very credible story. I believe her. And now we have to do more than say, 'Well, look at the timing!' and 'Well, it's all politically motivated!'" Hirono said. "This has to be taken seriously."
During his confirmation hearings, Hirono had asked Kavanaugh whether or not he, since he has become a legal adult, had ever committed any acts of sexual misconduct, a question she poses to every nominee before her. Kavanaugh had said no. "It somewhat stretches credulity, let's put it that way," Hirono said on the podcast. "I think he didn't want to lie about it, so one way you get through that is saying, 'I don't remember.'"
Although Ford says the assault took place when they were minors, Hirono suggested that being a teenager wouldn't necessarily exempt Kavanaugh from culpability.
"Seventeen is not exactly a baby, either," Hirono said on the podcast, referring to the age Kavanaugh was when he allegedly sexually assaulted Ford. "These are serious allegations."
Kavanaugh's confirmation vote before the Senate Judiciary Committee was originally scheduled for Thursday, though it is now delayed until next week. In the meantime, Kavanaugh and Ford are set to testify before the committee on Monday. While Republicans would still like to see a final confirmation vote before the whole Senate by the end of the month, it's not immediately clear whether that will still happen.