This Senator Just Called Out Don Jr.'s Comments On Kavanaugh & Sexual Assault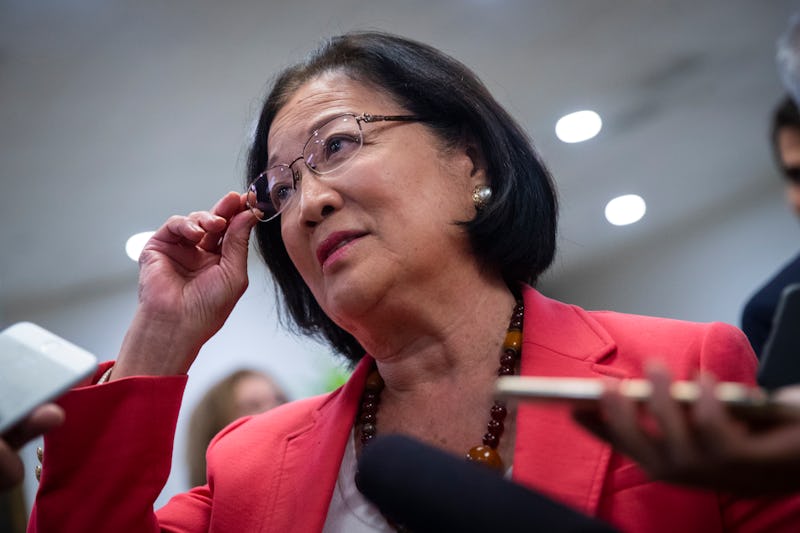 Drew Angerer/Getty Images News/Getty Images
On Tuesday, a Senate Judiciary Committee member addressed Donald Trump Jr.'s recent comments about Brett Kavanaugh and sexual assault reporting, in which he suggested that believing survivors who come forward many years after the fact creates a dangerous climate for boys. Speaking to CNN, Sen. Mazie Hirono responded to Trump Jr.'s comments about Kavanaugh and the #MeToo movement, and suggested that they stem from mistrusting women.
While making the remarks in question on Monday, Trump Jr. was referring to the allegations against Kavanaugh, a Supreme Court nominee, all of which he has denied. During an interview with DailyMailTV, Trump Jr. said that he was concerned for his sons in the current political climate, per a widely circulated video clip. "I've got boys and I've got girls," he told the outlet, "and when I see what's going on right now, it's scary." When asked which of his children he was more scared for, he responded, "Right now, I'd say my sons."
Trump Jr. further explained that he believed holding alleged perpetrators of sexual assault accountable decades later was a dangerous practice, suggesting that reports pertaining to older incidents were less valid. "When the other sides weaponizes it against men, and says, '40 years later we can bring it up, and you did something in high school that no one remembers but it should disqualify you from ever doing anything ever again,' it diminishes the real claims," he said.
Hirono responded to his remarks while speaking with CNN on Tuesday. "This kind of attitude that is exemplified by the piece I just listened to, it falls from a fear and mistrust of women," she said.
Hirono explained that, while sexual assault is verifiably underreported, she believes many people are inclined to disbelieve its survivors because of an internalized prejudice against women. "It falls from a belief that, unfortunately, too many people have — especially men — that women just sit around making these stories up," she said. "It's not true."
The Hawaii senator went on to argue that the comments like Trump Jr's, coupled with the current media storm surrounding allegations against Kavanaugh, reflected precisely why so few survivors report their experiences to authorities, let alone to the federal government. The three named women accusing Kavanaugh of sexual assault have all been subjected to scrutiny by lawmakers, but also by a slew of critics who claim their allegations are politically motivated and insincere.
"Because when women come forward, and by the way thousands of them are coming forward to share their very painful and traumatic stories, that they never report it, and these are the kinds of attitudes that make it really tough for them to come forward," Hirono said on CNN.
And instead of harboring a fear for boys and what might happen to them if they were ever accused of sexual misconduct, as Trump Jr. implied he was concerned about, Hirono said fathers should focus on instilling respectful values. "You know," she said, "the men in this country, particularly, should make sure that their sons, particularly, are raised in such a way that they respect women. Don't assault them, don't harass them."