McDonald's Is Selling A Millionaire's Latte & Now All Other Drinks Are Cancelled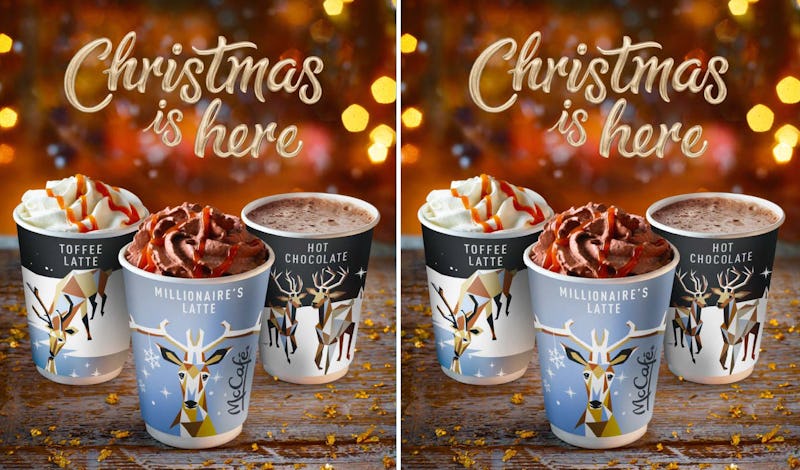 McDonald's
It wouldn't be Christmas without the likes of Starbucks and Costa Coffee releasing their signature holiday ranges, but what if I were to tell you a certain fast food chain were also doing the same with their cafe menu? Never has the phrase "I'm lovin' it" rung so true. So what exactly is on McDonald's 2018 Christmas menu in the UK? Here's a hint: it includes one of the most delicious lattes I have ever set my eyes on.
Aptly named the Millionaire's Latte, the drink looks like something you'd expect from Starbucks, not the McCafe range. According to a press release via Joyscribe, "The delicious new member of the McCafe family comprises of a large shot of espresso blended with steamed milk, a caramel biscuit flavour syrup, topped with a swirl of chocolate cream and a caramel drizzle." I mean, talk about heaven.
Not only that, but it's price is extremely affordable at £1.99/£2.29 RRP "for medium and large respectively," with McDonalds describing the drink as "the perfect Christmas shop pick-me-up." It certainly looks like it, along with the new festively adorned cups which are part of the chain's #ReindeerReady campaign, that will get "customers across the country into the Christmas spirit."
"The McDonalds's reindeers feature across all cups in a geometric-style, beautifully-designed set-of-three cups," which you can have with any drink on the McCafe menu. You may recognise the #ReindeerReady campaign from last year, which included an adorable advert of a little girl saving a carrot for Santa's reindeer.
The Millionaire's Latte will be available from November 7, and there's no doubt that the fast food chain have a larger Christmas menu up their sleeves. Although, according to Burger Lad, there will be no festive burgers for 2018. Yep, say goodbye to the Beef and Cheese Feast and the Christmas Chicken Warmer from 2017.
Instead, there are rumours that the Big Tasty will return on the same day that the latte becomes available, which will then be accompanied by the Chicken Big Tasty on Nov. 21. There will also be no Chocolate Orange McFlurry (I know, I'm crying too), as it will instead be replaced by a Malteaser McFlurry, which will also be available from Nov. 21. That doesn't sound like a bad replacement though, does it?
If you're slightly disappointed that McDonald's won't have a large selection this Christmas, Gregg's have certainly come to the rescue this year. From their £2 pots of pigs in blankets to the return of their festive bake, the bakery chain are pulling out all the stops to make your taste buds sing for Christmas with a 18-item strong menu.
They also have a drink to rival the Millionaire Latte in the form of their Mint Hot Chocolate for £2.20, adorned with red and green sprinkles for that extra Christmas flare.
Then of course there's Starbucks and Costa with their famously festive cups and what seems to be a love for everything and anything to do with salted caramel.
I think it's clear where I'm going to be spending the majority of December — my local high street savouring these beauties.