McDonald's Is Giving Away An $12,500 'Bling Mac' Ring & It's The Most Extra Happy Meal Toy Ever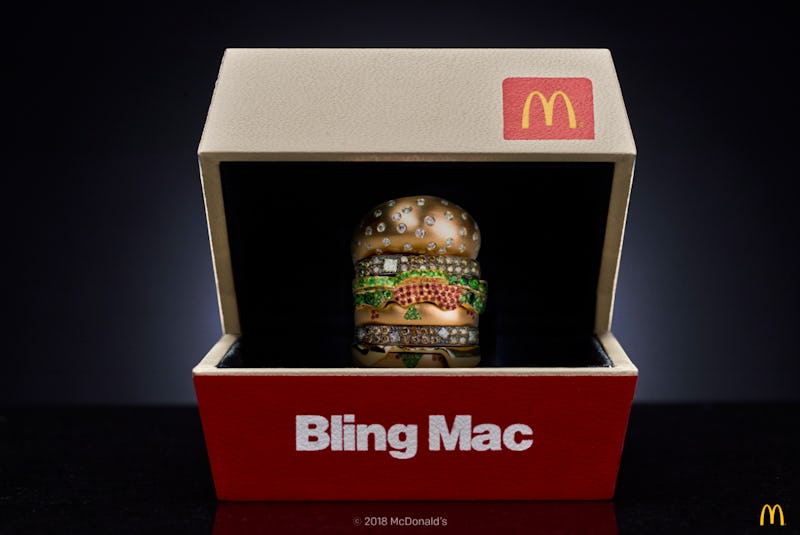 McDonald's
Fast food joints aren't exactly synonymous with Valentine's Day romance. When you think of the stereotypical Valentine's Day night, chances are you think of a place with white table cloths, a $10 cocktail menu, and mood lighting so low you have to take out your cell phone to see said menu. That image is the polar opposite of what you would get in a fast food chain, where the florescent lights are so bright that they hum, and your dinner comes out on a paper-covered tray. But if we're going off of Valentine's Day stereotypes, then the night often includes some kind of trinket or bauble from a special someone to prove how much you mean to them. Well, in that area Micky Dee has your back. McDonald's is giving away an 18 karat gold "Bling Mac" ring, making it the most extra Happy Meal toy in existence.
Clocking in at $12,500, the eye-wateringly expensive bling is made to celebrate its limited-edition roll-out of three different Big Mac sizes: Grand Big Mac, Big Mac and Mac Jr. After surveying customers, the chain learned that some people wished the Big Mac was even bigger, while others felt like it was too much to handle. To see if the need was real, they released a Goldilocks-like menu of three different sizes. And in order to promote it, the "Bling Mac" ring contest was born.
The "Bling Mac" is an 18 karat gold, stackable ring in the shape of a — you guessed it — Big Mac burger. It's made of seven individual tiers that represent different layers of the burger itself. For example, the bun is a bronzed gold ring with diamonds acting as sesame seeds. Right under it is a band encrusted with differently shaped champagne brown diamonds as the meat patty, and under that is a ring with tsavorite gemstones acting like the lettuce leaves, while the Special Sauce comes in the form of orange sapphires. If you put it on it would take up half of your finger, making it feel like the Super Bowl ring of all fast food restaurants.
The ring will be custom made by fine jewelry designer Nadine Ghosn for the winner of the contest, and it will be one of a kind.
The ad for the ring is hilarious, where McDonald's is making fun of how wild of a prize it is. "Seriously," the voice-over whispers. "This is real." A big ring meant to symbolize your big love for Big Mac, it's the ultimate commitment to your favorite burger.
To enter, people have to write their most poetic "vows of love" to their Big Mac on Twitter and tweet them @McDonald's with #BlingMacContest from Feb. 7 until Valentine's Day, Feb. 14. The person with the most creative, witty, and romantic love note will be the winner of this over-the-top ring.
But be warned, the competition is already fierce. A quick scan of the hashtag and you already see an avalanche of hilarious and tongue-in-cheek tweets.
Some have called on their talent with puns to create a proclamation full of "lettuce," "hot buns," and "ketchup" refrences. "It's not bc of your hot buns, but bc of your saucy personality. What can I say? I'm Lovin' you," one tweeter wrote.
Some have half-heartedly attempted to create a rhyming poem, reminiscing about how they met at the klurb. (Though in reality, wouldn't they have met afterwards?)
Another person wrote about their 30-year relationship with their darling Mac, reminiscing about their styrofoam outfit when they first met, and how pretty their Mac Jr. baby is now.
Another person told McDonald's to get back to them once they make a $12,000 ring of a chicken nugget. Which, preach.
Get to tweeting and you just might win this bling.