McDonald's Holiday Pies Are Back & More Ridiculously Pretty Than Ever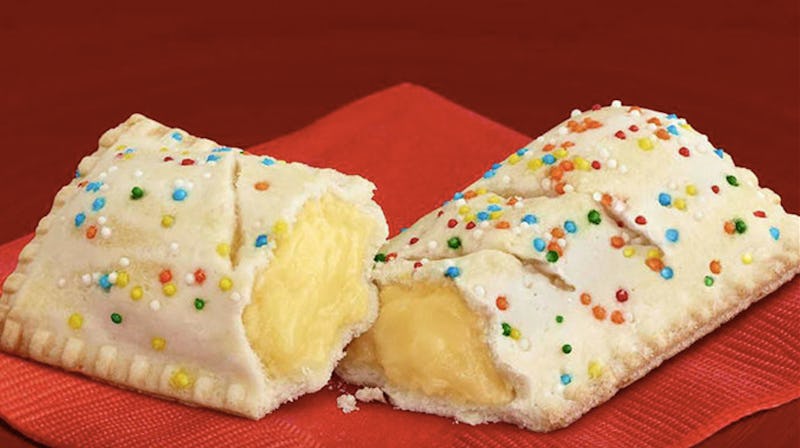 McDonald's
There are plenty of treats that shine in the Christmas lights. Sugar cookies dressed in icing, gingerbread, and just about anything with a candy cane on top. But perhaps the most anticipated treat of them all? Pie. Particularly one from McDonald's. Hold on to your jingle bells friends, because per Chew Boom, McDonald's Holiday Pies are back and it turns out we are all on the nice list.
When it comes to spending the holidays, excitement builds around spending time with family. And eating. Let's be real, a lot of that excitement revolves around all the eating. Specifically, desserts. Tis the season for the dessert spread. Full of sugar and an absurdly appropriate abundance of sprinkles. It's almost as if everywhere you turn there's an opportunity to consume this holiday cheer. And McDonald's will not let your holiday spirit down.
Contributing to the festivities is a pie for the, well, season. Sure, the dessert is a year round joy. A flakey pastry filled to the brim with fruit or jam or custard and sealed in with another layer of flakey pastry dough. Pie knows how to work its angles which is to say that it isn't exclusive to any one season. It captures the essence of each season between its crust. And McDonald's practically makes its holiday pie a present.
The McDonald's 2018 Holiday Pies are back at participating locations for a limited time. This basically announces the official start of the holiday season and means it's totally time to deck the halls. McDonald's Holiday Pie is described on its official site as, "Creamy smooth, vanilla custard nestled in a flaky, buttery crust glazed with sugar and topped with rainbow sprinkles." Don't expect a 9-inch round pie here. The Holiday Pies are more like hand pies so you can cradle the joy of the season between your snowflake mittens.
The fast food chain took to Twitter to confirm the return of the pie on Nov. 26 stating, "Y'know how they say the holidays get earlier every year? Well, 'tis the season…for the Holiday Pie! Enjoy!" And enjoy we will. Twitter users gathered in collective joy upon the announcement.
But because the Holiday Pies will only make an appearance at certain locations, McDonald's Twitter account offered some advice on how to see them on your local McDonald's menu. The account confirmed, "their availability will be decided by the location's owner/operator." But continued, "We recommend letting your local restaurant know that you'd love to see them back on the menu!" If you're not seeing the Holiday Pies at your location, don't worry, you're not on any naughty list. Just speak up!
Do keep in mind that there does seem to be a limited quantity of the Holiday Pies. So you'll want to hop in your sleigh or sled or regular car and dash to your local McDonald's. But fear not, it's not like there won't be any pies available if your location sells out of Holiday Pies. The food-focused site Chew Boom reports, "the festive pies ... will typically be substituted with Pumpkin and Creme Pies when supplies run out." Which, to be honest, are the kind of flavors that can cure my sorrow should I miss out on the Holiday Pies.
Slip into your winter jacket, tuck your wool socks into your warm boots and get to your McDonald's as soon as possible to literally fill yourself with Holiday cheer. Joy, it turns out, tastes flakey and is full of custard and topped off with delightful sprinkles.