This U.S. McDonald's Serves ~Rare~ International Menu Items — Like A Spicy McChicken Sandwich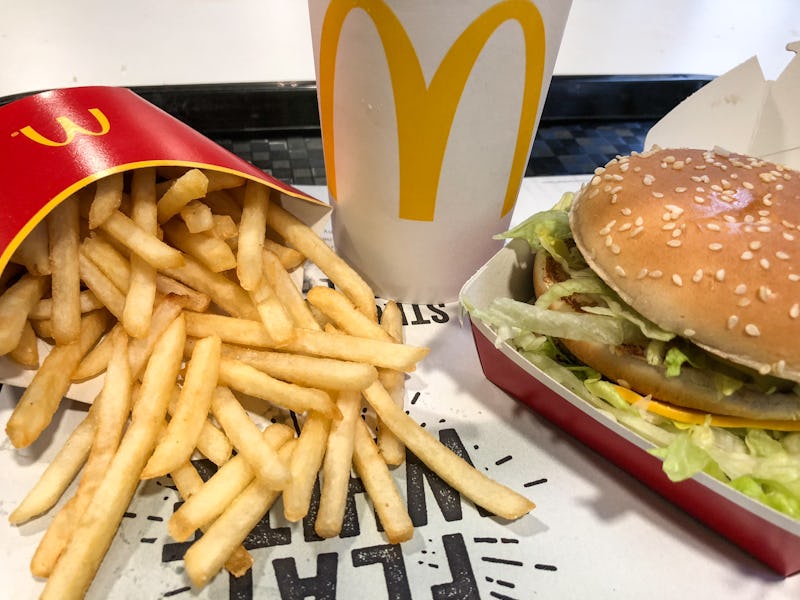 Matt Cardy/Getty Images News/Getty Images
McDonald's fans, take note: the ubiquitous burger chain opened a restaurant on the ground floor of its Chicago headquarters on Wednesday — and it's going to be serving McDonald's menu items you can usually only get by flying across the world. Eater reports that international menu items, like bacon-loaded fries from Australia or the Brazilian take on the McFlurry, will be available at the Chicago location. In a first for the franchise, the new restaurant will serve an ever-changing menu of rare international foods inspired by menus from its various locations across the globe.
Eater further notes that McDonald's headquarters location is opening in Chicago's trendy West Loop. In order to fit in amongst a multitude of various buzzy eateries, the fast food chain is upping its game with a Latin American-style dessert center, and full-time baristas preparing such specialities as the Australian flat white and other McCafé coffee drinks served down under. The first menu rotation will include two varieties of salads served in France — including the popular Manhattan and Mozza salads, the McSpicy Chicken Sandwich from Hong Kong, and the Canadian Mighty Angus Burger, The Record reports. Eater notes that the global menu items — which will rotate every couple of months or so — will be served alongside McDonald's typical stateside fare, such as Happy Meals, Big Macs, and Chicken McNuggets.
Ann Wahlgren, Vice President of Global Menu Strategy for McDonald's told CBS Chicago that the chain will be "bringing not only your local favorites, but menu products that are delicious, great tasting from around the world, exclusively to this restaurant."
Robert Gibbs, McDonald's chief spokesperson, told Eater that "everything we have done to modernize the brand over the past several years is exhibited in this restaurant." Gibbs also said, however, that the chain probably won't expand its global offerings to other U.S. locations, so you will probably still have to travel a little bit to experience them.
According to the Chicago Tribune, the Fulton Market McDonald's "is one of the company's modernized 'experience of the future' locations with ordering kiosks, table service, and curbside pickup." While the new location is an example of the Golden Arches' efforts to keep up with changing times and demands, this one is built without the usual drive-through service, the Tribune further reports. Eater notes, however, that customers will be able to order using a mobile app, and that table service will be available at the soon-to-open 6,000 square foot location. The tables will also have inductive charging for mobile devices, and customers can power up with touch charging with compatible phones.
If you ever studied abroad, or had a friend who did, tales of foreign McDonald's are probably old hat to you. McDonald's international offerings are cult-fave-status not just because you can't get them all the time, but also because a lot of the time, you have access to different ingredients and flavor combos — that are surprising to find, to say the least, at McDonald's.
"As part of our new headquarters, we wanted to provide our customers with an exciting way to experience our global menu right here in Chicago," Steve Easterbrook, president and CEO of McDonald's told the New York Post. "We are are delighted to showcase a taste of McDonald's from all over the world making this a one-of-a-kind experience that Chicagoans will enjoy with friends and family."
So while you won't have to jet off to Hong Kong to find out what a McCrispy Chicken Sandwich tastes like there, or France to nosh on a Mozza salad, you may have to travel to Chicago. The global menu offerings for the new futuristic McDonald's location aren't likely to appear anywhere else in the U.S. — so if you've got a hankering for the Brazilian Prestigio McFlurry stateside, get thee to the new West Loop location stat.