McDonald's Newest Breakfast Sandwich Is Made With French Toast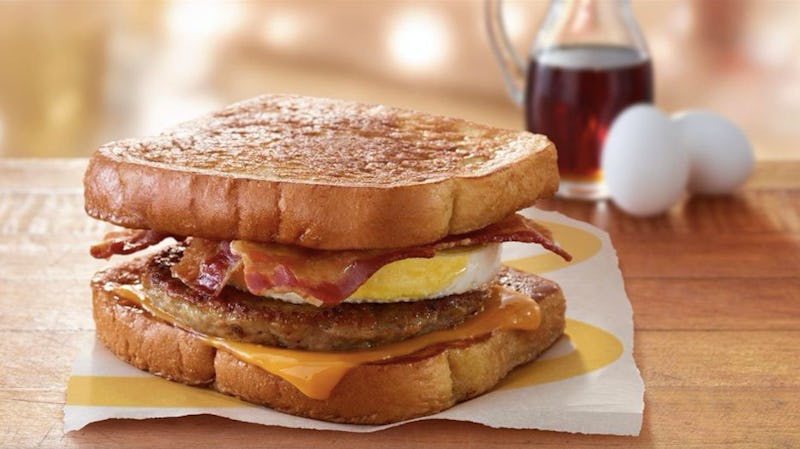 McDonald's
If you love breakfast as much as I do, prepare to have your socks blown off. I'm pretty sure we all already know that McDonald's does breakfast well — a classic egg McMuffin with hash browns is the ultimate morning comfort food. Now, the chain is taking the most important meal of the day up a notch as they test out a brand new sandwich: specifically, the McGriddles French Toast Breakfast Sandwich. So far, the sandwich is up for grabs at 200 test locations around Minnesota (booking my flight now), and it combines all the sweet and savory glory of breakfast into one sandwich.
The McGriddles French Toast Breakfast Sandwich begins with two warm brioche French toast slices (as all good things do). In between, there's a freshly cracked egg, a slice of melted American cheese, a sausage patty, thick cut Applewood smoked bacon, and it's made complete with a sweet drizzle of hotcake syrup. If that doesn't sound like a good old fashioned American breakfast, I don't know what does. According to Chewboom, an individual sandwich costs $3.99, while a combo meal including the item is around $5.29. "With the introduction of McGriddles French Toast, we're building a better McDonald's by fulfilling our customers' desires for a little indulgence at breakfast," McDonald's said in a news release.
We all deserve to indulge a little bit at breakfast — what better meal is there to do it? The first meal of the day comes with a perfect balance of sweet and savory options, and the French Toast McGriddles Breakfast Sandwich is no exception. "You get savory and smoky flavors from the sausage and bacon," McDonald's Chef Mike Lingo explained in a statement. "Creaminess, cheddar flavors and salt from the American cheese; sweet cinnamon, spice and vanilla flavors from the French toast. It tastes like homemade French toast. It's everything you love about breakfast in one sandwich." It sounds like everything there is to love about breakfast and way, way more.
McDonald's has been helping customers start their day off right with breakfast options since 1972, with the introduction of the original Egg McMuffin. McGriddles followed suit in 2003 — honestly, sometimes it feels like everything delicious snack got its start in the early 2000s. "We're excited for our Minnesota customers to test our new McGriddles French Toast sandwich and help evolve McDonald's menu across the country," Tom Butler, McDonald's Minnesota Co-Op President and franchise owner, said in a news release from the company. We can only hope that the sandwich is a hit in Minnesota so it becomes available all across the country as soon as physically possible.
If you're craving the all-new French Toast McGriddles Sandwich but don't live in Minnesota, you can still enjoy a classic McGriddles while you wait for the item to hit menus at your local McDonald's. After all, there's already three classic McGriddles items up for grabs nationwide: the Sausage McGriddles, Bacon, Egg and Cheese McGriddles, and Sausage, Egg and Cheese McGriddles. Like I said, McDonald's doesn't play when it comes to breakfast. May we all dream of French Toast McGriddles tonight and get to taste them as soon as we can.