McDonald's Mini McFlurries Exist & You're Going To Want To Try All 5 Flavors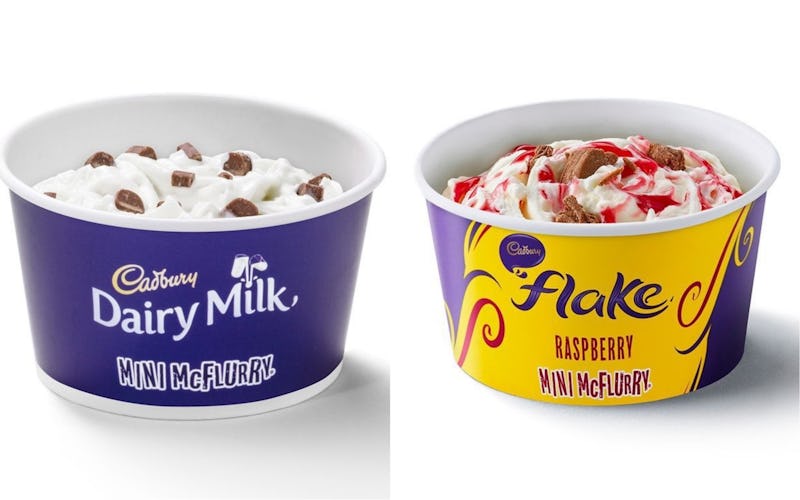 McDonald's UK
If you're anything like me, a little sweet treat is a totally valid means of self-care. Sure, ice cream isn't a total cure-all, but simple pleasures are often the best ones. And in case you want just enough, but not too much, of some creamy, frozen deliciousness, McDonald's has Mini McFlurries that are so teensy tiny and cute that both your taste buds and your Instagram feed will sing.
For now, the adorable and diminutive ice cream treats courtesy of the Golden Arches are only available in the UK, according to Delish. In addition to beloved British standbys like Oreo, Cadbury Crunchie, and Cadbury Dairy Milk flavors, the new Mini McFlurries will also include Flake Raspberry and Flake Chocolate — just in time for summer.
According to Glasgow Live, the limited edition petite treats are half the size of the standard size McFlurry — for all you culinary rebels who don't actually want a supersized version of dessert right now, because dinner's in an hour (whoops) — and come in at 75 grams, or just under three ounces. It's a sort of Goldilocks and the Three Bears *just right* kinda situation.
A spokesperson for the global fast food chain told Metro that the new Mini McFlurries were created to offer consumers more options: "By offering smaller portions at a reduced price we are providing our customers with the opportunity to make a choice that is right for them."
And if the choice that's ~right for you~ is the one that involves sampling all five of these delicious flavors all at once, then more power to you, my fellow ice cream-loving friends. They're certainly cute enough that they all deserve to be given a chance.
The ginormous and long standing fast food chain originally launched its ever-popular-on-a-global-scale frozen McFlurry treat at the Bathurst, New Brunswick, Canada franchise locations in 1995, according to CTV News, and the dreamy concoctions have since been added to 99 McDonald's menus worldwide. Made of soft-serve ice cream mixed with candy pieces, McFlurry flavors have included crushed Oreos, Snickers and Mars bars, Cadbury flavors like Creme Egg and Crunchie, and even Rolos, Butterfingers, Mini M&Ms, and Twix bars, according to McDonald's website and Business Insider. Australian locations have also offered double chocolate fudge, caramel cookie, and strawberry crumble in years past. And according to Food and Wine, you can get crushed macarons in your Parisian McFlurry, tiramisu flavored McFlurries in Thailand, a green tea Kit Kat flavor in the Philippines, and in Hong Kong? You can get waffles with taro-flavored ice cream topped off with Oreos and a chocolate cookie cone, because waffles and ice cream are a match made in McFlurry heaven. Be still my heart.
According to the McDonald's website, the name McFlurry comes from the process by which the creamy confection is made — with a special blade, or spoon, that attaches to the McFlurry mixer in order to "flurry" the ice cream with sauces, and cookie and candy pieces before serving. Hence the ensuing yumminess. But, let's face it, those darn things are kinda huge — that's a lot of candy and ice cream after noshing on fries all afternoon, so, enter the concept for the Mini McFlurry; because who doesn't like options?
The new McDonald's Mini McFlurries are available in the UK from June 27 to August 7, according to Delish, and while the limited edition treats are slated to be here today and gone tomorrow, as it were, there's always hope that if the Mini McFlurries are popular enough, and if demand is high enough, the new sizing might just be rolled out overseas, too. Fingers crossed!