How A Governor Ended A Student Group's Years Of Work To Increase Abortion Access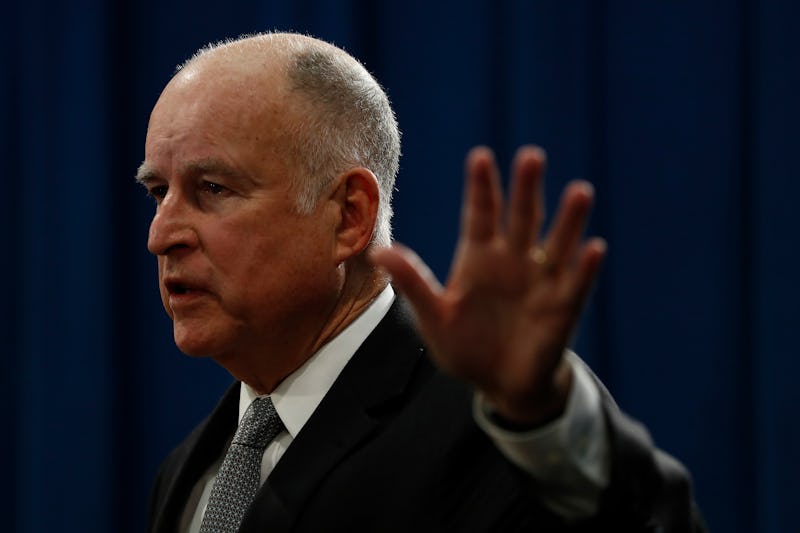 Stephen Lam/Getty Images News/Getty Images
On Sunday, a group of University of California Berkeley student activists was very close to seeing years of hard work culminate in a huge success for reproductive rights. Instead of finishing the day with a celebration, though, the group's work fell through when California Gov. Jerry Brown vetoed the medication abortion bill that would have made the procedure available on University of California (UC) campuses across the state.
"Because the services required by this bill are widely available off campus, this bill is not necessary," Brown wrote in a veto message on Sunday.
The students and former students fighting for the bill's passage — and multiple studies backing their efforts — disagreed with the governor's position. According to an ANSIRH report, over 500 students a month across all of the UC campuses seek medication abortions. Without the procedure available on campuses, those students "were faced with mostly logistical and bureaucratic hurdles that ended up having serious consequences on their academic performance, finances, and also just their emotional well-being," recently graduated activist Adiba Khan told Bustle in August.
A medication abortion is a safe and effective way to end a pregnancy within its first 10 weeks, according to Planned Parenthood. It involves the patient taking one pill in a clinic with a medical professional and then taking a second at home.
For women in the early stages of their pregnancy, this is often a preferred abortion method because it's not invasive, it allows the woman to be at home, and it's very effective if done early enough. However, the 10-week limit can create problems for students whose campuses are sufficiently far away from facilities that would offer the medication, the activists told Bustle — and the UC and California State campuses already had the facilities to safely offer the medication to their students.
Rather than giving his signature to a bill backed by years of activism and research, though, Brown vetoed it. The San Francisco Chronicle reported that some schools had worries about the cost of implementing the bill, but two foundations, the Women's Foundation of California and Tara Health Foundation, had even pledged money to cover the costs of training staff members and after-hours services at the campus clinics.
"I am truly disappointed that Governor Brown vetoed the 'College Student Right to Access Act'," California Sen. Connie Leyva said in a statement in response to Brown's Veto. Leyva introduced the bill in the state Senate, and has expressed a commitment to continue fighting for it even now that Brown has vetoed it once.
"At its core, SB 320 affirmed the constitutional right of college students to access abortion care promptly and without delay," Leyva wrote in her statement. "In the months and years ahead, I will continue fighting to make sure that college students have access to medication abortion on college campuses."
In a country where most of the news relating to reproductive rights is not positive for those hoping to expand those rights, the effort to pass this bill was poised to be a bright spot of success. Thanks to Brown's veto, however, the effort will have to continue another day.