Meet Three Women Helping Young Girls Get Involved In STEM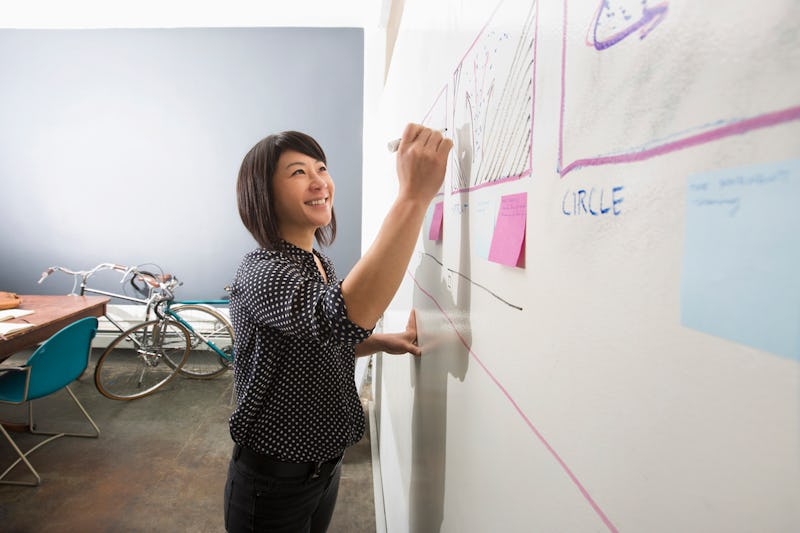 Jasper Cole / Blend for OFFSET
When it comes to women in STEM (the acronym for the fields of science, technology, engineering and math), the numbers are pretty disappointing. While women hold 57 percent of all professional occupations, they make up just 25 percent of the tech workforce. Studies also show that as the corporate ladder ascends, less and less positions are held by women, with women holding just 18.7 percent of senior executive positions.
The underrepresentation of women in STEM isn't anything new, but it is something that can be changed. Many believe that the disconnect between girls and the pursuit of a degree or career in STEM comes from internalizing societal messages at a young age that they aren't suited for these fields — despite the skills or interests they may have. Without the opportunity to explore the various fields of STEM as young girls, women are missing out. A career in STEM can lead to a wide range of job opportunities across various industries and disciplines, great pay, and a chance to tackle interesting, challenging, and fulfilling assignments.
Fortunately, there are certain individuals, programs and initiatives working tirelessly to help girls gain exposure to the world of science, technology, math and engineering at an early age. By fostering communities that not only educate, but also amplify the presence of women in technology, we can work to close the gender gap in STEM. We partnered with Dice, your go-to resource for discovering opportunities, insights and connections in technology, to highlight three women helping young women and girls gain confidence and problem-solving skills with STEM.
Nicole Kelner, co-founder & COO of The Coding Space
Nicole Kelner got inspired to start helping young girls get involved in coding and STEM after realizing that as a woman working in tech, time and time again, she was always the only woman in the room.
She realized she could help fix the problem by encouraging young girls to get excited about technology, prompting her to cofound The Coding Space — an afterschool and summer program that helps kids ages 8 to 15 learn how to tackle challenges independently through coding. The GirlCode Program, a subset of The Coding Space, provides a space for ambitious, change-making young ladies to learn, create, and code. During the summer, the GirlCode Program runs camps where girls can create technology solutions to the United Nations Social Development Goals, meet with inspirational female mentors in STEM, and go on field trips to present their prototypes to engineers at prominent tech startups.
"I think coding is a super power — once you learn it, you can bring any idea to life," Kelner says. "...I think what is so powerful about The GirlCode Program is that it is an invitation for girls to learn to code. They often sign up with their friends and continue to invite more friends along the way. This simple invitation can make a huge difference."
Annaliese Grant, Director of Alexa Café at UC Berkeley
As a young girl, the most exposure Annaliese Grant had to tech came from helping her father figure out how to fix their household computers when they broke. Though she knew she liked and was interested in tech, she had very little access to any structured system by which to explore her interests — especially coming from a low-income household.
Luckily, Grant had several teachers who were invested in her enough to help her stay motivated to stick through a math minor in college. To pay it forward (and give young girls struggling to find a community in STEM an educational and collaborative environment), she became a kid's coding instructor for iD Tech before becoming a camp director for their Alexa Café initiative — a series of weeklong day and overnight programs that seeks to inspire the next generation of women in STEM.
Today Grant helps fulfill Alexa Cafe's mission of providing a space to make tech more accessible for girls in a chic, collaborative learning environment while emphasizing women's leadership and involvement in social movements.
"It's important to encourage girls to pursue STEM interests at a young age because studies show that girls tend to lose confidence in their math and science skills during their middle school years," Grant says. "That's why Alexa Café specifically works with girls ages 10 to 15 — we want to boost girls' confidence and inspire them to continue at that critical age."
Megan Saunders, General Manager for Microsoft's 3D For Everyone Initiative
When Megan Saunders graduated college with a degree in Latin American Literature, she never thought she'd later work in tech. She held positions in sales and marketing at Microsoft before moving into engineering, and is now a general manager for Microsoft's 3D For Everyone initiative. Yet had she been exposed to technology in more natural ways earlier on, she likes to think it may not have taken her so long to get involved in tech.
Inspired in part by her daughter Maddie, who asked for a 3D printer for Christmas, Saunders realized the game-changing potential of 3D to extend young girl's ideas and creativity from the screen into the world. She hopes the 3D For Everyone initiative — a broad movement by Microsoft to get 3D more mainstream and accessible — impacts the next generation, especially young women.
"Research tells us that 3D aides in recall, retention and overall academic performance, especially for girls, who after taking a course in 3D, are much more likely to enroll in a STEM class," she explains. "So the work that we're doing at Microsoft to develop easy-to-use 3D experiences such as Paint3D and Remix3D.com, will ultimately expose and hopefully spark an interest in technology, ultimately leading to our next generation on a path toward pursuing STEM — especially young women."
This post is sponsored by Dice