Megan Rapinoe Weighed In On A USWNT White House Visit & Trump Was Clearly Upset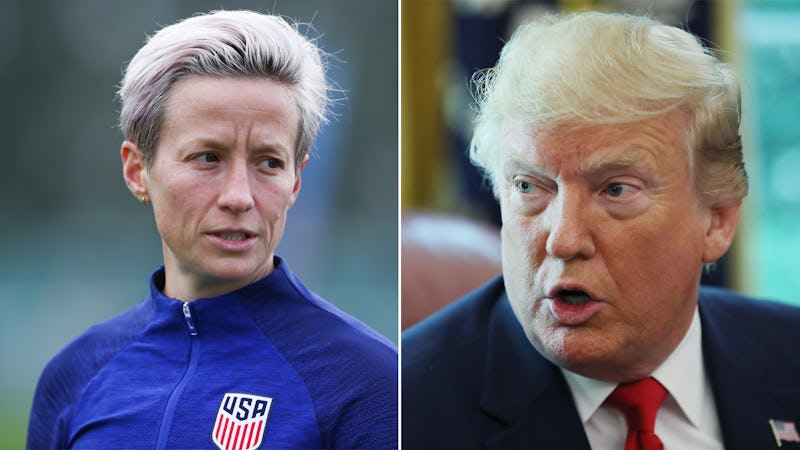 Alex Grimm/Getty Images Sport/Getty Images / Mark Wilson/Getty Images News/Getty Images
The U.S. women's soccer team could win the FIFA Women's World Cup — they've already advanced to the quarterfinals. But whether or not they take home the cup, there will be a political drama waiting back at home. President Trump is mad Megan Rapinoe said she wouldn't go to the White House and has now invited the whole team on Twitter.
Speaking in an interview with Eight by Eight magazine, Rapinoe said Tuesday she's "not going to the f*cking White House" if the team wins and added that she doubted they'd even be invited. Trump responded, seemingly incensed, on Wednesday morning.
"I am a big fan of the American Team, and Women's Soccer, but Megan should WIN first before she TALKS! Finish the job!" Trump tweeted (after a dig at the NBA for moving away from the word "owner" for racial sensitivity).
Then Trump said that while he hadn't invited Rapinoe or the team, he was going to. "I am now inviting the TEAM, win or lose," Trump added. "Megan should never disrespect our Country, the White House, or our Flag, especially since so much has been done for her & the team. Be proud of the Flag that you wear. The USA is doing GREAT!"
This is the second spat with Rapinoe in as many days. After the U.S. women's team beat Spain on Monday, the star player did not sing along to the national anthem like most of her teammates. Asked about this by The Hill and whether it was appropriate, President responded, "No. I don't think so."
He did, though, speak positively about the team in that interview. "I love watching women's soccer," he told the outlet. "They're really talented." Rapinoe may have not read that part of the interview, or she focused on another one of Trump's comments about the team — that it was "economics" that explained their pay gap with the men's team.
"I think a lot of it also has to do with the economics," he told The Hill. "I mean who draws more, where is the money coming in. I know that when you have the great stars like [Portugal's Cristiano] Ronaldo and some of these stars ... that get paid a lot of money, but they draw hundreds of thousands of people."
"But I haven't taken a position on that at all. I'd have to look at it," he added, according to the D.C. news outlet.
It could also be that Rapinoe's statement is more of her "walking protest," as she describes herself. She told Yahoo Sports in May that she will likely never sing along to "The Star-Spangled Banner" again. "I'll probably never put my hand over my heart," she told Yahoo Sports. "I'll probably never sing the national anthem again."
In the interview, Rapinoe called the president "sexist," "misogynistic," "racist," and "not a good person" among other negative descriptors. She told her representing the country on the women's soccer team works against all that.
"I feel like it's kind of defiance in and of itself to just be who I am and wear the jersey, and represent it," she told Yahoo Sports. "Because I'm as talented as I am, I get to be here, you don't get to tell me if I can be here or not. So it's kind of a good 'F you' to any sort of inequality or bad sentiments that the [Trump] administration might have towards people who don't look exactly like him."
Going to the White House on Trump's invitation would contradict that.