Two Olympic Ice Hockey Rivals Got Married In The Most Rom-Commy Way You've Ever Heard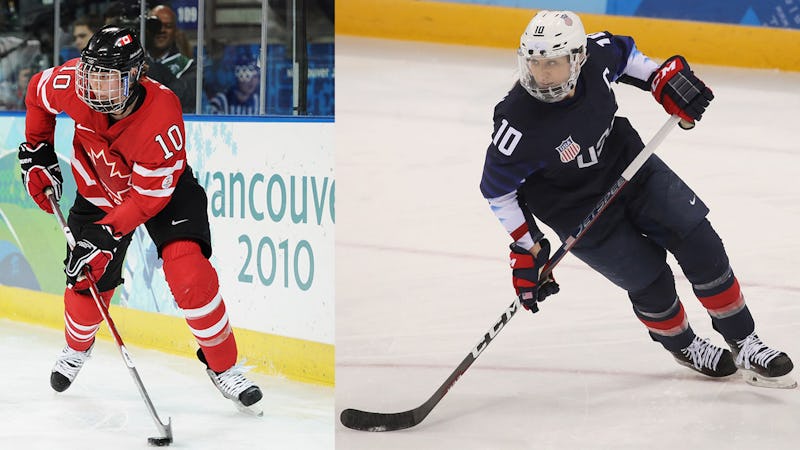 Harry How/Getty Images Sport/Getty Images and Bruce Bennett/Getty Images Sport/Getty Images
In what sounds like a sports romance movie come to life, two Olympic ice hockey rivals got married this weekend. Meghan Duggan, the captain of the US women's Olympic hockey team, said "I do" to Gillian Apps, a three-time gold medal winner of the Canadian women's hockey team. Attention Lifetime, Hallmark Channel, Disney Channel Original Movies, et al: where is the "hockey rivalry turned romance" your audiences deserve?
Both Duggan and Apps shared the news of their recent nuptials on social media, with Duggan sharing photos in a tweet as well as an Instagram post. Apps also shared a couple photos of the newly married couple on Instagram. The two got married over the weekend at the William Allen Farm in Pownal, Maine. The couple was surrounded by friends, family, and teammates with their wedding party made up of several members of the Olympic teams. Other athletes from both countries and all sports took to social media to share their well-wishes for the couple, joining the chorus of "awws" and "yays" from everyone else on the internet.
The official Team USA Twitter account also joined in the celebration tweeting, "True love overcomes even the largest of rivalries." Team Canada also tweeted out their support. So, both parent countries support the couple. (I repeat, where is the modern day retelling of Romeo and Juliet but they play hockey and are both Juliet?)
If you're looking to get married like an Olympian, you might want to book your date ASAP. The William Allen Farm appears to be a popular venue for rustic-styled wedding. According to Wedding Wire, renting out the space starts at about $7,200. In terms of everyday, normal money, that's a decent chunk of change. However in the context of wedding money, it's not wildly expensive.
If you've come to this post seeking wedding hashtag ideas, unfortunately neither bride included a hashtag in their social posts. However, an Instagram post from Duggan back in July shared some photos of pre-wedding celebrations. Her post sharing her gratitude for the friends and family who came to shower them with love included two hashtags: #TheresAnAppsForThat and #TeachMeHowToDuggan. Yes. Perfect. 10/10. Gold medals all around.
As a blog post from Team USA states, Apps and Duggan faced off during the 2010 and 2014 Olympic Winter Games. Apps brought home the gold for Canada both times and has since retired from international play. Duggan led the US team to a victory over Canada during the 2018 PyeongChang 2018 Olympics, marking a first for the US team in 20 years.
Lest you think the US-Canada rivalry an exaggeration, here's a former statement from Team USA, shared by Global News, on the rivalry: "The U.S.-Canada ice hockey rivalry is one of the most storied in team sports, with the two nations competing for every gold medal since the women's world championship began in 1990."
Duggan and Apps aren't the first US-Canada hockey couple. Caroline Ouellette, formerly of Canada's Olympic ice hockey team, and Julie Chu, formerly of Team USA, welcomed a "Chullette" baby late last year. The couple shared a family Christmas photo on Instagram, complete with matching Christmas pjs and their baby dressed like Santa.
If you haven't have your fill of happy-crying today, take a scroll through the comments on either Duggan or Apps' social posts sharing photos from their wedding. The tweets and posts are filled with celebration, congratulations, and happy-sobbing emojis. (I repeat, for a third and final time, the world clearly craves a hockey rivalry romantic movie.)
Between the two of them, they have four Olympic gold medals, two silvers, and a whole lifetime of happiness ahead of them.