Meghan & Harry Are Actually Returning Royal Wedding Gifts & Here's Why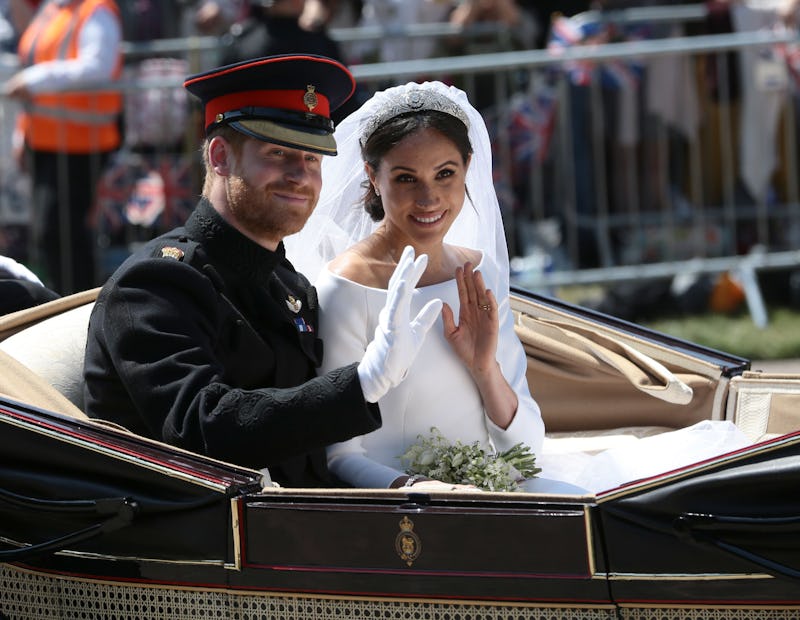 WPA Pool/Getty Images Entertainment/Getty Images
One of the excellent things about being a royal, I'd imagine, is that companies are falling over themselves to send you free gifts; anything from chocolates and shoes to planes and cars. And for good reason: a paparazzi picture of a royal brandishing a particular branded item reaches millions and would presumably send people running to the shops to buy the exact same thing. However, it's not quite as simple as that, and it has been reported that Harry and Meghan's will return free Royal Wedding gifts.
You see, the royals are in a unique position. They are of public interest and in the public eye, and they can't be commercially used or exploited. Kensington Palace has an official policy on free gifts received by members of the royal household: "When gifts are accepted, the consent of the Member of the Royal Family should be contingent upon the enterprise undertaking not to exploit the gift for commercial purposes," a statement quoted by The Mirror reads. Essentially, Harry, Meghan and the rest of the Royal family can't be seen supporting or endorsing a free gift, which could then send members of the public racing to buy it.
Around the time of their wedding, which took place on May 19, Harry and Meghan asked in an official statement that members of the public and well-wishers donate to their seven chosen charities instead of buying them gifts. Several world leaders obliged, including Canadian Prime Minister Justin Trudeau, who said the Canadian government would be giving $50,000 to charity Jumpstart, according to Time. The Taronga Zoo in New South Wales, Australia, went one step further, not only donating money to koala funds on the behalf of the royal couple, but naming two of its koalas after Harry and Meghan, reports the Express.
However, some business and companies haven't been able to resist sending the new Duke and Duchess of Sussex gifts, in the hope of Harry and Meghan being spotted with them. You can see why it's desirable on their part: the "Markle Sparkle" effect describes the way in which anything Meghan is seen in, instantly gets sold out, such as her Mother jeans, according to Marie Claire. Swimwear company Bags of Love supposedly sent Harry and Meghan matching swimwear, according to The Express, presumably for use on honeymoon and ideally to be captured by eagle-eyed photographers for the world to see.
Because Harry and Meghan can't be seen wearing or using free goods that could be used for commercial gain, the majority of these free gifts have been returned to the original senders. However, according to the Daily Star, a selection of the gifts, decided upon by a panel, will be given to charity.
While the palace hasn't revealed the exact amount of goods received as wedding presents, it's thought to be in the millions, with The Express estimating the total to be worth a whopping £7 million. The Duke and Duchess of Cambridge have received even more over the years, with gifts sent not only around the time of their wedding, but also around the births of their three children, Prince George, Princess Charlotte, and Prince Louis. Their total is roughly £30 million, according to the Daily Star.
While it must be somewhat frustrating to send gorgeous gifts back, it's a stringent rule in place for good reason, and we imagine the royals do just fine when it comes to legitimate gifts. And with Harry and Meghan reported to be jetting off on honeymoon to this dreamy destination in Canada, according to the The Independent, we don't feel too sorry for the newly married Duke and Duchess of Sussex.