The Internet Is Flipping Out Over Meghan Markle… Closing A Car Door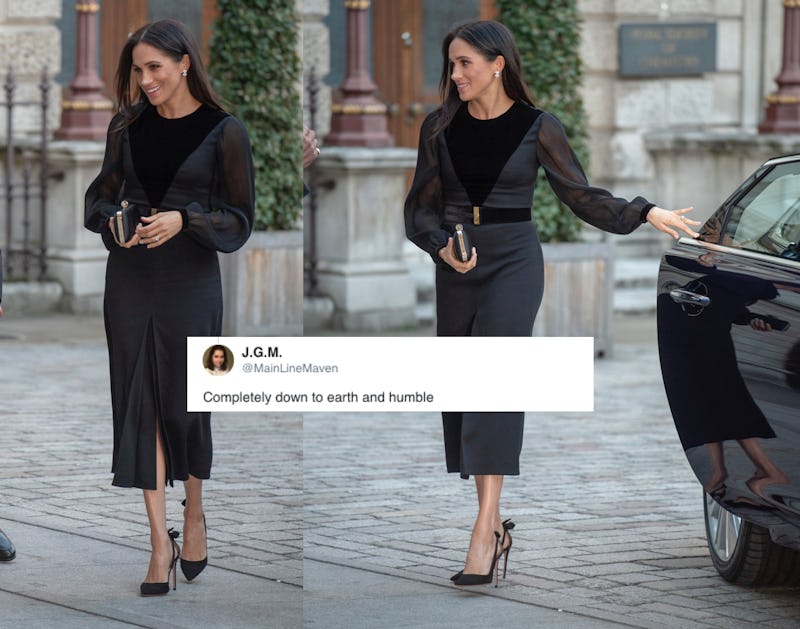 WPA Pool/Getty Images Entertainment/Getty Images/WPA Pool/Getty Images Entertainment/Getty Images
The internet cannot handle Meghan Markle right now. In an act that will surely be noted in history books for centuries to come, Meghan Markle closed a car door by herself, sending the internet into a flurry of exploding minds, People reports. Markle was attending the "Oceania" art exhibit at the Royal Academy of Art in London, says People, her first outing without Prince Harry since the royal couple's wedding. According to People, Markle stepped out of her car, shook hands with one of her hosts, and then used her very own hand to shut her car door. The act of vehicular rebellion was not lost on the internet, which then completely flipped out.
According to BBC News, some people thought the simple act of shutting her car door showed Markle was still a humble human being. Others, says BBC News, thought the act was a major no-no because it broke vital standing protocol for royal family members.
"The person who opened the door should have held it till she got out, and then close it. He opened it and walked away?" said Twitter user @Stella_Jacob4.
Twitter user @_RoyalEve_ said, "I had to smile — Meghan is closing the door of that car herself — you know she´s still used to doing that...😉😊." To which @adnama1985 replied, "Someone will be answering to Henry Charles for that. 😋😂."
"I don't think #MeghanMarkle sees herself as better than anyone else," says Twitter user @OwensMarian7. "She knows that she and #PrineHarry are blessed to have found each other. I'm proud of her. Life is good."
"I really don't think it occurs to her that someone else is there to do that. It is something she's always done herself like the rest of us," says Twitter user @AlisaHilde.
But not everyone was thrilled with Markle's casual gesture. Twitter user @byEmilyAndrews said, "She must stop that! She's gonna render someone unemployed soon," garnering 762 likes.
According to BBC News, Markle didn't actually break protocol as many originally thought. "Usually, if you are a member of the royal family or a dignitary, you have a member of staff to open and close a car door for you," etiquette expert William Hanson told Radio 1 Newsbeat, a BBC News radio show. Hanson told Radio 1 Newsbeat that this is for security reasons, not etiquette. But in this case, says BBC News, the person who opened Markle's door stepped out of her way so she could greet her host and, yes, close her own door.
This isn't the first time Markle has used her own hands and arms to close doors on her own. According to Harper's Bazaar, when Markle arrived at her event at Kensington Place last week, someone did open the car door for her, but Markle (gasp!) shut it on her own after stepping out of the car. But sometimes, says Harper's Bazaar, Markle rests her limbs and let's other people close doors for her. At the WellChild Awards earlier this month and at the Wimbledon final in July, someone opened and closed doors for Markle, Harper's Bazaar reports.
It really seems like the internet cares a lot more than Markle does about who's opening and closing doors for her, proving that Markle Mania is still alive and well.