Meghan's Allowed To Wear Tiaras But You Might Be Surprised Which Princesses Aren't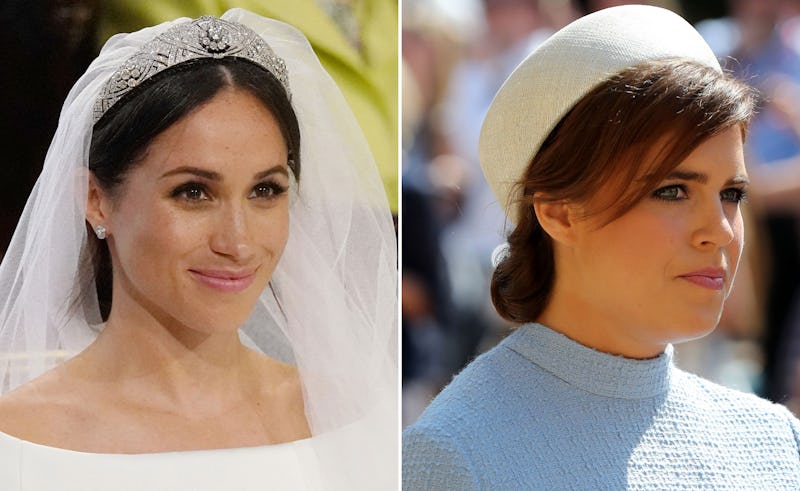 WPA Pool/Getty Images Entertainment/Getty Images/WPA Pool/Getty Images Entertainment/Getty Images
We all know the royal family is full of idiosyncrasies and funny rules that we commoners will never have any hope of understanding. But the case of two royal weddings this year, plus a christening, has brought a particular issue into sharp relief. And that is why Meghan Markle and Kate Middleton are allowed to wear tiaras but Princess Eugenie isn't?
She is ninth in line to the throne and the queen's granddaughter, and this October she will walk down the aisle to marry fiancé Jack Brooksbank, in a ceremony that will mirror Prince Harry and Meghan Markle's wedding in that it will take place at Windsor Castle. And just as the Duchess of Sussex wore a diamond centre-stone adorned filigree tiara previously made for Queen Mary and belonging to the Queen to marry her prince, Princess Eugenie will finally be afforded the privilege of sporting a tiara all of her own when it comes to her big day.
This is because, in line with royal tradition, Princesses Eugenie as well as her sister Beatrice are not allowed to wear tiaras until they marry, as only married women and royal brides can wear the jewelled headpieces, as reported by the Express. Jewellery expert Geoffrey Munn told Cosmopolitan: "Any woman may wear one, but ancient tradition has it that they must be a bride or already married ... One of the mainstays of European royalty and aristocracy is to do what you have always done and formal dress, jewellery, and tiaras are just a part of this."
Rumours reported in the Express suggest that the princess will wear a tiara belonging to her mother, Sarah Ferguson, which she wore on her wedding day. This particular tiara was designed by Garrard, the London-based bespoke jewellery house that was also responsible for the creation of Ferguson's engagement ring when she became engaged to Prince Andrew, Princess Eugenie's father. Gifted by the Queen to the then-Duchess of York as a wedding present, the headpiece was given alongside what is known as a demi-parure: a jewellery set including a necklace, earrings and bracelet. Lucky girl!
While this all seems perfectly nice and sentimental, this practice has its roots in historic tradition too, as royal brides would traditionally have worn a tiara from the family collection for their wedding day before moving on to picking headpieces from their husband's family's collection afterwards. Kate Middleton, not being of royal stock, was unable to do this, and instead borrowed a tiara from the Windsor collection: a Cartier design encrusted with nearly 1,000 diamonds, which was given to the Wueen's mother as an anniversary gift from her husband, King George VI and re-gifted to the Queen for her 18th birthday.
Princess Diana, however, did follow this tradition, wearing a Spencer (her family name) tiara when she married Prince Charles, before borrowing from the royal collection throughout her marriage. But if Eugenie needs any tips when it comes to picking out tiaras, she should look no further than her cousin-in-law the Duchess of Cambridge, who has worn no less than six tiaras since she became a fully fledged member of the royal family seven years ago.
While Princess Eugenie may have not had the opportunity to wear a tiara as of yet, come October when she is married, I'm sure she'll be more than making up for lost time.