Meghan & Kate's Body Language Reveals A Bond That Makes Total Sense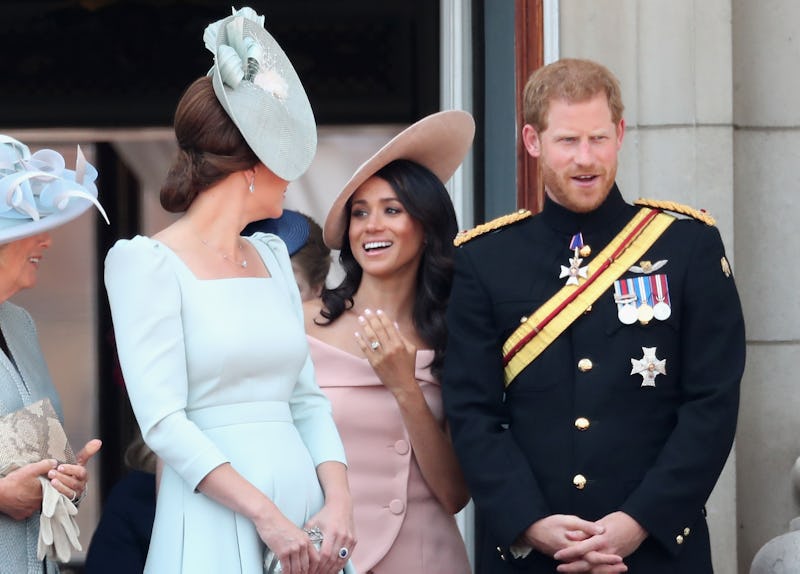 Chris Jackson/Getty Images News/Getty Images
It hasn't even been a month since the royal wedding, but everyone was still eagerly anticipating seeing the Windsors at this year's Trooping the Colour celebration. More than anything, the public were super keen to see what the Duchess of Cambridge and the newly named Duchess of Sussex were going to be like together at their first royal function since the wedding. While there's a part of me that would love Kate and Meghan to be BFFs, it's not fair to expect that just just by virtue of who they've married. Nevertheless, decoding their body language tells us Kate Middleton and Meghan Markle's relationship is actually pretty strong.
There aren't a huge amount of photos to trawl through for evidence of the two Duchesses possible friendship, so Trooping the Colour presented the perfect opportunity to see what the situation was. Along with other members of the royal family, Markle and Middleton took their place on the balcony of Buckingham Palace to watch the events after the Queen had surveyed the massed ranks of the troops. Body language is the easiest way to read a person's mood and feeling and even behaviour that may be taken for granted tends to mean something. So what did Middleton and Markle's body language tell us?
This was Markle's debut appearance on the Buckingham Palace balcony, so eyes were very much on her to see how she would enjoy the event. Taking her place beside Prince Harry, the Duchess looked reserved, but after a quick (and almost secret) conversation with her husband, she quickly relaxed. According to The Sun, the prince asked Markle if she was OK, to which she replied that she was "nervous."
Dr Lillian Glass, a body language and communications expert based in California, was quick to deduce that Markle's composure was giving away her nerves. "Her lips are smiling but not her eyes or the apples of her cheeks, indicating it is a nervous smile," she explains. Considering it's only been three weeks since she became an official part of the royal family, her nerves are totally understandable.
OK, so, yes, Markle and Middleton are technically sisters through marriage, but Trooping the Colour showed that the Duchesses may be closer friends than previously thought, as their body language revealed all the signs.
Glass noted that Markle looked "stiff and rigid in terms of her body language indicating her nervousness and discomfort in her new situation and role. She is also wide-eyed, taking it all in, amazed at the adulation and what she sees in terms of the huge crowds adoring her." With Middleton to the fore of the balcony, showing her seniority, Markle stood slightly behind her, which gave the newest member of the royal family the perfect way to set her nerves at ease: when in doubt, follow her sister-in-law.
This backs up what body language expert Dr. Peter Collett previously told us of the moment at Sandringham this year when a Meghan curtsied before the Queen. "When I first watched it, I initially came away thinking it was an exaggerated version of the curtsey, but actually, Meghan's eyes dodge to the right to see where Kate is, and peripherally she's watching out for Kate," Dr. Collett explained to Bustle. "Kate initiates the curtsey, and it's a low one. Interestingly, Meghan copies her almost to the T, just a half beat behind. She doesn't over do it. She does what Kate does, showing she knows where to look for the information, and she pulls off a performance."
Since her marriage to Prince William in 2011, the Duchess of Cambridge knows exactly what is involved with official royal appearances and the confidence in her stance and behaviour was undoubtedly inspiring for the younger Duchess. Following suit with Middleton, Markle too stood tall with her hands in front of her, maintaining her composure throughout the event, which Glass told me shows Markle mirrors the behaviour of the Duchess of Cambridge.
It's understandable that Markle would feel anxious about such a big event, especially given it's her first official appearance after the wedding. Having an expert like Middleton there can only have made things easier and judging from Markle's body language, she was relieved to find such a positive role model.
In a move that can have only delighted viewers, Middleton and Markle were also pictured laughing and sharing a sweet moment on the balcony, which broke the tension of the day.
Even when people think they are maintaining a calm and composed exterior, there are signs that become dead giveaways for body language experts who are able to read moods and behaviours. Judging from Trooping the Colour on Saturday June 9, Middleton serves as a strong role model for the newest member of the royal family and her guidance will be important in helping the Duchess become accustomed to royal traditions.