The Identity Of Prince Harry & Meghan Markle's Mysterious "Matchmaker" Has Been Revealed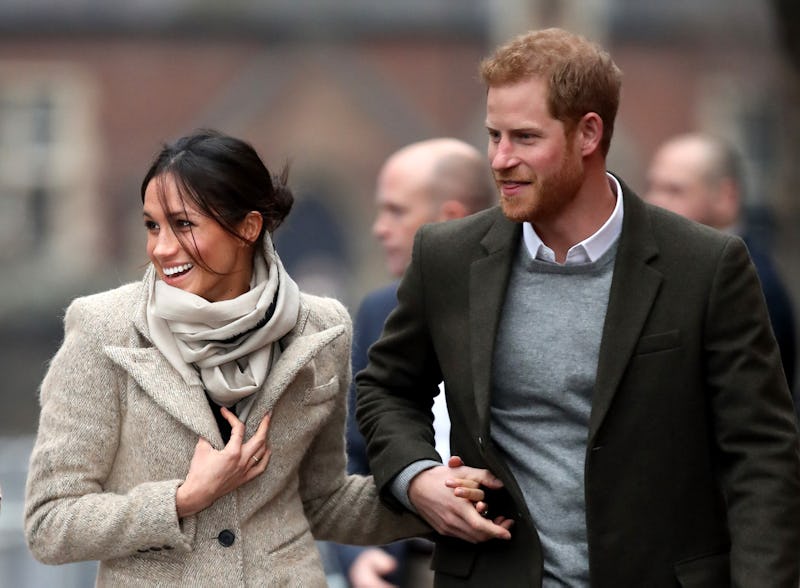 Chris Jackson/Getty Images Entertainment/Getty Images
As far as fairytale romances go, Prince Harry and Meghan Markle's relationship is a pretty remarkable testament to the unsung power of the good, old-fashioned set-up. And, with their royal nuptials steadily approaching, speculation about the identity of the "mutual friend" who set them up on a blind date back in July of 2016 hasn't slowed down. The days of fruitless guesswork could be coming to an end, though, since Prince Harry and Markle's mysterious "matchmaker" was reportedly just revealed.
According to E! News, the "mutual friend" in question has been identified as Violet von Westenholz: London-based Ralph Lauren PR director, British socialite, and, apparently, brilliant royal love doctor to boot. Her father is a baron (which, in the U.K., is essentially a royalty-adjacent title denoting British nobility), and, as E! News reported, a close friend of Prince Charles, Harry's father. Von Westenholz has reportedly been a friend and confidante of Prince Harry since their childhood. And, per the testimony of a "well-placed source" (as E! put it), Harry had reportedly confided in his closest friends about his romance woes — before Markle came around, of course. (Bustle reached out to a rep for Harry and Markle for comment, but did not receive a response at the time of publication.)
"Harry was having a really hard time finding anyone," the anonymous source told E! News. "It's hard enough finding someone new to date. He can hardly go on Tinder or a dating app like normal people, but to meet someone that you actually connect with, that was proving to be almost impossible."
But, if the reports are true, that's when von Westenholz stepped in, wielding the personalized kind of matchmaking prowess that a modern-day dating app can't provide. According to the source who spoke to E! News, Markle and von Westenholz first crossed paths through von Westenholz's work with Ralph Lauren. "Meghan had been a part of the London social scene for a while and had slotted into the high society set really easily," the source told E! News, continuing, "And so when Harry told Violet he was having trouble finding someone, Violet said she might just have the perfect girl for him."
Rumors about the identity of Prince Harry and Markle's covert matchmaker have been circulating for months now. Back in November, post-royal engagement announcement, the couple let their fans in on an enticing secret, via a joint interview with the BBC: The two were originally set up on a blind date, courtesy of an unidentified "mutual friend." During the interview, the couple offered fans a bit more insight into the details of their engagement, as well as their relationship's origin story. And, while Harry did say the two were introduced by a mutual friend in July 2016, they said they wouldn't share more.
Still, the prince managed to shed some light on those first few romantic rendezvous. "We met once and then twice back-to-back two dates in London, last July," Prince Harry told the BBC. Recounting a getaway trip they took to Botswana for five days, Harry continued, "I think about three, maybe four weeks later that I managed to persuade her to come and join me in Botswana," he continued in the video. "And we camped out with each other under the stars."
As E! News notes in its report, frenzied speculation as to the identity of the mutual friend who made Prince Harry and Markle's relationship possible has led to a handful of potential contenders who, people thought, might fit the bill. Frontrunners on that list of maybe-cupids are as follows: Markle's best friend, stylist Jessica Mulroney; fashion designer Misha Nonoo, who was formerly married to one of Prince Harry's closest friends; and Markus Anderson, who is perhaps the couple's most conspicuous mutual friend.
A handful of U.K.-based news outlets pinpointed von Westenholz as a possible candidate for royal matchmaker back in November, when The Daily Telegraph reported that the fashion PR maven declined to confirm nor deny her involvement in the origins of Prince Harry and Markle's relationship. "I might leave that for other people to say [who it is]," she told The Telegraph (via the Daily Mail), responding to an inquiry about the unidentified matchmaker's identity. But, while von Westenholz didn't reveal too much, she did confirm her enthusiastic support of the royal couple's love affair. Speaking to The Telegraph, von Westenholz continued. "[The way Prince Harry and Markle met is] a great story and I am sure they are going to be very happy together. I am just happy they are really happy," she said, adding, "They are great together."
So, is von Westenholz the mystery matchmaker to the royals? A bona fide verdict is still up in the air as von Westenholz, Harry, nor Markle have confirmed. But, if the claims by E! News' "well-placed" source hold any weight, perhaps eager fans of Prince Harry and Meghan Markle's relationship finally have the answer they've been looking for.