Meghan Markle Is Reportedly Using This Exact Beauty Product To Get Her Glow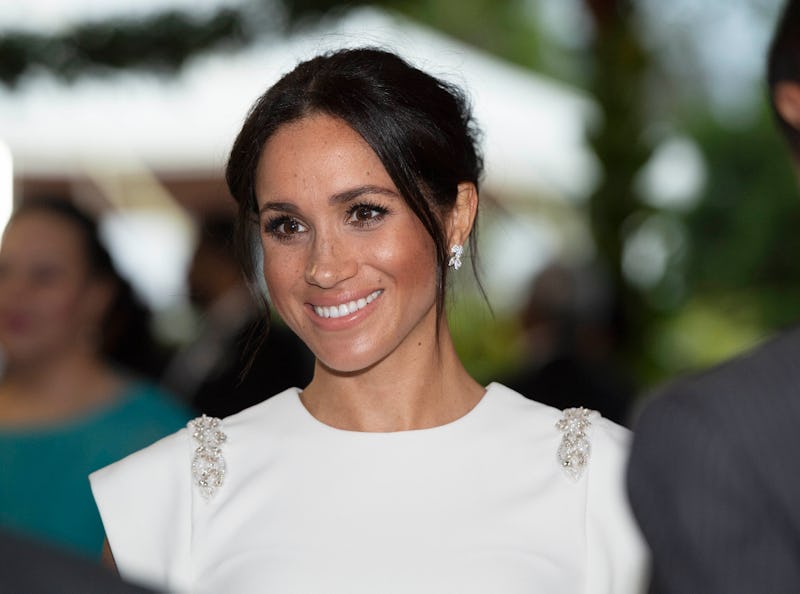 Pool/Getty Images Entertainment/Getty Images
Meghan Markle is currently in the thick of her Australian royal tour, and if you ever wondered what a royal packs into her skincare bag while on such a jam-packed schedule, we now have a part of that answer. Meghan Markle uses clean-beauty brand Beuti Skincare in her routine, which has been gifted to her by her sister-in-law, Kate Middleton. Specifically, she uses the Beauty Sleep Elixir, which is 98 percent organic oils, 100 percent natural, and made in the United Kingdom.
The Duchess of Sussex's makeup and glowing skin is constantly buzzed about, where makeup artists constantly update beauty lovers on what kind of fuss-free skincare she uses, and which makeup techniques made their way into her morning routines. We now have another piece to the puzzle, where an insider source has confirmed that Beuti Skincare is found in both royals' bathroom cabinets.
Duchess Kate was the first to use it when she received the product back in 2016, and has since made it a staple in her skincare routine.
"We have an inside source at the palace who confirmed that Kate Middleton received the Beauty Sleep Elixir in 2016 and keeps a stash of Beuti on her nightstand," Leila Aalam, the founder of Beuti Skincare, shares with Bustle. "We were also told by the same source that Kate indeed gifted the Beauty Sleep Elixir to Meghan Markle and we are told she has been using the line since."
The Beauty Sleep Elixir is made from a blend of 14 plant-based oils, including a Caribbean coral extract that is a powerful anti-inflammatory, as well as sandalwood nut kernel oil, which helps prevent the breakdown of skin elasticity. These ingredients are then combined with a mix of different plant oils to moisturize the skin and help it glow, including a generous amount of camellia oil, chia seed oil, pomegranate seed oil, lavender herb oil, and others.
It can be worn underneath makeup to even skin tone, be applied to bare skin to brighten your complexion on days you want to skip the foundation, and even be used as spot-treatment thanks to its anti-inflammatory properties.
It's also a great serum to apply before bed — hence why Middleton keeps it on her nightstand — where its super boost of vitamins and minerals activate a glowing complexion while your skin is renewing itself during your beauty sleep.
Beuti Skincare was created with the goal of creating quality skincare without irritants and unnecessary chemicals — just pure ingredients that will bring nutrients to your skin and help it stay healthy and radiant.
And seeing how Markle is now pregnant with her first child, these all-natural products ensure that no harmful or synthetic chemicals are entering her system. The source confirmed that Middleton gifted the bottle to Markle right before her pregnancy announcement, so the switch to clean beauty could have been deliberate.
Either way, the Beauty Sleep Elixir is a great option for those looking to cut harsh chemicals out of their beauty routine, and at $54 a bottle, it's a mid-range product that won't break the bank.
If it's good enough for royalty, then it's good enough for us.