Meghan Markle & The Queen Are Reportedly Having A Sleepover & Omg Well Jel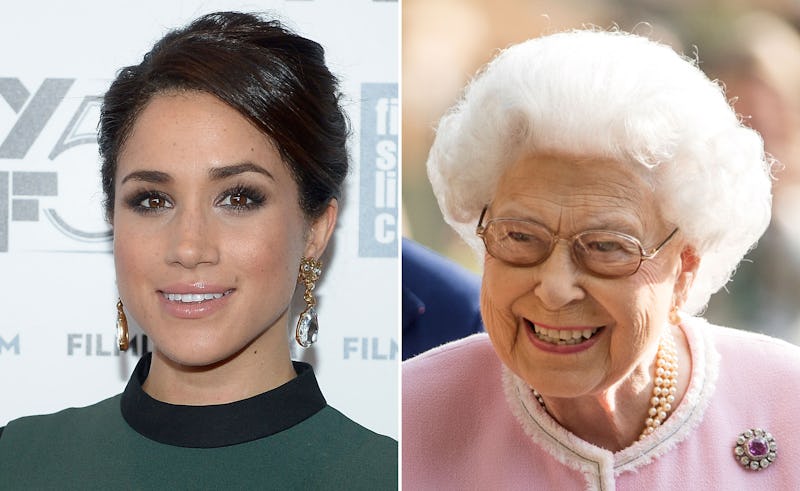 Michael Loccisano/Getty Images Entertainment/Getty Images WPA Pool/Getty Images Entertainment/Getty Images
There's no better way to bond with new pals than a sleepover. Just say the word and I'm 9-years-old again, hovering in the kitchen as my mum phones my new best friend's parents to ask if she'd like to stay over. What midnight snacks will we have, what film shall we rent from Blockbuster? Fun times. No wonder Meghan Markle and The Queen are having a slumber party of their own. See everyone loves a sleepover — even the royal family.
Obviously this isn't going to be your average sleepover. This is a royal sleepover, so I imagine it'll be exactly like that scene in The Princess Diaries where Julie Andrews mattress surfs down a giant gold slide, right? Actually, probably not. As much as I'd love to believe that the Queen and the newly appointed Duchess of Sussex might will be munching on popcorn and playing Dream Phone all night, it's unlikely either will be on the itinerary on tonight's sleepover. Although I still reckon Her Majesty would make a mean mattress-surfer.
No, this sleepover is reportedly going to take place on a train of all places. Not my first choice for a slumber party, but I'll hear old Queenie out. It turns out there's a good reason for the unusual location, and as it's her majesty's personal locomotive. I'm sure their rail experience is going to be more Orient Express than National Rail.
It was recently revealed that the Queen and Markle are making a very important step in their relationship by attending their first event together just a few weeks after the former Suits actress married into the family. The monarch has invited her new granddaughter-in-law to join her for a day of engagements in Cheshire on June 14 and, according to The Daily Mail, the pair will travel together on the royal train on Wednesday night. As The Express reports, while an average train can do the journey in two hours, it is thought the royal train is much slower and the Queen prefers to travel overnight. But what can Markle expect from the train ride of a lifetime? Well it might not be quite as sumptuous as you'd imagine.
The Mail reports that decor in the nine-carriage train dates back to 1977 and as such may seem pretty dated to a thoroughly modern duchess like Meghan. But as the compartments are said to be fitted with secondary air suspension, the new royal can expect a smooth journey, especially just after 7.30 a.m. when drivers are reportedly instructed to keep things steady so the Queen's bath water doesn't splash about.
The Mail's royal correspondent Rebecca English also writes that the Queen's personal sitting room features cosy armchairs, hand-stitched velvet cushions, and a dining table, which sounds nicer than my flat, TBH. Meanwhile in her sleeping quarters, which are said to be decorated in "soft pastel shades", the monarch's pillows are apparently embroidered with lace and complete with a royal cypher, while Prince Philip's are kept plain.
So if the sleepover invitation is anything go by, it would appear the Duchess of Sussex and her new grandmother-in-law's relationship is right on track. Which shouldn't really come as a surprise, as Prince Harry previously revealed that Meghan had been given the Royal seal of approval, not by the Queen herself but by her favourite pet corgis when she met them at an afternoon tea.
He told the BBC during the pair's engagement interview: "I've spent the last 33 years being barked at — this one walks in, absolutely nothing." While Markle added that the dogs were "just laying on my feet during tea. It was very sweet."
If that wasn't enough evidence of the Queen's affection for the couple, eagle-eyed fans spotted further proof when the monarch was pictured meeting the Australian high commissioner to the UK, George Brandi in her study. In the back of the snap, a previously unseen portrait of Harry and Markle was sitting on a side table in a golden frame. So cute. Now, if you'll excuse me, I'll be looking up the train times to Cheshire. Wait, what do you mean I'm not invited?
This article was originally published on