What The Queen & Meghan Markle's Body Language Reveals About Their Relationship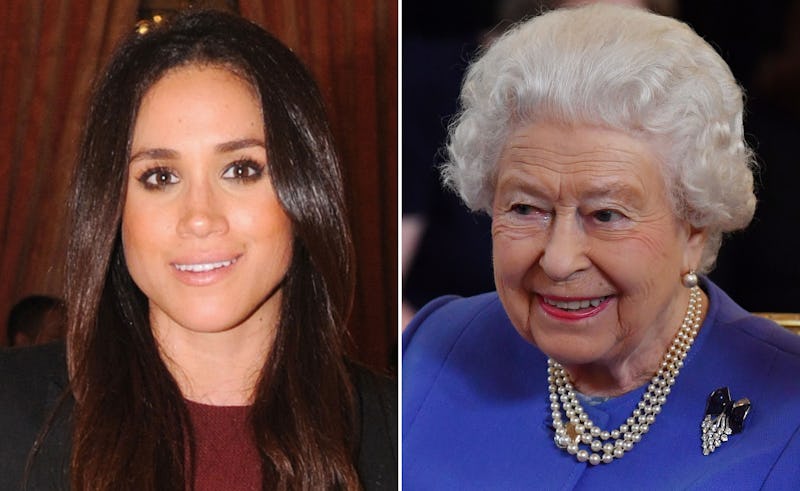 Bryan Bedder/Getty Images Entertainment/Getty Images WPA Pool/Getty Images Entertainment/Getty Images
Ever since the royal wedding, people have been fascinated by Her Majesty's relationship with her new granddaughter-in-law. Just how close are they? Do they genuinely enjoy each other's company? The fact is neither of them are going to be doing interviews about one another any time soon, so I spoke to an expert about the Queen and Meghan Markle's body language. Are they as close as everyone's suggesting?
It has to be said, there aren't that many photos of the two of them together just yet, meaning there's not a huge amount of concrete evidence to analyse. But there is some, and the interpretation of their bond is pretty interesting.
"I think it might be fair to say that the Queen looks fascinated by her new granddaughter-in-law," body language expert Judi James tells me. "She has always looked like the indulgent granny with the more fun and informal Harry, and her intense interest signals with Meghan suggest she's more than happy with his choice of bride."
Commenting on the body language seen in the official royal wedding photo, James adds: "[The Queen's] smile during the official photo is one of genuine, relaxed-looking delight and as Meghan's body language suggests she's towing the royal line, her assurance patting of Harry will have given the Queen clues of a more nurturing side too."
One thing's for sure, Markle certainly respects the Queen. Indeed, she's been vocal on that in the past, calling her an "incredible woman" in the couple's engagement interview on the BBC. It is also clear that the monarch supports Prince Harry's choice of wife, too. Not only are the Queen and Markle embarking on a public royal outing to Chester together on June 14, just the two of them (far sooner than was ever the case for Kate Middleton), but the Her Majesty has now bestowed a real honour upon the former Suits actress by inviting the newly appointed Duchess of Sussex to travel with her on the royal train. They really do seem to be getting pretty close, don't they?
The only other royals who have received this privilege are the Queen's nearest and dearest. Even Princes William and Harry, and Kate Middleton have reportedly not received the honour yet, according to Metro. The royal visit with Markle is being seen as an outwards demonstration of their closeness, and a possible reflection of how she admires Markle's work ethic, charitable focus, and the humane way she relates to others.
"The feeling I get about Meghan is she's very eager to please, and determined to slot in, and do the job properly," body language expert Dr. Peter Collett tells me. "She's extremely conscientious and bringing to bear some of the discipline associated with being an actor. You can see she's a quick learner and she's got the wherewithal to pull off a performance of being a member of the royal family, which is all about fitting into the role."
There were rumours that Markle refused to curtsey to the Queen at the royal wedding — but they are entirely false. The camera was panned to a bird's eye angle at that moment, so it wasn't easily seen on camera, according to Harper's Bazaar. However, she absolutely did curtsey. She also curtseyed to the Queen at the Christmas Day service at Sandringham last year.
Of that curtsey at Sandringham, Dr. Collett says: "When I first watched it, I initially came away thinking it was an exaggerated version of the curtsey, but actually, Meghan's eyes dodge to the right to see where Kate is, and peripherally she's watching out for Kate. Kate initiates the curtsey, and it's a low one. Interestingly, Meghan copies her almost to the T, just a half beat behind. She doesn't over do it. She does what Kate does, showing she knows where to look for the information, and she pulls off a performance."
Clearly, Markle cares about getting it right, for her husband and the Queen, and she's doing admirably so far. Her Majesty inviting the duchess on the trip to Chester is a big deal, and shows she feels the Duchess is a good fit for the monarchy today. Markle has been widely praised for being a more modern member of the royal family, and it appears its matriarch is embracing this, too.