Meghan Markle Told Her Makeup Artist About The Royal Wedding In The Most Millennial Way Ever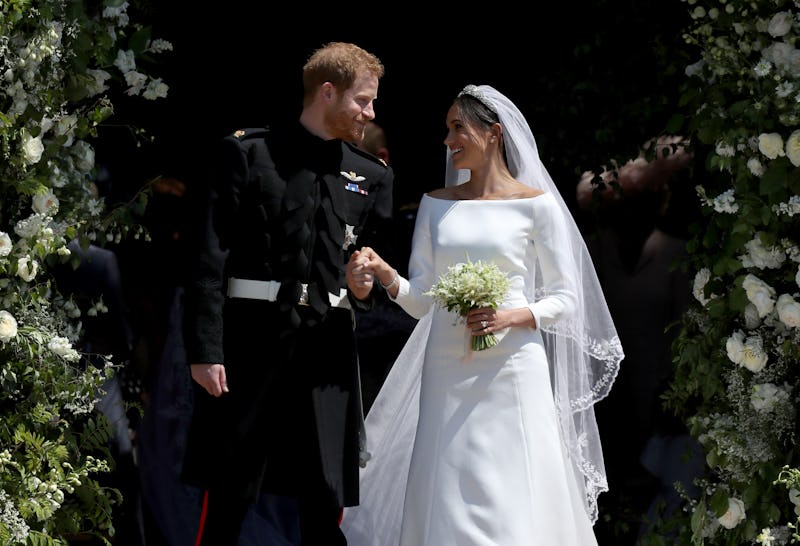 WPA Pool/Getty Images Entertainment/Getty Images
Meghan Markle may be the Duchess of Sussex, but maybe everyone should actually be calling her the Queen of Emojis instead. As JustJared reported, Markle used emojis to tell her makeup artist about the royal wedding. Basically, she really is the most relatable royal in the game right now.
Her makeup artist and friend, Daniel Martin, appeared on Good Morning America on July 3 to discuss the biggest event of the year and how the royal's lovely makeup look came together. During the big day, he was tasked with doing the bride's makeup. Before the wedding though, Markle obviously had to ask whether he was available on the day in question. He revealed, "She [texted and] was, like, 'Hey, what are you doing May 19th?'"
The makeup artist continued to say that she then sent him another message that would read as very familiar to everyone out there. "And then she sent me two emojis of the bride and groom," Martin explained. It was a message that was simple, sweet, and to the point. He said that he replied, as anyone would, by saying that he was totally down for the job, "I was, like, 'OK, yeah, whatever you need.'" Leave it to Markle to find a way to be oh-so relatable, even with this wedding day text.
In case you were wondering, Martin did reveal some more details specifically about the May 19 wedding day. During the interview, he said that the royal was "very chill" and that she had a very laidback morning on the day of the event. "We had breakfast. Guy, her dog was with us. We were playing around with him," he continued, "It was a very chill morning ... her mom was there, which was amazing." It's nice to hear that the former Suits actor didn't experience any major wedding day stress on the day of.
This isn't the first time that Martin has been outspoken when it comes to the Duchess of Sussex. Shortly after the wedding, he told People that the bride had something very special to say on her big day. The makeup artist, who related that he's known Markle for almost 10 years, said that he asked his friend what protocol would be after she becomes a member of the royal family. She told him, "She started laughing and she said, 'I'm always going to be Meg. Meg.'" There you have it, Markle is always going to stick to her "Meg" roots, even though she's literal royalty.
Martin isn't the only friend of the Duchess' who's had a thing or two to say. Actor Janina Gavankar revealed to the United Kingdom's ITV that she was in contact with the former Suits star on the night before the nuptials. "We talk all the time. We were texting last night, which is crazy." Could there have been a few crown emojis in that texting mix? Gavankar continued, "If it were me I would not have any space for anything other than this. But, per usual, it's not surprising. Meghan has so much space in her heart for all of the people that she loves."
Whether she's letting her friend know about the royal wedding or simply chatting it up with her pal on the night before the big day, Markle always seems to be able to make time for those she's close to, just as Gavankar said. And, it sounds like she's the best texting buddy ever, as her penchant for emojis shows. Basically, Martin's latest anecdote will definitely make you wish that you were texting besties with the Duchess of Sussex (or, you know, just regular BFFs for that matter).