This Is The One Product That Makes Meghan Markle's Messy Bun Perfectly Imperfect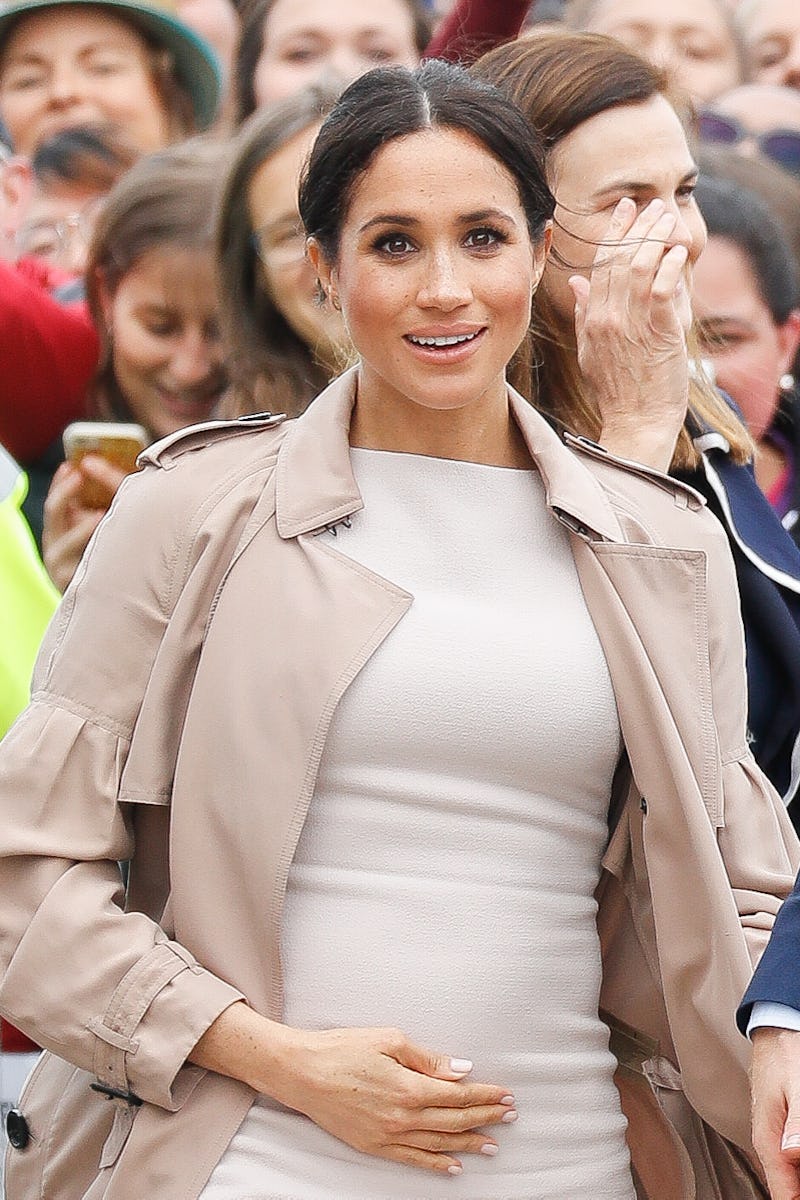 Chris Jackson/Getty Images Entertainment/Getty Images
Meghan Markle has become something of a fashion icon over these last couple of months, and her messy bun is just about as iconic as her designer-laden wardrobe. If you have ever wondered how she created her bun hairstyle, one of Meghan Markle's go-to hair products is the n:p beautiful Volumizing Spray, which just launched at Nordstrom.
The creator behind the line is David Babaii, who is a hairstylist to the stars and the Chief Global Creative Director for n:p beautiful. The hair care line is nontoxic and uses plant stem cell science to help give you the best results when it comes to your locks. "I have spent 17 years of my career working with some of the most famous people in the world, all of whom have different hair types," Babaii explained. "Throughout this journey of creating different hairstyles for my clients, I never found a product that allowed me to fully achieve my goals. Whether the goal was to give volume, to smooth hair straight, or to give the perfect wave — I would always have to use multiple products to achieve these looks."
So when he got the opportunity to create a hair care line, he wanted to make something that would deliver the results it promised. He tested his new product line on celebs like Kate Hudson, Angelina Jolie, and even Duchess Meghan Markle — who is especially fond of the n:p beautiful Volumizing Spray. According to Babaii, Markle uses the entire line and loves it, calling it "life changing."
The Volumizing Spray is formulated to give you some major lift, where it uses raw lotus root to plump up your tresses and give it height. It's paraben-free, sulfate-free, isn't tested on animals, and 10 percent of the yearly net profits will be donated to the Society for the Prevention of Cruelty to Animals.
To use it and create the kind of natural but polished height that Markle has, simply point the nozzle directly at your hair and spray a generous amount. It doesn't matter if your hair is wet or dry, but remember to run a comb or your fingers through your hair in order to evenly distribute the ingredients.
But the Volumizing Spray isn't the only product in the collection. There is also the Miracle Serum, which is a serum designed for all hair types and fixes hair in all sorts of stages, from fine to straight, thick to curly, or damaged to coarse hair. An antioxidant-rich moringa oil, the serum uses raw lotus root and the brand's sustainably sourced stem cell formula to refresh the hair.
Then there is also the Hydrating Shampoo and Conditioner, which are plant-based, hydrating products that will help strengthen your hair in the shower. Using their stem cell formula coupled with dry apple extracts that specifically tame frizz, the two products will help reinvent lackluster hair.
Couple all of these products together and you will have shiny, restored hair that looks healthy and restored. Or if you just want to copy Markle's messy bun, grab her Volumizing Spray and get to channeling the casual but polished look.