Meghan Markle Will Make This Subtle Feminist Statement At The Royal Wedding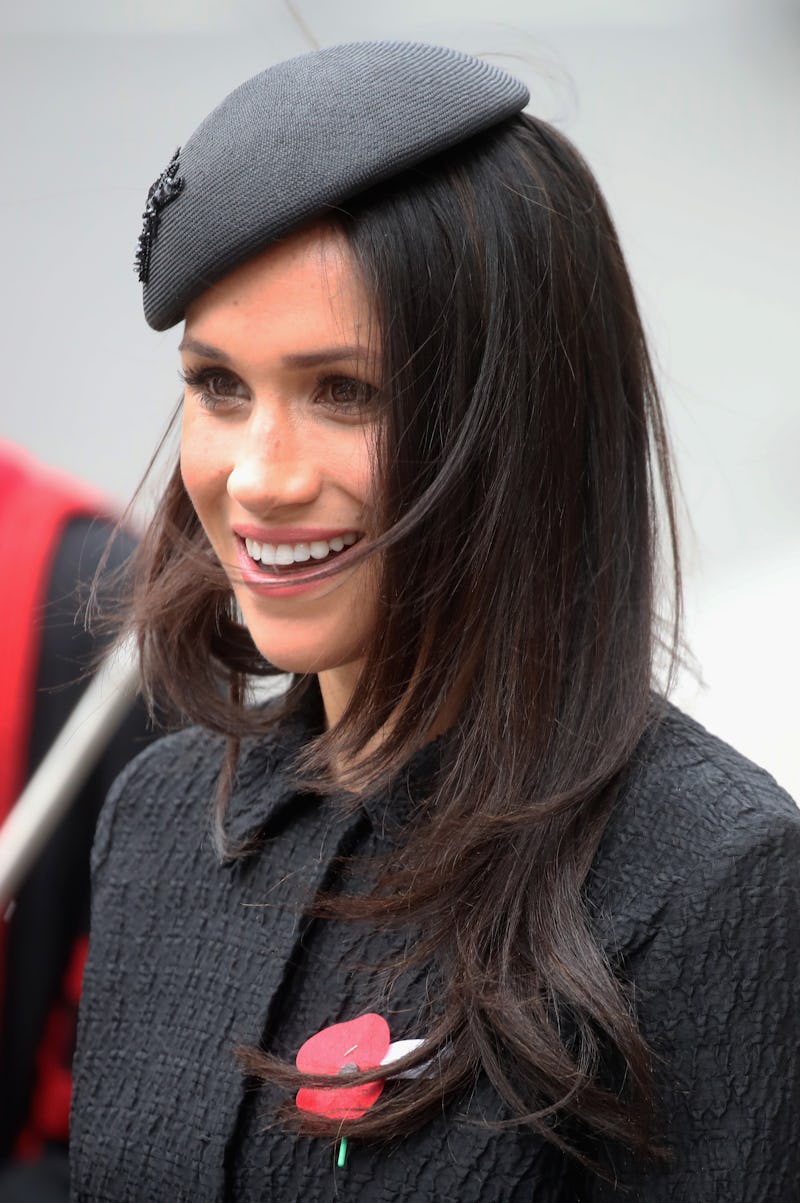 Chris Jackson/Getty Images Entertainment/Getty Images
The royal wedding is tomorrow, and Meghan Markle reportedly intends to make a subtle feminist statement when she enters St. George's Chapel on her way to marry Prince Harry. After Markle said in a rare personal statement from Kensington Palace that her father would not be attending the wedding due to health issues, and thus wouldn't be walking Markle down the aisle, the palace announced on May 18 that Markle has asked her husband-to-be's father, Prince Charles, to walk her. But according to CNN, Prince Charles will not be giving Markle away, per tradition. Instead of having Prince Charles walk her all the way to Prince Harry, Markle will walk with him to the foot of the altar, where she will take the last few steps to Prince Harry by herself.
And though having Prince Charles step back so Markle can join Prince Harry herself is a big move, it will take place secondary to what CNN is calling "an unprecedented step for a royal bride": Markle will be the first royal bride to walk unescorted for "much of the procession down the aisle," CNN reported. This is a fairly subtle feminist statement, yet with major, historical implications.
Here's how the procession will work: Markle will be met at the West Door of the chapel by a member of the clergy, and from there will proceed down the aisle of the chapel nave without an escort, accompanied by the traditional bridesmaids and page boys (all of whom are children with ties to the royal family and Markle's family). Prince Charles will meet her at the Quire, "where the main royal guests will be seated," CNN explained. And Prince Charles will walk Markle down the Quire to the foot of the altar.
This plan for the procession was in place prior to Markle asking Prince Charles to escort her, CNN indicated. Originally, Markle's father would have walked her down the Quire. "Both Charles and Harry are delighted with the plan," CNN reported, adding that, "Markle's decision indicates that she wishes to assert herself as a strong, independent woman who is prepared to challenge royal norms."
With a feminist entrance like this one prepared, Markle may also be following in the footsteps of Kate Middleton and of Princess Diana, who famously changed up her vows when she married Prince Charles in 1981, vowing to "love, honor, comfort and keep" him — leaving out "obey." According to Town & Country, the choice was controversial at the time, "and Diana didn't immediately set a royal trend; Sarah Ferguson and Sophie Rhys-Jones both did promise to obey when they married into the royal family in 1986 and 1999 respectively."
But Middleton chose to leave the controversial vow out at her marriage to Prince William in 2011, and royals expert Victoria Arbiter told Town & Country back in March that she didn't expect Markle to include "obey," either. "Given the level of equality so clearly on display between Harry and Meghan, it's highly likely that she too will choose to forgo the custom," Arbiter explained. "Meghan has been very vocal in her push for gender equality and this will be one more area in which her personal choices will have the full support of her husband-to-be."
Markle told the BBC in November 2017 that the royal family "has been great," and that she was "starting to feel 'a part of not just the institution but also part of the family,'" CNN reported. In the same interview, Prince Harry said that Prince Charles was one of the first members of the royal family to meet Markle, and that "the family together have been absolutely solid support."
With Markle planning not only to include Prince Charles in an honored place at her side, but also to walk unaccompanied, it's clear she has warm feelings for the royal family, but is going to be a dynamic force subverting traditions when she joins it.