Meghan Markle Won't Be Able To Follow This American Tradition If She Has Kids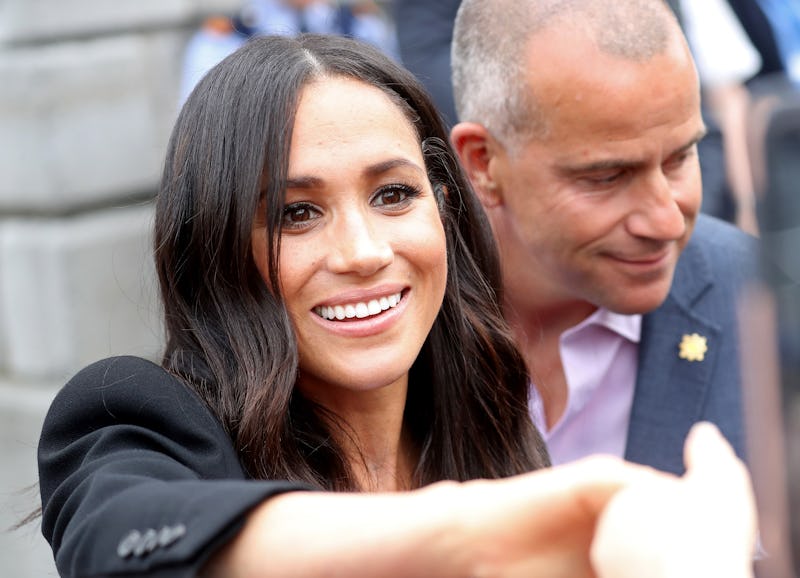 Chris Jackson/Getty Images Entertainment/Getty Images
There has been much talk about the things the Duchess of Sussex can and cannot do now that she's a member of the British royal family. And there's yet another "rule" to add to the mix. According to Express, Meghan Markle won't have a baby shower when and if she and Prince Harry decide to have a child. The reason? They don't need any presents.
Express cites a comment royal expert Victoria Arbiter gave ABC News when the Duchess of Cambridge was pregnant with Prince George in 2013. "...They are clearly very wealthy, and a lavish baby shower would be seen as highly inappropriate," Arbiter said. "There's nothing they can't go out and buy themselves."
Well, that's definitely true. Plus, in general, baby showers aren't as popular in the U.K. as they are in the U.S. But with Markle being American, there is a chance she would want to have a shower just for the fun of it and to get together with friends, even if she wasn't going to accept gifts. Harry and Meghan asked for donations to charities they support in lieu of wedding gifts when they got married; she could do the same thing for a baby shower.
There were rumors in the past that Kate Middleton had a baby shower in 2013 thrown by her sister, Pippa. A "friend" reportedly told The Sun, "It isn't royal tradition but Kate isn't a traditional Royal ... She is modern and wants a normal life." It was rumored the party was going to be thrown at the Middleton family home and include standard baby shower features like a cake shaped like a pacifier and party favors for guests. Who knows if this actually happened, but if it did, it was kept very private.
There was also a rumor during Middleton's most recent pregnancy that Markle was going to throw her a baby shower. This one, reported by Life & Style, was even more far-fetched (especially if you consider that Life & Style was also reporting Middleton was pregnant with twin girls). Apparently, the shower was going to be "extravagant" with Markle buying Tiffany jewelry and Dior baby clothes as gifts. Not only does that sound absurd, but if baby showers are already thought of as unnecessary for royals, a baby shower for a third child definitely would be seen as tacky. Showers after the first child are sometimes looked down upon even in the U.S. where baby showers are a huge thing.
When it comes to Markle, all of the baby shower talk is totally hypothetical right now since she hasn't even announced a pregnancy. She and Harry have made clear, though, that they'd like to have a child (or children) eventually. In their post-engagement interview they were asked about whether they had plans to have kids, and Harry responded, "...one step at a time and hopefully we will start a family in the near future." And, according to Elle, when the couple visited Belfast in March, they met the owners of a line of baby products, and Markle said, "I'm sure at some point we'll need the whole thing."
So, for anyone who can't wait for Meghan and Harry to have kids, the pregnancy will likely happen "in the near future" "at some point." (Also, sorry, she probably won't have a shower and she almost certainly won't share photos from it.)