Meghan Markle Wore A J. Crew Coat During A Royal Event & You Can Copy The Look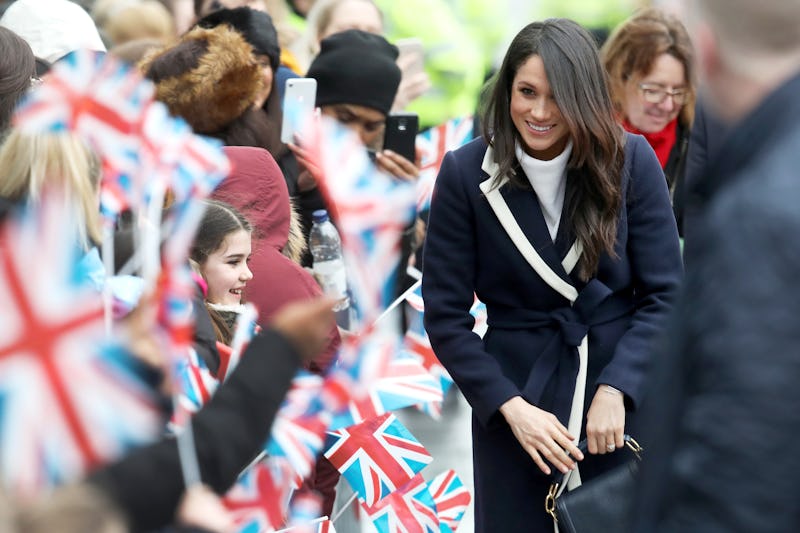 Chris Jackson/Getty Images Entertainment/Getty Images
Whenever the royals are on the move, fashion lovers at home devour every sartorial report on their outfits for one of two reasons: they're either going to be extravagantly expensive — where they don heirloom earrings and couture cocktail dresses — which is fun; or they're going to be somewhat attainable, making you think you yourself could dress up like a Duchess if you wanted to. That's exactly why Meghan Markle's minimalist look during her trip to Burmingham got a ton of attention today. At a glance, it's not exactly a showstopping look with bells and whistles, though it is sleek and stylish. What made it so exciting was that Markle wore a J Crew coat.
What's so cool about the monarchy wearing labels from the mall is that it sort of puts a fantasy scenario into your mind where you could casually bump into them out in the real world. You could be rifling through a stack of cashmere sweaters at J Crew when Markle appears at your side, reaching over you to grab a leopard print belt to go with the navy blazer already in her arms. And just like that, you're face to face with a royal. You might even get to chatting and convince her to get a frap at Starbucks with you — who knows — you could become best friends while scooping up caramel-dripped whipped cream.
It's a stretch I know, but the possibility is there.
But back to the coat. On Mar. 8, Markle and her fiance arrived in Birmingham to learn more about the city's local projects for kids. Specifically they stopped by Millennium Point, a workspace used for children pursuing higher learning in STEM (Science, Tech, Engineering and Mathematics.) Before heading into the building, the couple was met with a huge crowd of admirers, and that's where we could really see a closeup of Markle's coat.
She was dressed in a black, navy, and white motif, looking both elegant and laid-back at the same time. Mixing high-end and accessible fashion together, her look was like a blend of two worlds. First up was her two-tone, navy and white J Crew coat, which has since been sold out.
Made with Italian wool and featuring a wrap belt, it's the perfect coat to throw over an everyday outfit while the air is still nippy. The material of the jacket was inspired by the fabric used in old-school stadium blankets, meaning it keeps you warm without adding all the bulk. But while you could technically find it in the mall, the coat isn't exactly budget-friendly for everyone. It cost around $450, making it more of a splurge.
Accenting the white piping along the lapels, Markle paired the coat with a cream turtleneck from AllSaints (their knitwear usually hovers around the $200 mark,) and then matched that look with Alexander Wang cropped trousers, and velvet pointed shoes by Manolo Blahnik. If you're wondering where she got that structured black handbag, that would be courtesy of Altuzarra, and is currently on sale for 40 percent off, clocking in at $957.
While you might not be able to afford $200 polo neck sweaters or $1000 bags, Markle is still becoming quite the off-duty muse. She has a knack for creating minimalist looks that are tailored and sleek, with pops of accent pieces — like her statement handbags or striped lapels. You could easily copy that look with more price-friendly pieces, which is exactly why Markle is such an inspiration.
While it might be a bummer that the jacket is already sold out, chances are her next official-outing outfit will also include another accessible piece. We just have to wait and see.