Meghan Markle Wore Two Different Earrings & The Look Is So Easy To Copy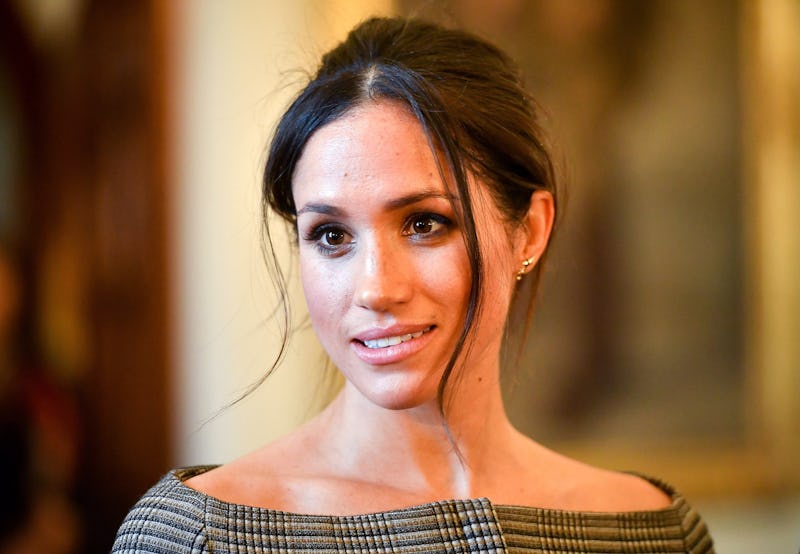 WPA Pool/Getty Images Entertainment/Getty Images
The Meghan Markle Effect is in full swing, but this time it's all about her jewelry. No, I'm not talking about that stunning engagement ring. Meghan Markle wore two different earrings during her outing to Cardiff Castle in Wales. If there was any doubt that she's the trendiest royal, this should clear things up.
Markle is all about breaking the rules when it comes to her fashion. She's rocked skirts without tights and wore a mesh gown for her engagement photos. Needless to say, she no stranger to pushing the royal fashion boundaries. Now, she's rocking two different studs at the same time. While her mix-and-match earrings don't break any royal rules, they do go against a few fashion ones.
Typically, people wear, you know, two of the same earrings at the same time. On her trip to Wales with Prince Harry, Markle wore a triple-star, ear-climbing stud on one lobe and a tiny little upside down "V" on the other. Both of the earrings are gold and dainty, which makes them the perfectly imperfect pairing.
Mix-and-match earrings are nothing new to the fashion world, but no other royal has debuted the trend yet. Typically, the women of the royal family stick to the same jewel-filled earrings on each ear. Basically, Markle is the trendiest and most relatable royal yet.
Here's her ear crawler on one side...
... and her V-shaped stud on the other.
Don't feel bad if you didn't initially notice. Your focus was probably on her royal rule-breaking messy bun. Yes, her piecey hairstyle is actually against royal protocol. According to People, all royals must have their hair sleek at all times. Hence why you always see the queen with perfect hair and Kate Middleton with sleek buns or perfect blowouts. This is the second time that the soon-to-be royal has worn her this way.
Maybe she was using the earrings to take the notice off her hairstyle. Either way, she looked incredible. You can snag these earrings, too, but it will cost you. According to Stylecaster, Markle wore the Artigas's Triple Shooting Star Earrings on her left ear and the Day's Dash Ear Studs on the other.
The royal-mismatched pair costs a whopping $861. That's $286 for one pair and $575 for the other. Of course, you and a friend could always split the cost and have a Markle-matching pair each. Then it would only cost you a cool $430.50.
Dash Ear Studs, $575, Zofia Studio/Triple Shooting Star Earrings, $286, Shopbop
According to the publication, the V-shaped earrings are from the same brand as her engagement ring. She also wore the brand's accessories on her cover of Vanity Fair. Basically, if you want to look royal, this is a good place to start.
Of course, it's not the first time she's wore incredibly expensive items, either. It likely won't be her last. On her first public appearance since the engagement, she carried a burgundy Strathberry purse. Despite the accessory being $675, the bag instantly sold out the same day. The bag even sold for four times the original price on eBay. That's what they call the Meghan Markle Effect, my friends.
You might not be able to spend the crazy amount of money on her accessories, but you can totally mix-and-match a pair of earrings that you already own. The key is to pick two that are similar color and weight. Of course, there's no wrong way to wear accessories though, so it's really up to you.
With the royal wedding right around the corner, all eyes will be on Markle to see what she wears next. You might not be able to predict what she wears, but one this is for sure — it will be trendy.