Meghan Markle Just Wore The Absolute Hardest Look To Pull Off To Wimbledon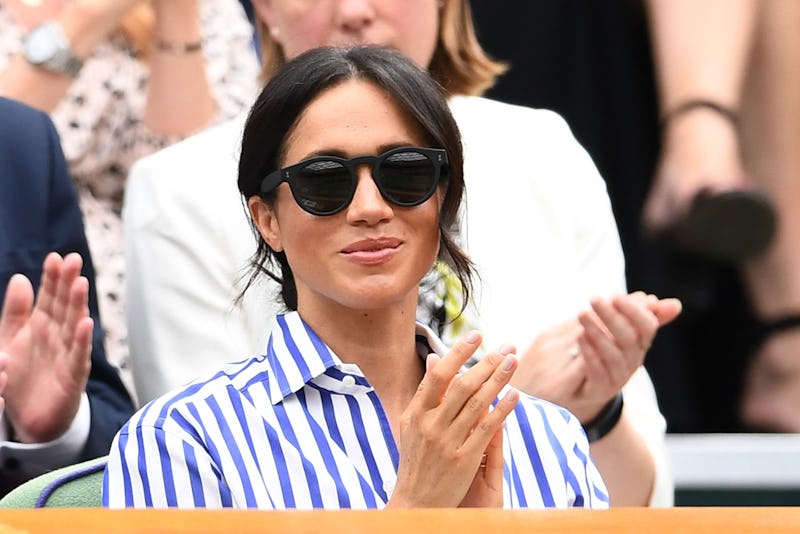 Clive Mason/Getty Images Entertainment/Getty Images
Typically, the ideal sports outfit is a jersey and your favorite pair of jeans — unless you're royal. The Duchess of Cambridge and Duchess of Sussex showed up at Wimbledon at the last minute, as one does, and they definitely didn't skimp on style. Meghan Markle wore the hardest look to pull off to a sports event. Some people wouldn't dare wear white pants even on a shopping trip, but Markle rocked them court-side.
These were not your average pair of white pants, my friends. If you're thinking white denim, think again. Markle work a pair of crisp white, wide-legged Ralph Lauren pants to the sports event. The high-waisted pants were so oversized that you could barely see her pointed-toe pumps underneath.
She paired the pants with a blue-and-white striped button-up from Ralph Lauren. Although she wasn't allowed to wear the white and black sunhat that she brought with her, she had the perfect accessories, as well.
According to Harper's Bazaar, when you're sitting in a royal box, you are "asked not to wear hats, in case it blocks the view of others around them." There are also strict rules on how men have to dress.
"Spectators in the royal box have to follow a set of fashion rules, with guests being asked to dress smartly—and men advised to wear a jacket and tie," according to The Sun.
Now, some people would not dare to wear white pants to a sports event. Markle instead defies the law of fashion by wearing bright white, flared ones. It's not shocking that she brought the style with her sideline outfit, but it is shocking that she managed to keep them so crisp and clean during the event. Clearly, she was not stuffing her face with nachos, as most people do at sporting events.
This outfit had an even more special meaning than the stunning style though. According to Harper's Bazaar, Markle paid a tribute to Prince Harry with her outfit. The publication reports that the now-Duchess of Sussex attended Wimbledon as a guest of Ralph Lauren. It was around the time that she went to this event that she was introduced to Prince Harry.
While Prince Harry didn't attend the sports event with Markle, she was definitely keeping him in mind. There is much more that meets the eye to every royal look than just how great the pieces look. Although, each one does bring some serious style inspiration.
The reason that Markle went to Wimbledon is about a whole lot more than just a chance to look great, though. The Duchess of Sussex has a "always had a wonderful friendship" with Serena Williams, according to Town & Country. In case you forgot, Williams was at Markle and Price Harry's wedding, so it only makes sense that she would sit front row to watch her in the finals.
"Every year for a couple years she comes out to Wimbledon and has supported me. Now she's supporting me in a different role, but our friendship is still exactly the same," Williams said earlier in the week, according to Town & Country.
This event also marks the first time that Markle and Middleton have had a solo outing since they officially became family. Middleton also opted for a crisp white look for the event, but chose a dress instead of pants. There's no word on whether or not they called each other to discuss outfits, but that would be pretty epic.
Let's also take a second to celebrate the messy bun coming back into existence. Markle was known for the hairstyle in her pre-royal stage, and found the perfect moment to bring it back. Consider this your style inspiration for the rest of summer.