Meghan Markle Used To Work As A Calligraphy Teacher & Her Handwriting Is GORGEOUS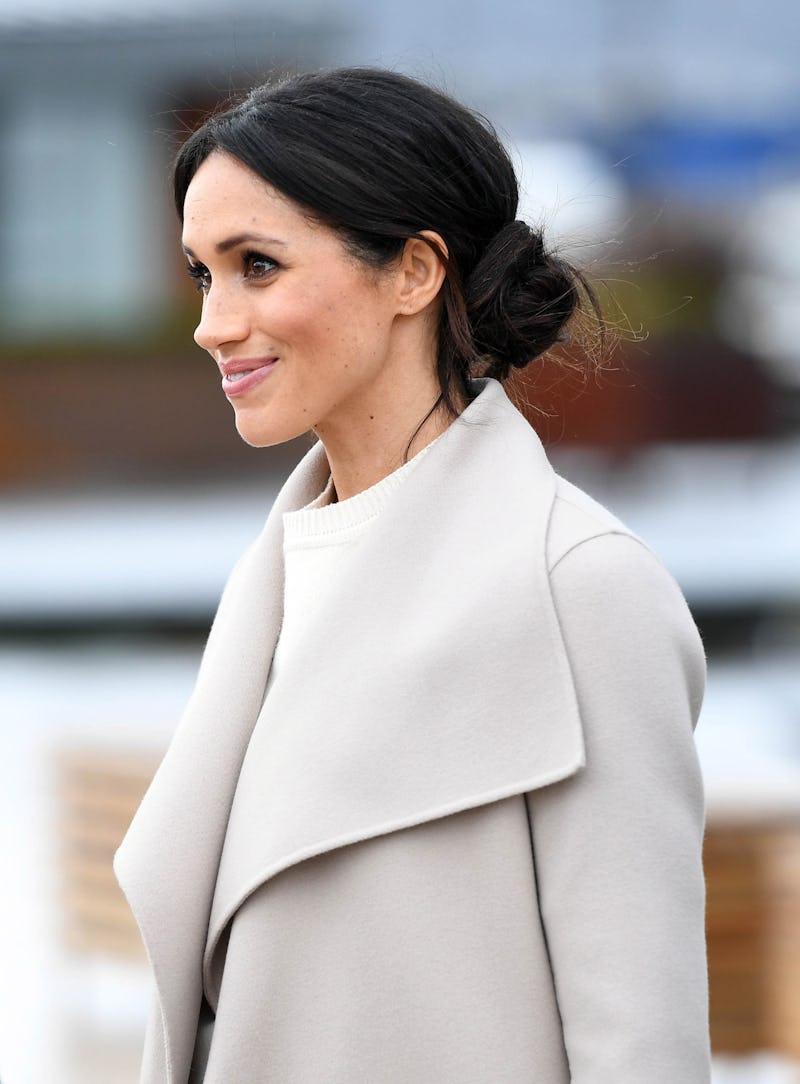 Pool/Getty Images Entertainment/Getty Images
Meghan Markle and Prince Harry's wedding invitations were designed by London-based printing and bookbinding company Barnard & Westwood, thanks to the royal warrants of appointment granted to them both by Queen Elizabeth II and Prince Charles, according to the Kensington Palace. But even if they weren't able to craft such sparkling invites, Meghan and Harry would be guaranteed the world's loveliest invitations, thanks to Meghan Markle's long and little known history with calligraphy.
As reported by People magazine, Markle is actually a trained and skilled calligrapher, having worked as a calligraphy instructor at a Paper Source location in Beverly Hills, California, from 2004 to 2005. Back then, the native Angeleno was going on auditions in an effort to break into acting, so the Paper Source gig functioned as a pretty solid day job. "It was her part-time job as she was going through auditions," Paper Source CEO Winnie Park told People. "She taught calligraphy and hosted a group of customers and instructed them during a two-hour class on how to do calligraphy." And it was Markle's creativity and flair for style that got her employed: "She's someone who really enjoys the creative aspects of the job, who enjoys helping people and also someone who enjoys making creative projects come to life," Park said. "Our sales associates are screened for their creativity."
Markle also worked as a freelance calligrapher, and in fact, back in May 2017, Markle spoke with Good Housekeeping about her love of calligraphy and dedication to the handwritten note. "I used to be a calligrapher for weddings and events — that was my side job while I was auditioning," she said. "I think handwritten notes are a lost art form. When I booked my first [TV] pilot, my dad wrote me a letter that I still have. The idea of someone taking the time to put pen to paper is really special." According to People, Markle actually did the calligraphy for Robin Thicke and Paula Patton when they wed in 2005, and though that marriage did not end particularly well, certainly it was not the fault of the invitations.
As you can see, Markle's handwriting is pristine:
Calligraphy has a pretty fascinating history. Though it dates all the way back to the Old and New Roman era, per Calligraphy.co.uk, it didn't truly become an art until the heydays of the early English monks, who made painstaking, clear lettering to better preserve their manuscripts and books of psalms and verses. The ornate lettering style was also popular with Holy Roman Emperor Charlemagne, who loved books and found calligraphy easy to read. As more (handwritten) books and Bibles were produced, lettering continued to evolve, with script standing straight up instead of slanting to the side, and letters becoming curlier and more pronounced.
Modern calligraphy is a little less resplendent than the medieval stuff, in part because our contemporary eyes would have trouble deciphering super curlicue script — heck, I can barely even read the stuff I wrote in cursive in school, at this point, and considering how quickly cursive appears to be dying in the United States, I doubt I'm alone.
But calligraphy is still a coveted skill, especially when it comes to penning lovely thank you notes and other handwritten cards. And as People points out, folks who are close to Meghan Markle and Prince Harry might be blessed with some of Markle's handiwork, even if Barnard & Westwood handled the official invitation: "They are a couple who would send a personal touch to close friends and family," Park told the magazine. "My guess is they will likely have a very personal invitation going out specifically for events before or after the formal ceremony."
I anxiously await my letter, thank you very much.