Look Closely, This Tiny Detail About Meghan's Hair Hinted She Was Pregnant Weeks Ago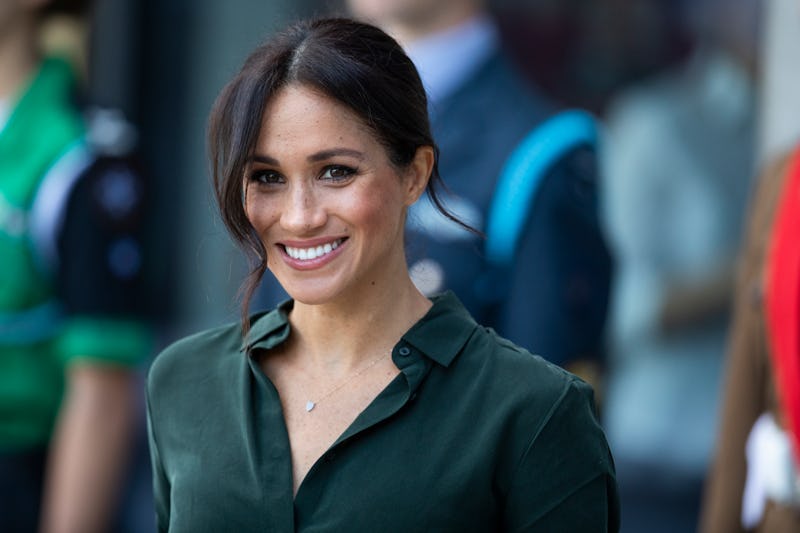 Dan Kitwood/Getty Images Entertainment/Getty Images
Prince Harry and Meghan Markle are expecting their first baby and it seems like the world couldn't be happier for them. Although the news was officially announced on Monday, there were whispers that the Duchess of Sussex was pregnant after she wore a coat to Princess Eugene's wedding on Oct. 12 that hid her stomach. However, there were apparently signs long before that. In fact, one royal expert believes there was a clue Meghan Markle was pregnant weeks ago.
According to the Daily Mail's royal correspondent, Rebecca English, there was a slight change to the duchess' look some while back which may have given the game away. You see, at the end of September 2018, she joined Prince Harry on a trip to Loughborough University for the Coach Core Awards. At the event, not only did she prove she could play netball in heels, she also was sporting a new hairdo. Nothing telling about that, right? Wrong. The fact that Markle was wearing her hair dead straight with layers cut into it, as opposed to having it down in loose waves or her trademark bun is actually a big deal.
Look, I know what you're thinking, so what, she got a haircut? The rest of us do that all the time. But, it turns out that when you're Meghan Markle, you don't just change up your style on a whim — which is why one royal expert thinks the duchess did this deliberately to distract the world.
The Evening Standard's Kate Procter is convinced Markle changed her hair to distract the world from her pregnancy. She explained that this is actually a trick used by royals in the past. You see, just before Kate Middleton announced her pregnancy with Prince George, Princess Charlotte, and Prince Louis, she too changed up her hairstyle in an alleged effort to throw the world off her tracks. I know it sounds a little far-fetched but if you look back, this theory has legs.
In November 2012, the Duchess of Cambridge opened an exhibition at the Natural History Museum. The event was the first time the public saw her with a fringe. Skip a week, to Dec. 3, 2012 Prince William and Middleton announced they were expecting their first child. Then, in the summer of 2017, just before Middleton and William announced that they were expecting baby number three, Prince Louis, the Duchess of Cambridge attended the opening tennis match at Wimbledon. She used the occasion to show the world her shorter, wavy hairdo (which I have to add, I became obsessed with). Was this another attempt to throw the public off of her big news?
I suppose we'll never know, but if this hair theory is correct, then honestly, you can hardly blame the mums-to-be. The early stages of pregnancy are challenging enough, let alone facing it all with the world watching. I can totally understand and respect why they may have wanted to wait to announce they were expecting.
Personally, I couldn't be happier for the Duke and Duchess of Sussex. According to Marie Clare, the Duchess of Sussex has already had her 12 week scan and both mother and baby are well, which is great news. I think they are going to be incredible parents.