Meghan Markle Has 2 Dogs, But Only One Gets To Live With Her & Prince Harry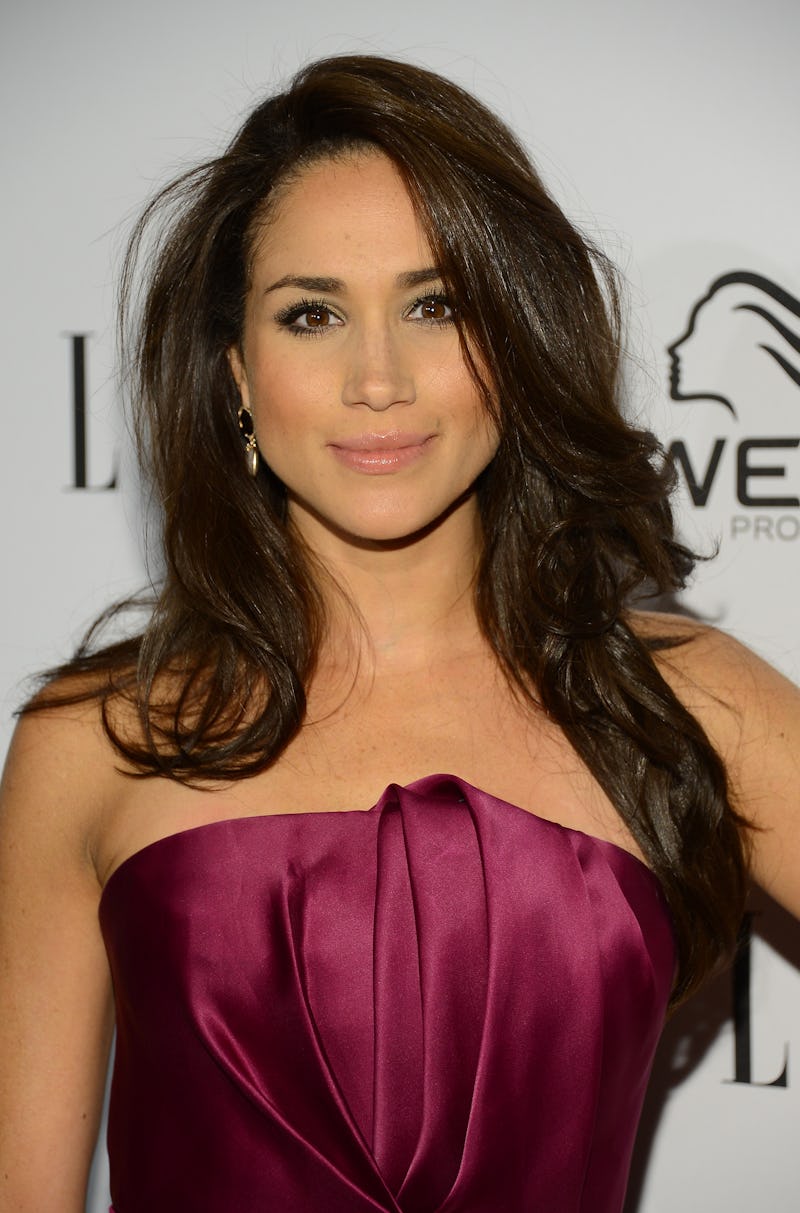 Michael Kovac/Getty Images Entertainment/Getty Images
There is major concern stemming from Prince Harry and Meghan Markle's first interview as an engaged couple — Markle left one of her dogs behind in America. To say people are concerned and heartbroken over the matter is an understatement. The 36-year-old actor probably didn't realize that by revealing this piece of information in her joint BBC News chat with Harry that she would receive such an emotional response.
After being asked about her two dogs, Bogart and Guy, by BBC News' Mishal Husain, Markle replied (around the 16-minute mark), "I have two dogs that I've had for quite a long time — both my rescue pups — and one is now staying with very close friends and my other little guy is, yes, he's in the U.K. He's been here for awhile." She also said, "he's doing just fine" about her dog that traveled across the pond with her.
Now people are wondering why her two pups had to be separated. According to a Kensington Palace spokesperson (who spoke with The Blast Tuesday), the one dog in the states "is going to permanently reside in North America with friends of hers." He added, "This is a permanent decision that Meghan made on her own — not an easy one at that." The spokesperson also said, "It takes a toll on an animal to travel so far across Atlantic combined with the hard, long process of getting approval … it's in the best interest of the animal's well being to stay."
It's unconfirmed if Guy or Bogart stayed behind, but according to Emily Nash, a royal correspondent for Hello! magazine, Bogart is remaining in the United States. She tweeted Tuesday, "While Meghan's Beagle Guy is now in the UK, Bogart will not be joining him. He's now permanently settled with close friends."
While chatting with Best Health in May 2016 as the magazine's cover star, Markle opened up about adopting her dogs. According to her, Bogart, who is her "first dog ever" might be a "lab-shepherd mix" and she credits Ellen DeGeneres for pushing her to adopt him.
"I was in LA and I went to this dog rescue [shelter] and they had gotten him and his brother." She added, "So I saw him and I was sitting there with him and then Ellen DeGeneres and Portia de Rossi walk in. Now, I don't know her, but Ellen goes, 'Is that your dog?' And I said, 'No,' and she's like, 'You have to take that dog.'' And I said, 'Well, I'm deciding.' And she's like, 'Rescue the dog!'" Well, eventually, she ended up doing exactly what she said DeGeneres told her to do. As Markle put it, "It's sort of like if Oprah tells you to do something."
At the time of her interview with Best Health, she said Bogart was three. She also revealed Guy, a beagle who she estimated was around four or five, was found in Kentucky and brought to her in Ontario after she decided Bogart needed a companion. As for his name, Markle said, "... and his paper work from the pound just said 'The little guy,' and I tried [some names] but he wasn't responding to anything so I said, 'Little guy,' and I think he was so used to people calling him it that he responded, so I said 'Your name will now be Guy.'"
It's definitely sad that Guy and Bogart are now separated, especially since Markle also told Best Health they were "thick as thieves," but there's probably a good reason for her decision. Seeing how much she promotes dog adoption, Markle probably would've taken both Guy and Bogart to the U.K. with her if she could have. The rules for bringing a dog into the U.K. seem pretty standard, at least according to GOV.UK, so who knows what Markle's reasoning was for only bringing Guy to live with her and Harry. While unconfirmed, the Daily Mail suggests that "the pet is thought to be too old to fly overseas." Bustle has reached out to a rep for Kensington Palace, but has not yet received a response.
As for how people are reacting about it all, here you go.
Let Tyra Do The Talking
When in doubt, use this famous Tyra Banks gif to express your exact feelings.
So Many Tears
It is really sad.
There Are So Many Questions
Maybe the British Royal Family needs to hold a press conference about all of this — or at least a give a statement.
And A Lot Of Anger
This situation requires all caps!
"WHY?!!?!!?"
Seriously, why, Meghan, why?
As upsetting as all of this is, people should find some comfort in knowing she has a true love of dogs — and a way with Queen Elizabeth II's Corgis. As Harry said about Markle during their BBC News interview, "And the Corgis took to you straight away." He hilariously added about them, "For the last 33 years I've been barked at, this one walks in and absolutely nothing. Just wagging tails."
If you're in need of some more solace, here is a photo of Guy wearing the U.K. flag sweater he inherited from Bogart in December 2016.
This is actually kind of sad, because it's like Guy is remembering all of the good times he once had with Bogart. At least he has a sweater representing his new home and an item to remember Bogart by? No, that doesn't make it any better. Basically, the fact that Markle had to separate her dogs (and for mysterious reasons) is way more emotional than her engagement to Harry.