Meghan Markle's Engagement Ring Is So Classic & Here Are The First Photos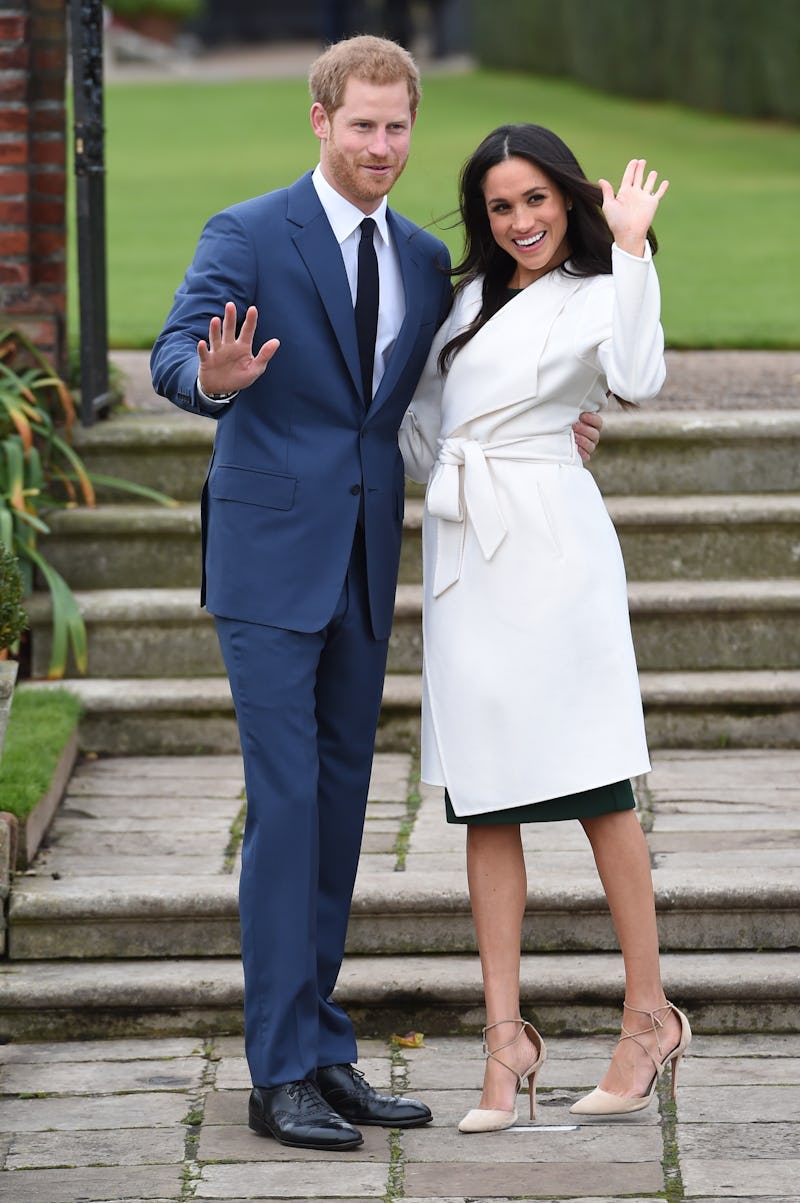 WPA Pool/Getty Images Entertainment/Getty Images
It's official! Prince Harry is engaged to Meghan Markle, an American actor who has appeared on hit shows like Suits and Fringe. Congrats to the happy (and now-bethrothed) couple — but now it's time to see that ring. Rumors of their engagement have been swirling in the media for the past several days now. And the most important thing to many, besides official confirmation, is a peek at the royal rock.
We have just set eyes on the first photos of the actual bling, which has been a subject of rampant curiosity since news of the engagement first broke. In the ultimate romantic gesture, Prince Harry reportedly designed the ring, utilizing diamonds from a brooch that belonged to his mother, the late and beloved fashion icon Princess Diana. Both Express and Us Weekly reported this news prior to announcement of the engagement, and claimed to have confirmed details with a source close to the royal family.
After photos were peeped by the public, the consensus is that the ring is gold, has three diamonds — one of which is from Botswana and two that are from Diana's collection.
The Diana diamonds are indeed a touching way for Harry to honor and to connect two very important women in his life — his mother and his future wife.
In this first official photos since announcing their engagement, we can see the ring on Markle's finger. It's also totally OK to take a second to marvel at Markle's crisp, tailored white coat, too. Her dark locks pop against this structured and smart jacket.
But back to that ring. There it is. The main stone is certainly large and head-turning, but it's also supremely elegant.
Here are some further details from a royal reporter.
Markle can't stop looking at her ring and we don't blame her. Even so, there are still a few questions as we have merely seen the first images of the ring from somewhat of a distance. Is there a deeper backstory related to diamonds that were from culled from Diana's personal collection? Time will tell once we learn more intel about this piece of jewelry.
Back when Harry's older brother Prince William proposed to his now-wife Kate Middleton, he did so with their late mother's engagement ring, which featured a large sapphire surrounded by diamonds.
William said of the sentimental ring, "It was my way of making sure my mother didn't miss out on today and the excitement, and the fact that we're going to spend the rest of our lives together."
Harry is following suit and using Markle's ring to incorporate Diana into his life with his future wife, as well. We'll pause for a moment so you can grab a tissue and wipe away the tears from these super sweet and heartfelt gestures by Diana's sons.
Of course Twitter is buzzing head about the ring. Here's how the Twitterverse is reacting to the historic ring.
It's all about the ring.
More pictures and more details are much desired.
Seek and ye shall find.
This CNN reporter states that the diamond at the center is from Botswana, a region that is as close to the couple. How sweet?
This report also claims that the outside stones are those which belonged to Diana, who died in a car accident in Paris in 1997. She was one of the most photographed, famous, and fashionable women in the world at the time of her death.
Though love is a lot more than a ring, it certainly is fun to see the rock of royals.