Meghan Markle's Stylist Spilled The Four Hair Products She Can't Live Without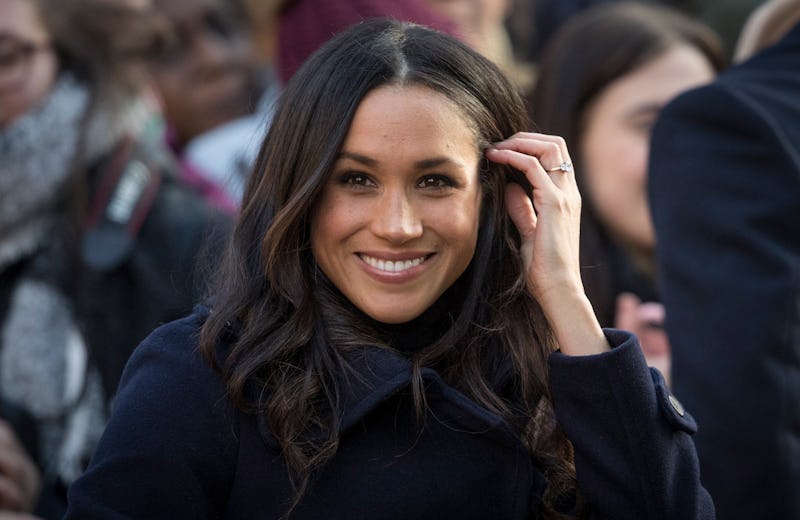 Christopher Furlong/Getty Images Entertainment/Getty Images
The royal wedding is only days away, and you may or may not be already scouring eBay for your commemorative plate and learning how to bake scones for the early-AM viewing party. People are obsessed with Meghan Markle, and part of her appeal is her on-point fashion and beauty sense. And lucky for us, we just got the tea on Markle's favorite haircare products, meaning we can now copy her immaculate bounce and shine at home. While it's true that she's a relatable soon-to-be-royal that dresses in attainable brands like J Crew and Aritzia, buying a $40 hairspray is a little easier on the budget than finding funds for a $200 coat. So if you have been looking for ways to copy the future Duchess, you can now achieve her blowout in the comfort of your own bathroom.
Markle is known for her sleek, straight hair or her frizz-free, messy low-buns, and even though her hairstyles look casual and low-maintenance, anyone who has every air-dried their hair knows it's not as simple as running a comb through wet locks. It might look like she puts minimal fuss into it, but it still takes a small army of products to not make a person look like they just rolled out of bed 10 minutes ago. Luckily for us, Lydia F. Sellers, who did Markle's hair and makeup for two years before she moved to the U.K., recently gave Refinery29 all the insider information on how she achieves that style. Below are Markle's favorite products — stock up on them and have the best hair of your life.
After these products are added to Markle's hair, Sellers says that they then mist her tresses with water and restyle it with the usual blowout moves. While the items she uses are pricey, Markle technically only uses around two so it's not too much of a burden on the wallet. All you need is the volumizing mist, and then you can choose between the three smoothing treatments. Sellers also mentioned that Markle uses the Kerastasé line religiously, so she might also use their shampoo and conditioner to try and get her hair as sleek and healthy as possible before any styling is done to it. If you love her simple look, get these products and see if you can achieve the same sleek style.