Meghan Markle's Favorite Jeans Had A 400-Person Waitlist & They're FINALLY Back In Stock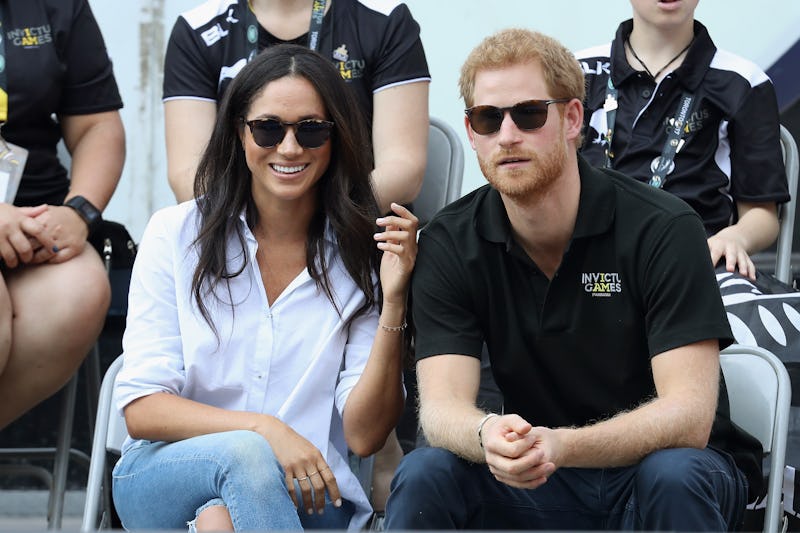 Chris Jackson/Getty Images Entertainment/Getty Images
If you didn't already believe that Meghan Markle is currently one of the world's most influential people, you clearly have not been paying attention to the news. Anything the soon-to-be royal duchess does makes headlines, especially when it comes to what she's wearing. And when it comes to what she's wearing, well, good luck getting your hands on them before they fly off the shelves. Case in point: Meghan Markle's favorite jeans, a pair she wore to the Invictus Games in Toronto last October, sold out after she wore them, but they are finally back in stock, according to Who What Wear — but not before they garnered a 400 person waitlist.
The jeans in question? A lightly distressed, light blue fitted pair with a raw hem from the Los Angeles-based denim brand, Mother. They're called the Looker Ankle Fray in Love Gun and they are currently being sold for $228 on the brand's website. In an interview with Glamour, Mother's brand president and cofounder, Lela Becker, said that after Markle wore the jeans to the Invictus Games, Google searches for Mother increased by 60 percent that week alone. The next day, Mother's website reportedly received a 200 percent increase in traffic. This resulted in Mother surpassing their sales goals by 20 percent for the month of October, Becker shared. All because of one pair of jeans Meghan Markle wore one time. A strange coincidence? Absolutely not. The Meghan Markle effect is real, and it is here to stay, y'all.
When Markle wore the highly sought-after jeans, she paired it with a simple, crisp white poplin shirt, tan ballerina flats, round sunglasses, and a large leather tote. The entire ensemble looked so chic, in a I-just-threw-this-together kind of way — a look that Markle has perfected, even long before being linked to Prince Harry. The former actress' style has always been classic and simple, although she has dabbled in a trend or two before. It should come as no surprise then that when she put together her outfit for the Invictus Games, Markle kept it timeless and effortless. And timeless and effortless can oftentimes mean relatable, which is why so many of her fans and followers had to have those stylish jeans of hers.
Looker Ankle Fray in Love Gun, $228, Mother
It's been over four months since Markle nearly broke the internet with these Mother jeans, and finally, the brand has been able to meet the demand. On March 16, they brought back the Looker Ankle Fray in Love Gun for the 400 people who had been waiting to get their hands on the Markle-approved denim. And as of press time, the jeans are still available, in almost all of the sizes (23-32). If you are a size 31, you are out of luck, but can add yourself to an email list where the brand will notify you when they come back in your size.
Let this be a warning to others — if you want your very own pair of Markle-loved Mother jeans, you better act fast. The fact that they just came back in stock and in less than 24 hours, one of the sizes has already sold out, should be a sign that the other sizes will likely follow suit soon. And if you are hesitating at all, ask yourself: What would Meghan Markle do? (Buy the jeans, obviously!)