Meghan's Super Affordable Beauty Staple Is Something You Probably Already Own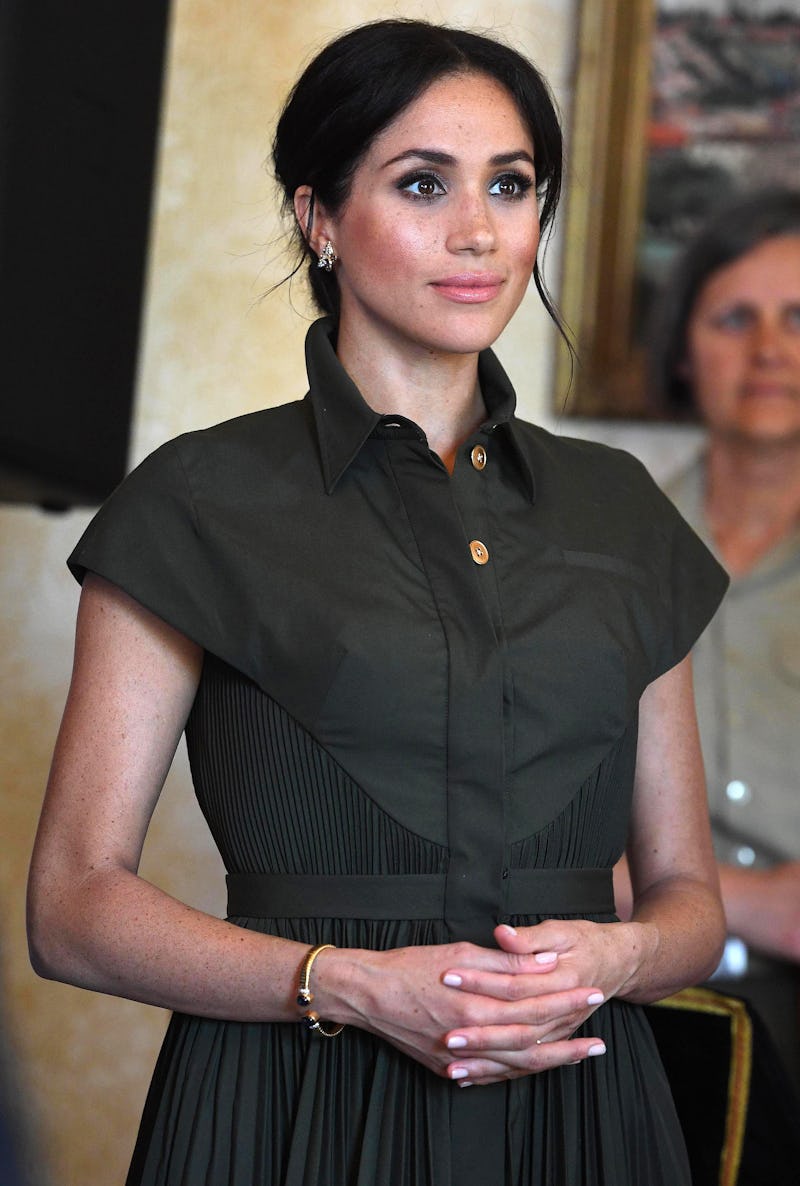 Pool/Getty Images Entertainment/Getty Images
When it comes to your beauty regime, there's always a miracle product that you often finding yourself gravitating towards in times of trouble. Personally, Lush's Grease Lightning has saved my face from mini-breakouts on multiple occasions, and it turns out the Duchess of Sussex is no different. While it may not be a life-saver from Lush, Meghan Markle's favourite beauty product is extremely affordable, and something that can work wonders for your skin.
In an interview with Allure December 2017, Meghan opened up about her beauty routine and must-haves. Obviously, some of her choices were not so affordable, including some of Jan Marini's skin care products which are around £70 or more depending on what you choose. While discussing the frequency of travel due to her work, Meghan was asked what she always brings with her. "I can tell you the most honest answer because I literally got off a plane yesterday after a five-hour flight." So, what's her secret? Tea Tree oil.
Yep, you probably have some equivalent sitting in your bathroom right now — I know I do. "It's not the most glamorous thing, but if you get a cut, a mosquito bite, a small breakout, no matter what it is, it's my little cure-all," she explained. "It's inexpensive, it's small enough to carry on, and I bring it with me all the time."
When she says inexpensive, she's not kidding. This miracle oil currently comes in at £8.50 on the UK site for The Body Shop. Meghan is known for her minimal makeup, which she calls the "five-minute face." She applies a touch of concealer, "curled lashes, mascara, Chap Stick, and a little bit of blush." Obviously tea tree oil is part of that equation also, so it looks like I'm heading to The Body Shop ASAP.
Meghan might have to be careful with her favourite product now she's expecting her first child with Prince Harry. According to Baby Center, while some essential oils "may be safe for you to use", and it seems as though tea tree oil is OK, "it's always a good idea to talk to your doctor or midwife before using essential oils."
It's also noted that if you are to use essential oils in your first trimester, you should "always consult an aromatherapist who's trained in treating mums-to-be" just to err of the side of caution.
It is also recommended that when using essential oils while pregnant to only use one drop a time, to dilute the oil by mixing it with "at least a tablespoon of a base oil", or adding drops to a vapouriser, but "don't leave it on longer than 10 minutes or 15 minutes each hour."
The Duchess of Sussex looked radiant as ever after arriving in Australia for her and Harry's first Royal tour, and I'm sure that's not down to just tea tree oil alone. Maybe she just has perfect skin, or maybe she's mastered the art of combating problem skin. Whatever the magic, I totally want in.