Meghan Markle's First Job Will Give You Flashbacks To Your Own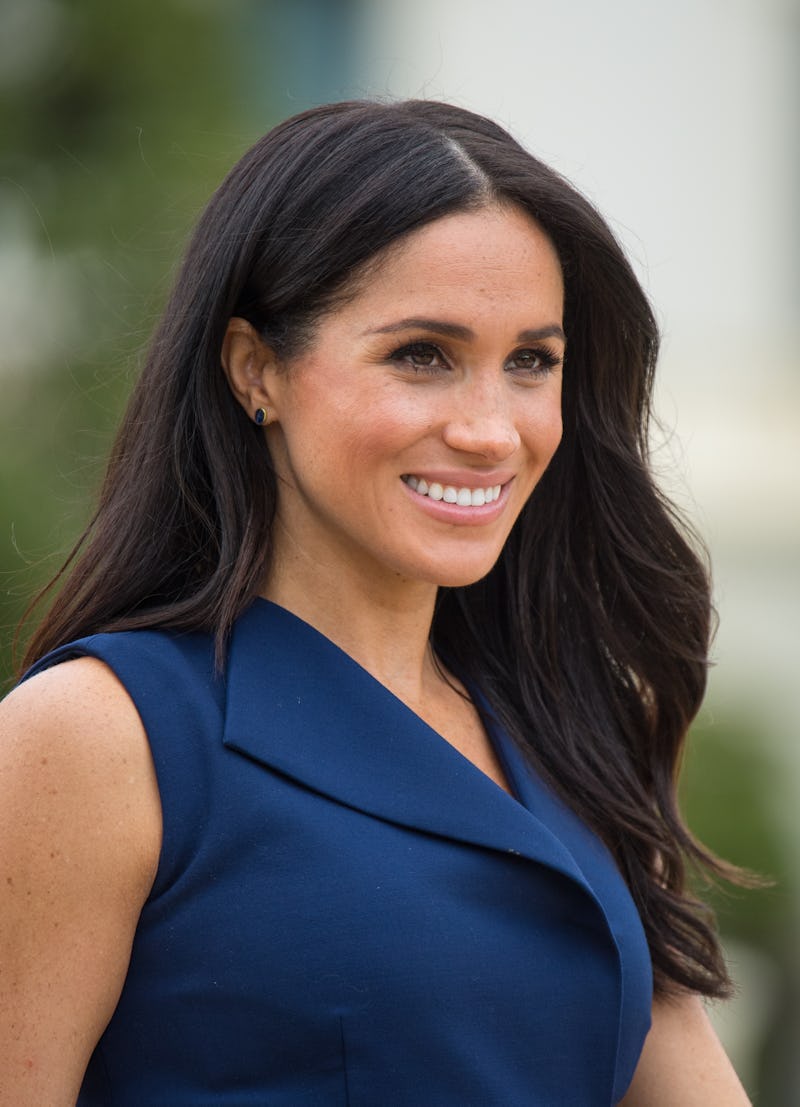 Pool/Getty Images Entertainment/Getty Images
Meghan Markle and Prince Harry's first official overseas tour is already off to a roaring start, as the royal couple has naturally charmed the world. During one of the duchess' latest, charming anecdotes, she revealed a very relatable fact about her pre-royal life. As People noted, Meghan Markle discussed her first job and described the exact task she had to complete during it.
During the Duke and Duchess of Sussex's time in Sydney on Oct. 19, they paid a visit to Macarthur Girls High, where Markle took some time to describe one of her very first jobs. According to Australian publication New Idea, the royal told the students that her first gig entailed "taking out the trash." So, basically, Markle was just like everyone else who had a less-than-glamorous job when you got into the workforce. In case you still weren't aware, this just proves once again that she's truly is the most relatable royal in the game.
This isn't the first time that she's mentioned her first job. In her pre-royal days, back when she was active on social media, she opened up about where she got her start. According to The Kitchn, Markle did a Q&A with her fans on Twitter in which she answered a question about her roots. The publication unearthed a tweet in which the duchess wrote, "My first job was at a frozen yogurt story called Humphrey Yogart (#nojoke)." Honestly, one could do worse than having a first job at a froyo location (just think about all of the free samples you could sneak).
Markle's former boss at Humphrey Yogart, Paula Sheftel, only had kind things to say about her in an interview with the Sunday Mirror. Sheftel said,
"She earned minimum wage and was very popular with customers. She had to prove she had an outgoing personality and would work well with staff."
It's no surprise to hear that the former actor was a delight to work with, especially if you've already been following along during her glowing royal journey.
By all accounts, it sounds as though the couple had a lovely time during their trip to Macarthur Girls High. The duchess especially connected with the students, as she related that, like them, she also attended an all-girls school when she was younger. "You guys all remind me so much of myself when I was growing up," Markle said, per New Idea, "I went to an all-girls school which was incredibly diverse as well."
As the official Kensington Palace Twitter account noted, Markle and Harry got to see a lyrical dance performance from some of the Macarthur Girls High students. Between connecting with the students in the classroom and getting to see their talents on display during this performance, it seems like the duke and duchess had an exciting time at the school.
Luckily for royal watchers, the Duke and Duchess of Sussex's overseas tour isn't going to end anytime soon. So, it's entirely possible that fans can expect even more fun anecdotes from Markle in the days to come as the couple continues their travels.