Here's What Meghan Markle Wore To The British Version Of The Kentucky Derby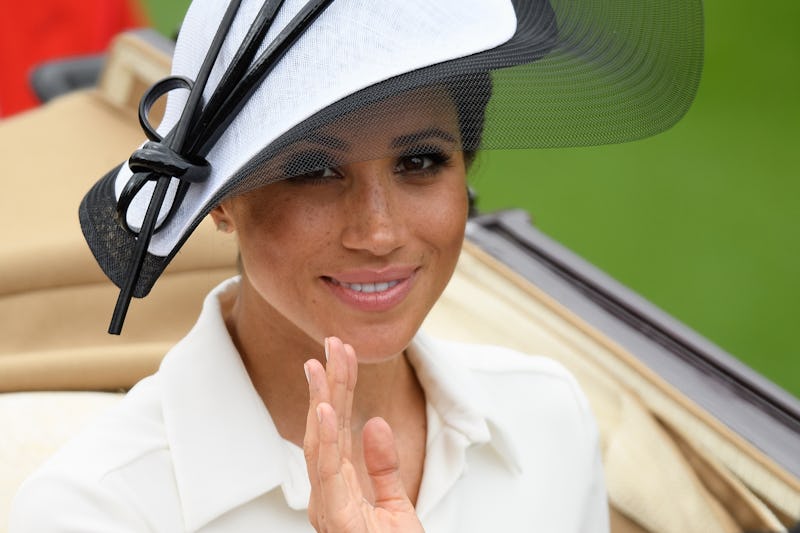 Leon Neal/Getty Images Entertainment/Getty Images
It's time for the horse races over in the United Kingdom, and Meghan Markle made her Royal Ascot debut wearing all white and black, securing her place as the reigning champion of minimalism. The Royal Ascot is like the Kentucky Derby, where men show up wearing three-piece suits and top hats, and women wear conservative pastel dresses and traditional hats. But while the American Kentucky Derby becomes a parade of outlandish and quirky fascinators and wide-brimmed hats, The Royal Ascot is a little more dignified, and even has the royal family arriving in open carriages to the races.
To attend the horse races, it's not as simple as choosing your favorite dress from your closet and going. The Royal Ascot is meant to be synonymous with "sartorial elegance," and there is an official dress code everyone must follow in order to preserve the event's traditions. For women, formal daywear is required, where hem lengths need to be modest and hit above the knee or longer. Dresses must have straps that are at least one-inch thick, and off-the-shoulder, halter neck, or bardot styles are not permitted — not even underneath blazers. In addition to this, hats are mandatory and must be worn but fascinators aren't allowed, probably because they become too quirky.
Markle proved to be elegant for the event, wearing a white shirt dress and understated hat.
Her white collared dress is from Givenchy, which is quickly becoming her go-to label, making this the third dress from the designer in a month. The shirt dress had a handkerchief hemline where it was asymmetrical and flirted around her shins as she walked, as well as subtle lace embroidery by the chest to add some interest. She cinched the classic look with a black belt and accessorized it with a black Givenchy clutch, creating a timeless look that wasn't too fussy for such a traditional and time-honored event.
If you're wondering where else Markle wore Givency, it was for two very important events. First, her wedding dress was designed by the French fashion house, who is led by British artistic director, Clare Waight Keller. It was a simple, off-the-shoulder long sleeve dress, creating a timeless and classic silhouette.
Her second Givenchy dress was worn during her first official solo outing with the Queen, where Markle wore a caped, oat-colored pencil dress for a busy day of engagements.
As for her Royal Ascot look, the accessories were just as important as the dress. Her black and white hat was a Philip Treacy creation, who is the go-to milliner when it comes to aristocrats and British high society. Treacy is an Irish designer and is credited with completely reinventing modern society's perception of hats, bringing playfulness and imagination back into the accessory.
"I have had the greatest pleasure of having the opportunity to challenge people's perception of what a hat should look like in the 21st century," Treacy shared on his site. "I make hats because I love hats. It's an enigmatic object that serves the human purpose only of beautification and embellishment, and making one feel good, whether you're the observer of the spectacle or the wearer."
Seeing how he's so in tune with all the possibilities of fascinators and wide brims, he's become something of a go-to when it comes to accessorizing for big events. In fact, he alone designed 36 hats worn by guests who went to Prince William and Kate Middleton's wedding in 2011.
For Markle, he designed a curvy hat with a sleek feather-like accent, keeping it in-step with the Duchess's clean-cut tastes.
When it comes to looking elegant and stylish, Markle nails it every time.