Experts Have Analysed Meghan Markle's Handwriting & The Insights Are Fascinating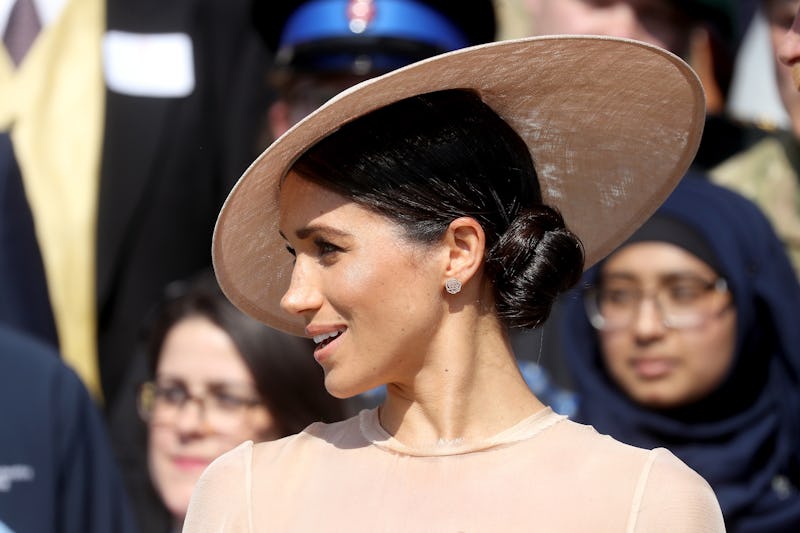 Chris Jackson/Getty Images Entertainment/Getty Images
Bad news for those of you who can barely look the postie in the eye as you sign for a parcel: your shameful scrawl reflects something of your personality, according to handwriting experts. Unsurprisingly, Meghan Markle's penmanship is currently under scrutiny, with the Daily Express reporting that Markle's handwriting has changed since her engagement to Prince Harry. Does this reveal a new side to the Duchess? Well, it turns out Meghan Markle's handwriting does tell us something about the former actress.
Speaking to the Daily Express, graphologist Tracey Trussell examined one of Markle's signatures left in a visitors book on a March 2018 visit to Belfast, and compared it with her earlier more calligraphic style. According to Trussell, the signature "is interesting because it is much more relaxed and natural, much less contrived than her usual style." She added, "It lifts the lid on her character, revealing a much more human side."
Analysing the same signature for Town & Country, forensic handwriting examiner Sheila Lowe suggested that Markle's change in writing style might also reflect the dramatic change in her lifestyle after her engagement. "There was a change in the two signatures, and what the change shows is there's a greater need for privacy in the second one, which makes perfect sense," Lowe said. "She's living under a microscope." Lowe also noted that Markle used her first name alone, like Prince Harry. "That allies her with him," she said.
Tracey Trussell also reads perfectionism, commitment, and self-discipline in Markle's handwriting. She told the Express, "We know, from her stylised writing, she has a perfectionist streak and desire for beauty and the nice things in life. We know from the clockwork regularity that she has the self-discipline to maintain the right profile in-keeping with Royal life."
Trussell added, "We also know from the little touches or accoutrements (for example, the little hook at the start of her capital 'M') that once she was set her heart on something, she holds on. Nothing will stop her until she's satisfied her goal, so she is likely to be extremely committed to whatever she undertakes."
According to Trussell, Markle's handwriting indicates her compassion. "We also know that the upwards endstrokes tell of a humanitarian side — she wants to do good deeds in life — and she's determined in the way she goes about achieving her far-reaching ambitions." The latest Belfast signature reveals "a real ebullient passion and enthusiasm for life, and also a much more sensitive nature."
Markle's handwriting is a little less telling than the average person's scribble, handwriting experts suggest. That's because, as People reported in March, she's trained in calligraphy; in fact, it was her job. Markle worked at a Paper Source store in Beverly Hills between 2004-2005, where she taught calligraphy as well as gift-wrapping and bookbinding. Winnie Park, CEO of Paper Source, told People, "It was her part-time job as she was going through auditions." She added, "She taught calligraphy and hosted a group of customers and instructed them during a two-hour class on how to do calligraphy."
Park said Markle's creativity landed her the Paper Source role. "She's someone who really enjoys the creative aspects of the job, who enjoys helping people and also someone who enjoys making creative projects come to life," Park said.
As a freelance calligrapher, Markle created the invitations for Robin Thicke and Paula Patton's 2005 wedding, People revealed (listen, she had no way of foreseeing Thicke's 2014 album Paula, OK?) She also rhapsodised about handwritten notes on her now-deleted blog, The Tig. "I think handwritten notes are a lost art form," she wrote, as recorded by People. "When I booked my first [TV] pilot, my dad wrote me a letter that I still have. The idea of someone taking the time to put pen to paper is really special."
Thanks to her extensive calligraphy experience, it can be difficult to get a read on the Duchess of Sussex through her handwriting alone. "It's like wearing a mask," Sheila Lowe told Town & Country. Adopting such a stylised form, Lowe suggested, can suggest a desire to control how she's perceived. "She wants to show the world a very particular, beautiful image. She wants to be perfect, really," she said. Meghan, if you're reading this, I think you're doing a pretty great job so far.