Meghan Markle Wore An Edgy Leather Skirt Because She's A Royal Rebel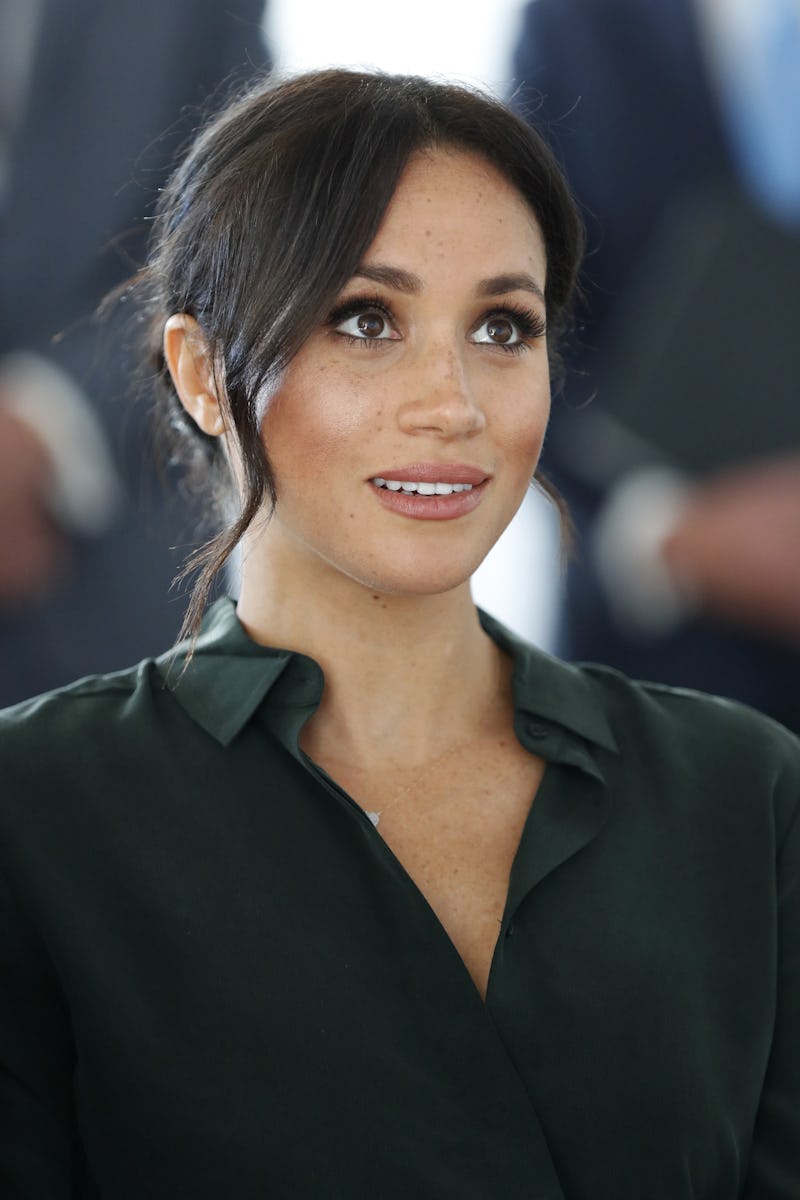 WPA Pool/Getty Images Entertainment/Getty Images
When it comes to Meghan Markle, the Duchess isn't afraid to push against the boundaries of decorum when it comes to fashion. From wearing tuxedo dresses, to donning pantsuits, the royal has a strong sense of style that brings a touch of modernity to Kensington Palace. Especially considering how Meghan Markle wore a leather skirt to her most recent royal outing.
Before you get images of biker gangs or pool table bars, the midi was very elegant and tasteful, but a little edgier than what you usually see from the British monarchy. Which is exactly why Markle has become such a quick fashion star — people are always looking forward to what she will come up with next.
She wore her leather to a joint visit with Prince Harry to Sussex — the very place where their royal title is from. The couple became the Duke and Duchess of Sussex on their wedding day, when Queen Elizabeth bestowed the titles on them as a wedding gift. While there, the couple will be shown a Sussex copy of the American Declaration of Independence, which will honor the Duchess' roots. The only other copy is the signed one in the National Archives in Washington, D.C. After that, they will go open a vocational college, meet with Survivors' Network, which is a charity that supports survivors of sexual violence and abuse in Sussex, and then finally visit a youth center. With so many important engagements, Markle's leather skirt struck a balance between being understatedly edgy and elegant.
The skirt in question is a green leather pencil skirt from Hugo Boss, which is high waisted and hits below the knee, with subtle panel stitching to give it some texture. Crafted from lambskin leather for a timeless look, the skirt is still for sale at the luxury label and it seems like she styled it just the way the designer intended it to be worn.
"Create a modern feminine look by combining it with a boxy-fit blouse or cosy knitwear," the product description reads. The Duchess did pair the statement piece with a dark green silk shirt from & Other Stories, which is relaxed in fit and is still on sale at the store for $99.
The designer skirt is a little pricier, where right now it retails for $595, making it an investment piece purchase.
The monochrome green outfit was broken up with beige suede Stuart Weitzman heels and a cream cashmere coat from Giorgio Armani. While a bold style move, a royal wearing leather to an event isn't exactly unprecedented. Princess Diana has been known to step out in leather jackets during her off-duty moments, and even donned a pair of red leather pants for one of her royal visits.
In 1985, as the patron of the Sir Malcolm Sargent Cancer Fund for Children, Princess Diana visited their new offices in Kensington in a pair of firetruck-red leather pants. So really, Markle's strong fashion choice isn't too far outside the realm of royal etiquette — especially considering the iconic Princess wore something similar. Here's to seeing what comes next.