This Royal Wedding Update Really Makes The Big Day Feel So, So Soon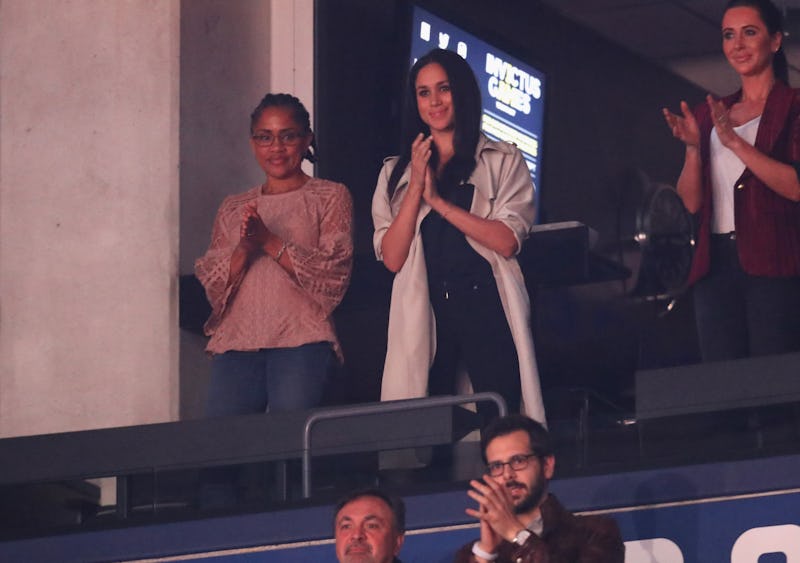 Chris Jackson/Getty Images Entertainment/Getty Images
The royal wedding is only nine days away, which means family and friends are starting to fly into London, England. According to Us Weekly, Meghan Markle's mom arrived in London Thursday. Doria Ragland, who is reportedly staying with Markle and Prince Harry at Kensington Palace, showed up early to not only help her daughter pepare for her big day, but to also meet some Royal Family members.
According to a source who spoke with the publication, Ragland will meet Queen Elizabeth II, Prince Charles, Prince William, and Kate Middleton. Us also reports Markle's father, Thomas Markle, will meet the royal family with Ragland. He will reportedly arrive in London later Thursday. Some time next week, Markle's parents, who are divorced, will also participate in a private wedding rehearsal at St. George's Chapel at Windsor Castle, per Us' source.
On May 4, the Royal Family's press secretary announced further details about Markle and Harry's wedding, including Ragland's role. Markle's mom will ride with her in a car to Windsor Castle before the wedding ceremony begins on Saturday, May 19.
"Both of the bride's parents will have important roles in the wedding," the press secretary's statement read. "On the morning of the wedding, Ms. Ragland will travel with Ms. Markle by car to Windsor Castle. Mr. Markle will walk his daughter down the aisle of St George's Chapel. Ms. Markle is delighted to have her parents by her side on this important and happy occasion."
The press secretary also confirmed the former Suits actor's parents will meet Harry's family. "Mr. Thomas Markle and Ms. Doria Ragland will be arriving in the UK in the week of the wedding, allowing time for Prince Harry's family, including The Queen, The Duke of Edinburgh, The Prince of Wales, The Duchess of Cornwall, and The Duke and Duchess of Cambridge, to spend time with them before the big day."
Can you imagine having a child who is not only marrying a member of the Royal Family, but then to also flying across the pond to meet Queen Elizabeth and every other prominent family member? Personally, it would be hard to remain calm.
It's clear Markle's parent are overjoyed for their daughter finding love with Harry. After the couple announced their engagement in November 2017, Ragland and Thomas released a statement expressing their happiness. "We are incredibly happy for Meghan and Harry," their joint statement began. "Our daughter has always been a kind and loving person. To see her union with Harry, who shares the same qualities, is a source of great joy for us as parents. We wish them a lifetime of happiness and are very excited for their future together."
Markle and Ragland have a close relationship. In August 2017, the 36-year-old soon-to-be royal opened up to Glamour about the "10 Women Who Changed My Life". Of course, her mom made the list.
"My mom's a yoga instructor, but she does social work, as well, and she works specifically with the geriatric community. For me to watch this level of life-long sensitivity to nurturing and caregiving, but at the same time my mom has always been a free spirit," she wrote. "She's got dread locks and a nose ring. She just ran the LA Marathon. We can just have so much fun together, and yet, I'll still find so much solace in her support. That duality coexists the same way it would in a best friend."
With Mother's Day on Sunday, this is perfect timing for Ragland to be in London. She'll get to spend time with her daughter on the special holiday and during an exciting time in Markle's life. Who else can't wait to see them on the wedding day? It's going to make for a memorable moment.