Meghan Markle's Newest Royal Role Is A Major Honor From The Queen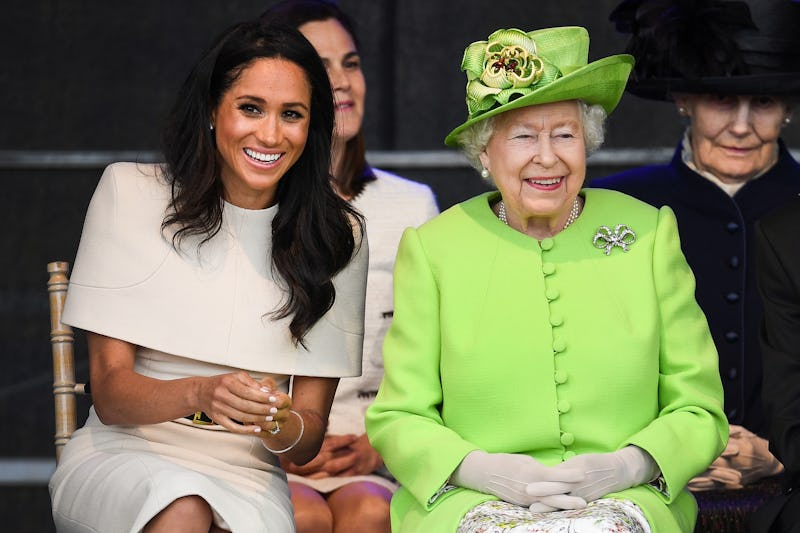 Jeff J Mitchell/Getty Images Entertainment/Getty Images
The Duchess of Sussex will soon add a new task to her growing list of official duties. According to Express, Meghan Markle will take Queen Elizabeth's place in the Queen's Young Leaders program, which the monarch started in 2014. And, yes, it kind of goes without saying, but this is a huge deal for the newly royal Markle.
The publication noted that the Duchess, alongside her husband, Prince Harry, will become a part of the organization this summer. Harry is already a patron of the foundation, per Express. Now, his wife will join him and will take over Elizabeth's spot. Talk about a major royal promotion.
It's pretty obvious why this is such a big deal for Markle. Considering that the former actor only became an official member of the family on May 19, it's pretty significant that she's taking on such a big duty so soon after becoming royalty. She's literally taking over a role from the Queen of the United Kingdom, it doesn't get much more important than that. To put it simply, this new position shows that the Queen trusts her with such an important royal duty.
According to the Daily Mail, in the Duke of Sussex's first speech as a Commonwealth Youth Ambassador (a role Markle will be overtaking, as well), he hinted that his partner would join him as part of the organization. During his speech in April, he said that he is "incredibly grateful" that his wife will be by his side as he takes on this new responsibility. So, get ready to see the newlyweds both carrying out Queen Elizabeth's vision during the Young Leader's event at Buckingham Palace this summer.
What exactly is this organization that Markle and Harry are involved with now? According to the official website for the Young Leader's program, it celebrates those aged 18-29 from all around the Commonwealth who are doing positive work in their communities. On the royal family's website, the Queen first connected with the cause because she came to the throne at age 26. In her role, she, quite obviously, has a major impact on communities around the world. So, she wanted to honor others who are also of a young age who have undertaken some pretty big responsibilities. Since this organization has a direct, personal connection for Elizabeth, it's all that more special that Markle will be taking over her role.
Markle's new role doesn't come as too much of a surprise when you take a look at all of the work she's done as a member of the royal family already. She recently went on a solo (!) engagement with the Queen, which was yet another case that showed just how supportive the family (and, specifically here, Elizabeth) has been in welcoming the Duchess of Sussex.
Markle and the monarch took to Chester in order to visit the Mersey Gateway Bridge, which they officially opened together, according to the Liverpool Echo. They also attended a theater performance and dined at Chester Town Hall, per The Chester Chronicle. It was definitely a special outing for the former Suits star's first solo trip with her grandmother-in-law.
To make their engagement even more special, they traveled by way of the royal train. Now, Markle's husband hasn't ridden the train and neither has the Duchess of Cambridge, per Vanity Fair. Basically, the former actor is totally in the royal fold now and is incredibly tight with the matriarch of the family.
Since Markle appears to have a good relationship with Queen Elizabeth, it makes sense that she would be chosen to take over the monarch's role in the Queen's Young Leaders program. And this new position is yet another step in the right direction for her new royal life.