This Jacket & Purse Worn By Meghan Markle Sold Out Instantly & Crashed The Designers' Websites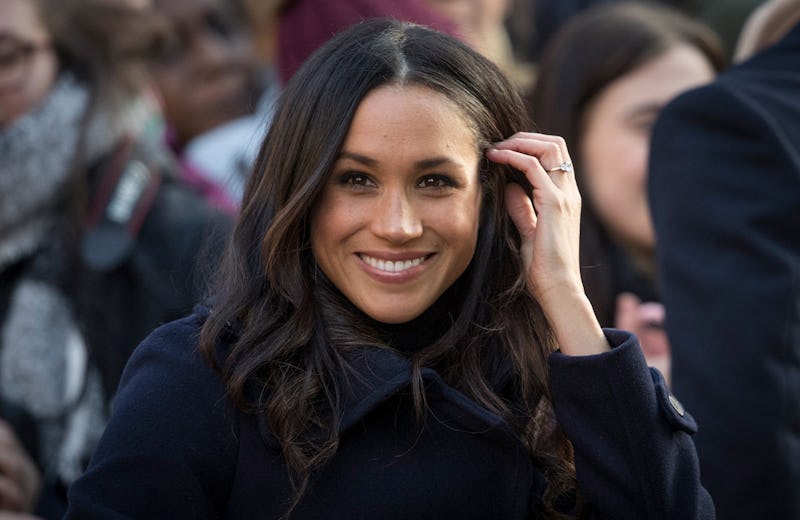 Christopher Furlong/Getty Images Entertainment/Getty Images
There's a new duchess in town, and with her new title comes a new role as fashion icon. Just like Princess Diana and Kate Middleton, Meghan Markle is becoming a fashion sensation. And that means her clothing choices are crashing websites and selling out products.
While Markle has always had enviable fashion sense — showing up to red carpets wearing silver tuxedo dresses and red brocade mini shifts — it wasn't until she announced her engagement to Prince Harry that the obsession with her wardrobe really exploded. Much like how people would scramble to get commemorate plates of Princess Di or lock in Duchess Kate's newest midi dress, Markle is now calling the shots when it comes to trends.
You might recall that when Markle announced her engagement (which happened over a casual dinner at home while the couple was roasting chicken, no less), she took her first official photos with her fiancé wearing a minimalist and beautifully streamlined white coat. Line the Label was the Canadian brand behind the elegant outerwear, and they reported to WWD that there was so much traffic to their website that it ended up crashing multiple times in one day — meaning people were literally scrambling to copy the look.
And keep in mind this wasn't a cheap, impulse buy. The wrap coat was a crisp $750, and it sold out within minutes. The look is now so synonymous with the future-royal, that Line the Label has re-named the piece "The Meghan."
If you're tempted to call that a fluke (or just a really gorgeous coat that people couldn't help but trip over themselves to buy,) there's more proof of Markle's influence. Take the 18-karat gold earrings that she wore in the engagement photo op, for example. The photos were released on Monday, and Birks, the brand that made the earrings, had seen more than a 50 percent increase in website traffic by early Monday afternoon, according to WWD. When customers couldn't get through on the website, stores reported that a wave of customers either called or walked in asking to see the $780 Opal earrings that the future Duchess wore.
You might think that the excitement of a new royal engagement got to people's heads and made them clamber for something that would connect them with the experience, hence the influx of copying. But it's not only Markle's engagement pieces that have people rushing to mimic her timeless style.
On a separate occasion, the actress wore a burgundy tote by Edinburgh-based label Strathberry. According to Elle, the piece sold out within an astonishing 11 minutes. She wore it on her first royal appearance with Prince Harry in Nottingham, and fans couldn't get past the structured and crisp lines of the handbag.
Just like in the previous cases, the purse is an investment piece and not a snap-decision purchase, costing £495, which is the equivalent of almost $687. But whatever Meghan picks up sells out in a blink of an eye. She has the Midas touch for a retailer.
For years magazines, bloggers, and editors have praised Princess Diana's and Duchess Kate's style. Markle is definitely on the same trajectory, inspiring fashion lovers all over the world with her feminine and classic style.
It seems like a safe bet to expect an onslaught of articles over the next few years that will label her the newest fashion icon and style visionary — especially if this last week has taught us anything. And we're completely here for it.