Meghan Markle's Style Is Identical To Princess Diana's — And These Pictures Prove It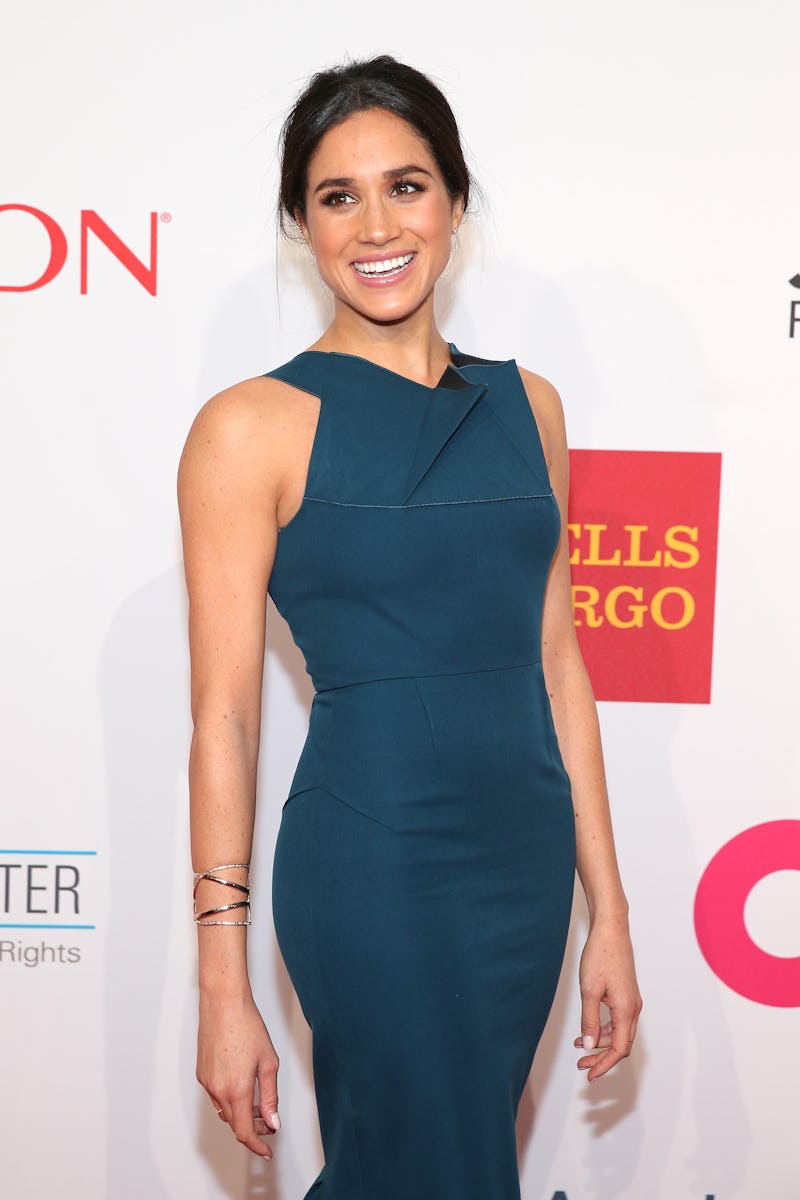 Neilson Barnard/Getty Images Entertainment/Getty Images
When Meghan Markle became the newest addition to the royal family with her engagement to Prince Harry, the fashion world began buzzing about how we now have a new style icon to look up to. There's already a massive amount of talk about when it comes to royal fashion, from what the future Duchess' wedding dress will look like to which esteemed designer will have the honor of fashioning it. But before we look to the nuptials in the spring, one can also focus on Markle's impeccable off-duty style in the here and now.
The women of the royal family have always been looked up to for their aesthetic — from our obsession with Duchess Kate's dress collection to Queen Elizabeth's penchant for a rainbow closet. But Markle's style seems to resemble someone else's aesthetic in the family — the late Princess Diana.
Meghan Markle's and Princess Diana's style is both playful while also understated, and bold while still paying respect to tradition. Duchess Kate, however, veers towards modest silhouettes with midi lengths and tasteful lace appliques, Markle's aesthetic is a little more adventurous and youthful. And as it turns out, so was Diana's. Is it any wonder, then, that Markle's engagement ring has been commissioned to hold two diamonds from the personal collection of her late mother-in-law? Their tastes, after all, run parallel.
Let's explore to see how the royal duo's style has overlapped throughout the years.
1. Black Slinky Dresses
Dubbed the "Revenge Dress," Princess Di showed up to a summer soiree in London's Kensington Gardens in this slinky, off-the-shoulder number in '94, right after she was newly separated from Prince Charles. It was a gorgeous and daring fashion moment, and one that women have copied many times over throughout the years. Including Markle, who showed up to an event in a similar off-the-shoulder cocktail dress, just with the addition of look-at-me sequins. Neither of the women are strangers to bold fashion moments.
2. Red Frocks
Neither woman is afraid to make a statement with her outfit, so it's no surprise both have veered towards the color red at one point. When you look at Duchess Kate's wardrobe, you get the sense that the monarchy wants its members to dress prim and pristine. She has a certain modesty to her style that gives her an elegant air. However, Princess Di wasn't afraid to bring out form fitting dresses that exploded with color, even if that look veered away from the modest-princess-look. Markle has the same aesthetic, reaching towards pieces that have a playful twist to them.
3. Off-Duty Polo Style
The royals take their polo matches very seriously, and both women showed up to a game with eerily similar styles. Markle donned a double breasted dress with tuxedo buttons running down the front, looking very preppy chic. Princess Diana sported a similar outfit, with the same double breasted, business-casual style.
4. Jumpers For The Win
While Princess Di might not have owned any liquid leather pants, both women know how to spice up a cozy sweater. They both chose a statement knit with a quirky pattern across it, and layered it with a collared shirt to create even more interest. If this is the new look of the monarchy, the fashion world is here for it.
5. Playful Prints
Piggybacking off of the fact both style icons love prints, neither woman was afraid to reach for a dizzying pattern when it came to her outfit. Princess Diana was known to create a bold '80s look using clashing hounds-tooth separates, whereas Markle has a whole closet full of boldly printed cocktail dresses and gowns.
6. Printed Cocktail Dresses
Both women have a penchant for over the knee dresses in bold colors and interesting textures and prints. In this example, Princess Di is rocking a flower-printed lace dress in a bright red motif, and Markle is sporting a similar aesthetic in a dark red dress with a baroque floral print.
It's exciting to see Markle as the newest addition to the British monarchy, and it's going to be amazing to see the fresh new style she's going to bring to it. The fashion world will be impatiently waiting to see what comes next.