Meghan Markle's Wedding Speech Was Reportedly As Beautiful As We Knew It'd Be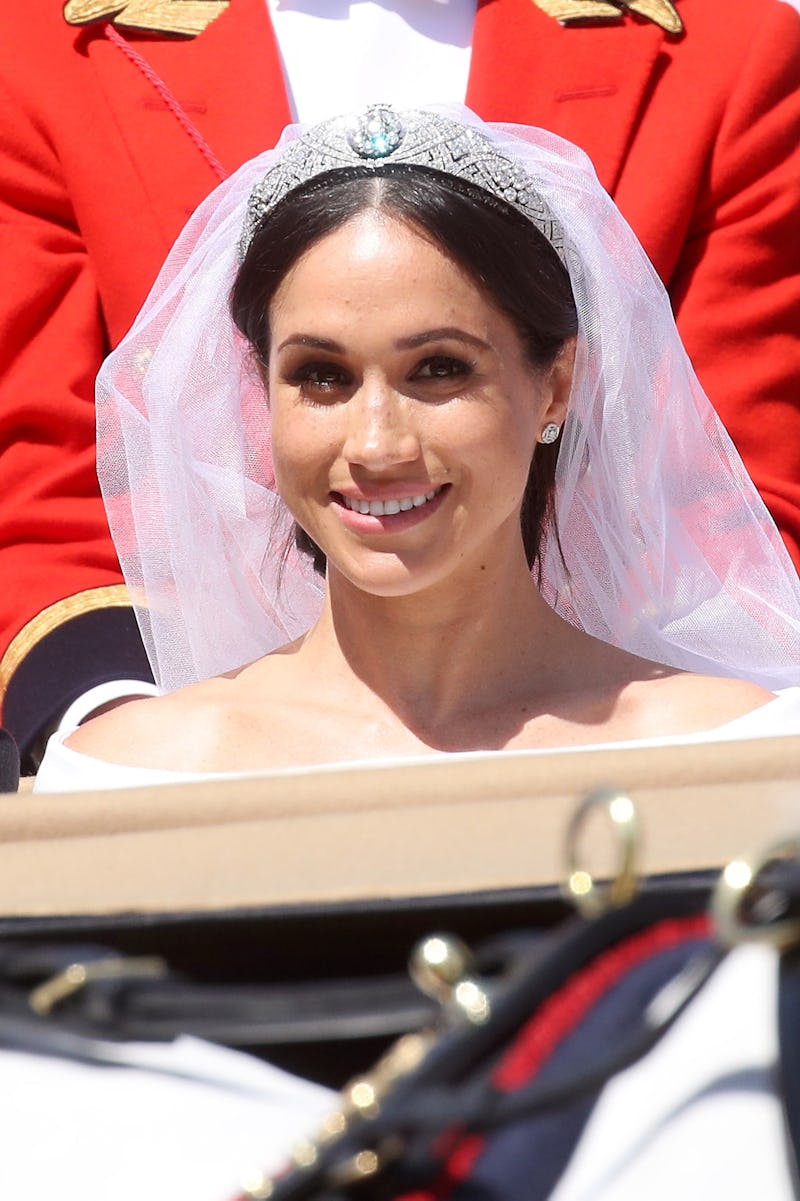 Chris Jackson/Getty Images Entertainment/Getty Images
One of the reasons everyone is royally fascinated with newlyweds Meghan Markle and Prince Harry is because the royal couple is breaking myriad longstanding traditions, including norms about who gives speeches at the wedding. Meghan Markle's wedding speech is watershed moment in royal-wedding history because royal-wedding speeches and toasts are historically given by the best man, and the fathers of the bride and groom. Not this time. As a true feminist icon, Markle is using her voice, which is just one more reason to love her.
However — because there are some unspoken royal rules the couple was expected to adhere to — a lot more planning likely went into Markle's speech than toasts given by other brides to ensure she struck the right balance between tact, sensitivity, and diplomacy. And, according to reports from the reception, she killed it. Obviously. What's more, Markle delivered her speech while wearing an aquamarine ring that belonged to Princess Diana. Cue the tears.
While news of the reception seems to be a closely guarded secret, during her affectionate speech to her new husband Markle reportedly thanked the royal family for welcoming her and spoke heartfelt words to her new husband Prince Harry, according to the Sun UK. And, royal-wedding fans expected nothing less from the elegant and independent royal bride.
Prince Harry's speech reportedly induced tears among royal-wedding guests. According to the Sun UK, he delivered an off-the-cuff speech in which he praised the Duchess of Sussex for navigating the past few months with style and grace. He also told her that the two make a great team. Guests were reportedly moved when the Duke of Sussex referred to Markle as his wife for the first time.
With all eyes on Markle's tradition-breaking speech, other brides to be might want to follow in her footsteps by giving their own weddings toasts. If you want to give a speech on your big day, the Metro UK has tips for how to give a heartfelt and sophisticated toast fit for royalty. Decide what you want to say, and whom you want to thank ahead of time, and take the opportunity to thank your wedding party. If your speech is emotional, make sure you practice it ahead of time, and it's still OK if you cry.
Perhaps most importantly, don't partake in too much celebratory champagne before you give your speech. "Between getting ready, the ceremony, photos and mingling with guests, there isn't much time to actually grab a drink. The speeches are probably the first opportunity you have all day to sit down and relax… Which can be dangerous," Daniella Graham wrote for Metro UK. "If you're not speaking first, resist the temptation to nervously sink a bottle of wine before it's your turn."
Finally, if you want your speech to be memorable, wedding speech expert Carole Spiers recommended studying historical speeches that are still revered today. "Occasionally repeating words or phrases throughout the speech can help to drive home the point you're trying to make (i.e. how happy you are for the couple or how much you love your new husband/wife)," she told the Evening Standard. "If you listen to Martin Luther King's famous speech 'I have a dream,' you will hear him repeating certain phrases time and again for greater impact as his passion is transmitted to his audience."
Aside from Markle's big speech, the royal couple bucked royal-wedding tradition in other ways. Because it is 2018, and some of these outdated traditions should be left in the previous century.
According to the Independent, Markle showing her knees during an engagement interview, wearing a sheer dress in her engagement photos, embracing a modern fashion sense in general, opting for a non-fruitcake wedding cake, the location of the wedding, holding the wedding on a weekend, inviting the public to their nuptials, and sending updated invitations are all breaks from royal-wedding tradition.
Markle and Prince Harry's subtle changes to their royal affair will pave a path for future royal couples, and this is just one more reason why this royal couple is totally #RelationshipGoals and then some.