Meghan's Sneaky Visit To This London Uni Proves Her Feminist Agenda Is Still On Top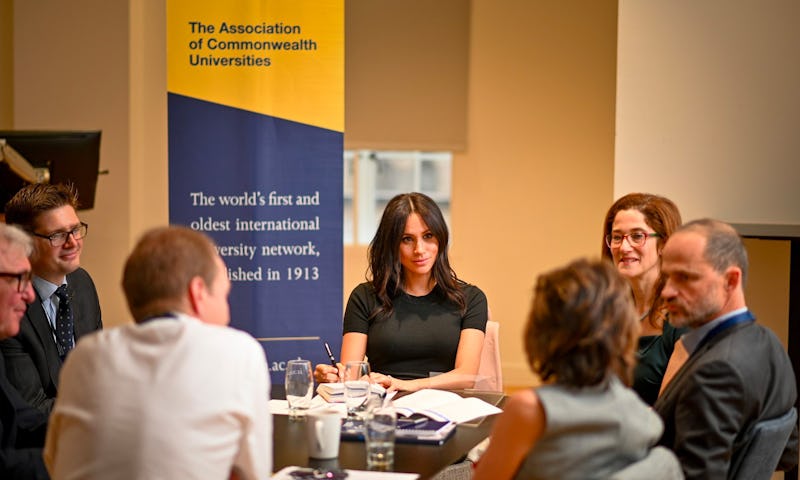 The ACU/David Tett
I don't know about you, but December is hectic enough just thinking about Christmas, let alone the millions of other important things that have nothing to do with the holiday crowding my to-do list. If I'm feeling overwhelmed already six days in, I cannot imagine how busy the Duchess of Sussex's itinerary is looking for this month. From Christmas services to important discussions, Meghan Markle's visit to King's College London on Wednesday (Dec. 5) highlighted the significance the Duchess holds for the Commonwealth, and for accessibility to higher education in general.
Held by the Association of Commonwealth Universities (ACU), the Duchess joined university leaders and academics to discuss how to build a better world through higher education. The attendees discussed the role universities throughout the Commonwealth have to ensure a promising future, addressing issues such as "human trafficking and modern slavery, gender equality and inclusion, peace and reconciliation, and climate change and resilience."
Established in 1913, the ACU received a royal charter in 1963 with the Queen becoming Patron of the in 1986, as described on the charity's site. The ACU prides itself in championing "higher education as a force for good in the Commonwealth. Among its key principles is the value of higher education to society […] and the conviction that this value is enhance by international collaboration."
This visit comes two months after Markle's compelling speech at the University of the South Pacific in Fiji — one of the ACU's member institutions — where the Duchess addressed the importance of gender equity and accessibility for women in higher education. Two ACU grants were awarded to Fiji University and the University of South Pacific, Town & Country reports, which will be allow "more women [to] become part of the decision-making process in academic institutions," as Markle explained.
"Because when girls are given the right tools to succeed, they can create incredible futures, not only for themselves but also for those around them." As if I couldn't love the Duchess even more.
Markle's participation in an event important to the Commonwealth is not surprising at all, especially if you watched the recent ITV documentary exploring the importance of the Commonwealth to Her Majesty, and the ways in which she is passing her experience and knowledge down to the younger royal generation, including the Duke and Duchess of Sussex and Cambridge, respectively.
Talking of Prince William and Kate Middleton, they too attended an important event on Wednesday at RAF Akrotiri in Cyprus, "meeting with men and women who have been separated by their loved ones over the festive period," as Hello! reported. "Thank you for your commitment and thank you for your sacrifices," William said to the crew and families at the base. "We are in your debt and Catherine and I feel very lucky to be able to spend time with you today."
"All of this work is done without fanfare. You don't seek praise for your contribution. It's not about credit or recognition — for you, it's just about service," he said. "But as we approach Christmas, Catherine and I feel strongly that praise for your work and recognition of your sacrifices is exactly what is due to you all."
I think it's fair to say that the monarchy is going to be in pretty safe hands when it comes to the next generation of royals. So inspiring.