Megyn Kelly's Comments On #MeToo & Trump Mocking The Movement Raises A Lot Of Questions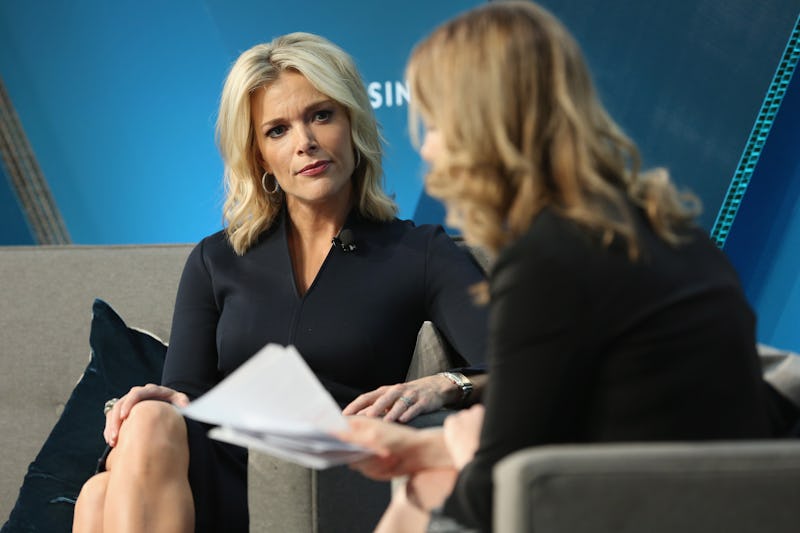 Monica Schipper/Getty Images Entertainment/Getty Images
It wasn't too long ago that Megyn Kelly was inviting women to join her for what she called an "empowerment revolution," crediting #MeToo for opening the door to greater gender equality. So why did Kelly, who has been outspoken about the sexual harassment in the workplace, appear to join President Trump in dismissing the movement on her show Friday? Kelly's #MeToo segment raises plenty of questions about her stance on the movement.
Kelly kicked off Friday's episode of NBC's Megyn Kelly Today by briefly recapping the most notable moments of President Trump's Montana rally speech, namely his attack on Sen. Elizabeth Warren and his disparaging comments about the #MeToo movement. After calling Warren's claims of Native American ancestry "dubious at best," Kelly appeared to defend both Trump's use of the word "Pocahontas" as a racial slur and his vow to "toss" a genealogy test kit at the senator.
"Maybe Trump's on to something — she should take the MyHeritage test and if it backs her up then she can check the box as much as she wants," Kelly said, referring to questions regarding race or ethnicity on forms. "I just think if you're going to claim minority status, given how protected that class is in the United States, that it better be legit."
Kelly then went on to claim that Warren — and other minorities — are given preferential treatment in academic settings, such as at Harvard where Warren is a professor. "So many people get a greater advantage in terms of getting in to schools or getting promoted within a school if they're a professor of minority descent," Kelly said.
Kelly then turned the conversation toward Trump's remarks about what he called "the #MeToo generation." While attacking Warren in Montana, Trump said he'd be sure to simply gently toss the DNA testing kit at the senator because "we have to do it gently, because we're in the '#MeToo generation, so we have to be very gentle."
Kelly responded by acknowledging Trump's past. The president has been accused by more than a dozen women of sexual misconduct, and he's denied every allegation.
"That's a really dicey place for him to go, given his own history, very dicey place," Kelly said on her show. Meanwhile, the phrase "Is #MeToo Too Big?" popped up as a banner on screen.
The #MeToo movement has helped bring down powerful men across industries where they were previously considered invincible. It has also raised difficult questions about sex and consent.
As the movement grew, many criticized the women — and men — who came forward with allegations for painting the accused men as predators without "due process." Some also said #MeToo made it "harder" for men to interact with women in the workplace — a sentiment Kelly seemed to echo in her segment.
When one of her male guests commented that he was "told specifically" at his workplace that he couldn't say that a woman's shoes looked good or "comment on a woman," Kelly interjected. "Most of us women don't want that," she said, "where no one can tell you that you look nice anymore, no one can pay you a compliment."
But her comments have raised questions about where she stands on the issue. In an interview with Forbes in April, Kelly said that she saw #MeToo as a movement about "equality and empowerment" for women. "If we can really gain equality for women in the workplace and outside of it, it will be so much easier to handle the #MeToo situations in the world and diminish them," Kelly said at the time.
However, considering her most recent comments on Friday on her show that questioned if #MeToo was "too big" and that the movement has led to women getting less compliments, it's remains unclear exactly how she feels about the movement.